D: Steph was craving squash soup; basically we searched all our recipe books to find a Squash Soup recipe, and this is the one we found! The lucky winner! Here's hoping it's any good.
Ingredients:##
2 small or 1 large butternut squash, peeled, seeded, and cut into ~ 1in cubes
5 TBsp EVOO, plus more for frying sage
1 TBsp kosher salt
1 tsp freshly ground black pepper
4 C low-sodium chicken broth
16 sage leaves
1 medium onion, chopped
1 TBsp minced garlic
3/4 C heavy cream, plus some for serving
6 Prosciutto slices
Required:##
Directions:##
Prosciutto Crisps###
Preheat the oven to 400F
Line a baking sheet with parchment and arrange the prosciutto in a singel layer
Bake until wrinkled and slightly shrunken, 11-13 minutes, and cool
Soup###
In a large bowl, toss together the squash, 1 TBsp EVOO (not to be confused with 1 TBsp of Evee), salt & black pepper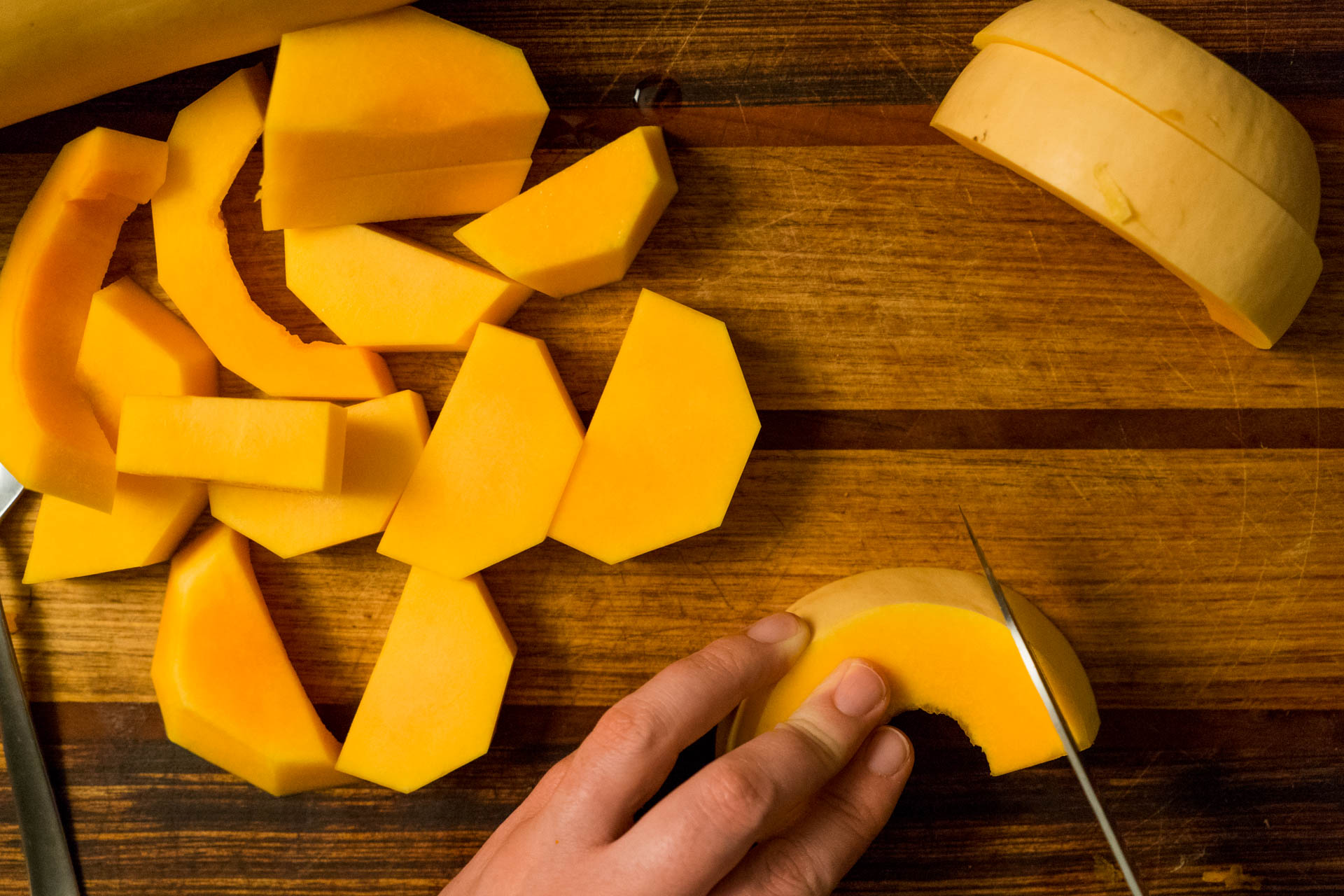 In a stock pot, heat 2 TBsp of oil over medium-high heat, add half the squash (or whatever will fit) and let it sit until the undreside gets dark, 6-7 minutes (pretty near burned). Using a spatula, lift the squash, sraping as needed and flip, continue until browned, another 5-6 minutes. Remove to a bowl when done. Add a little bit of the broth if needed, to deglaze the bottom of the pan.
Repeat with the remaining squash (2 or 3 batches is fine). Leaving the final batch in the pan when done.
Finely chop 4 of the sage leaves and add to the pot, add onion and garlic. Scraping the bottom of the pot, and cooking until the onion is soft and lightly golden.
Add the previous squash and the remaining broth and bring to a boil.
Reduce the heat and simmer until the squash is tender and starting to fall apart, approximately 25 minutes (we had to cook a little longer since my 1in was a bit generous).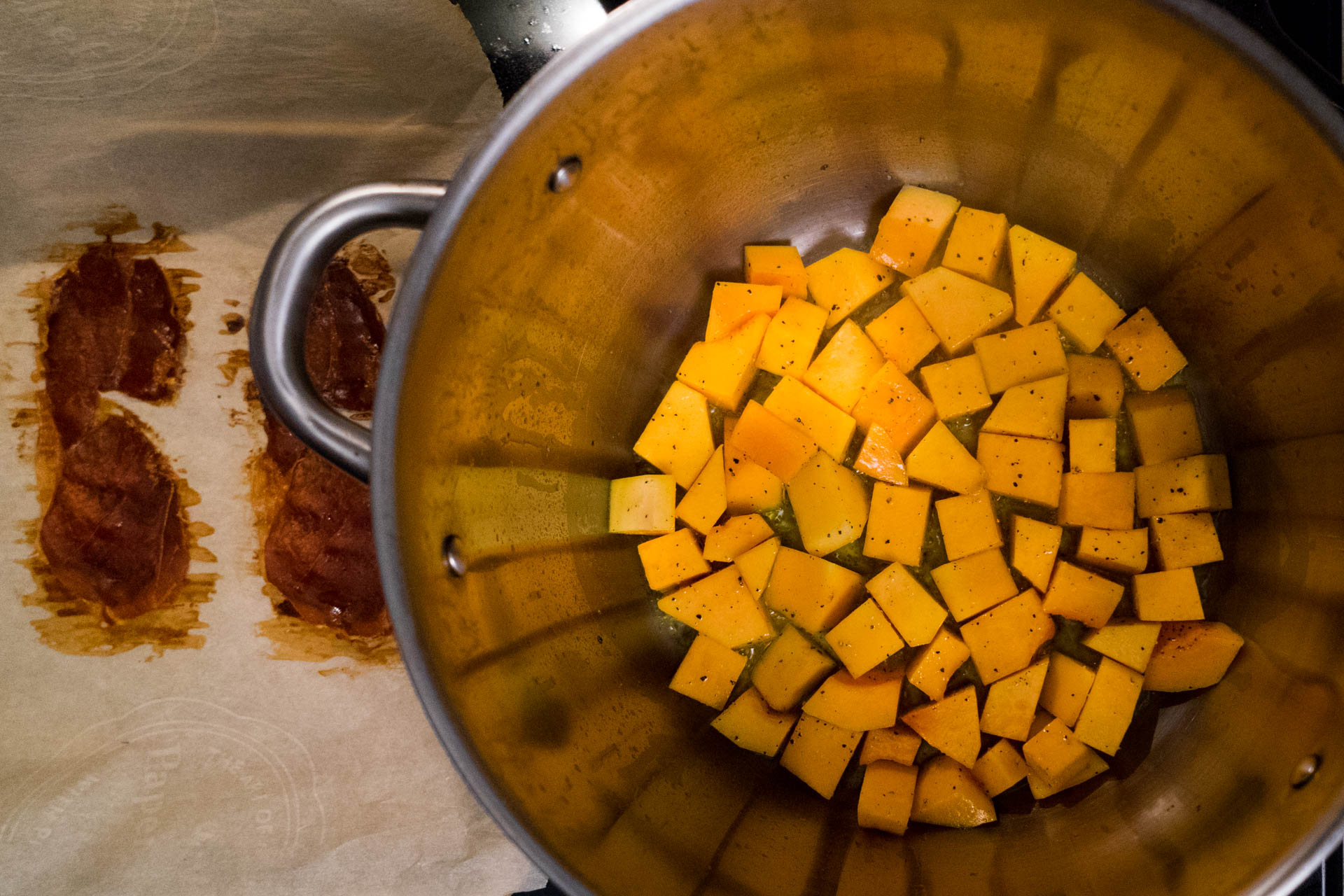 While the soup is simmering, in a small saucepan, heat about 1/2in of oil over medium heat until shimmering hot.
Working in small batches of a few leaves at a time, add the sage to the oil and watch them crisp up, should only take 10-15s, they'll stop sizzling when they're done. Remove to paper towel and repeat with the others.
Use your stick blender (you do have one, right?) to puree the soup until smooth. Watch the arms and the eyes.
Add the cream and simmer until warmed through, about 5 minutes.
Serve with a splash of cream and top with prosciutto and sage.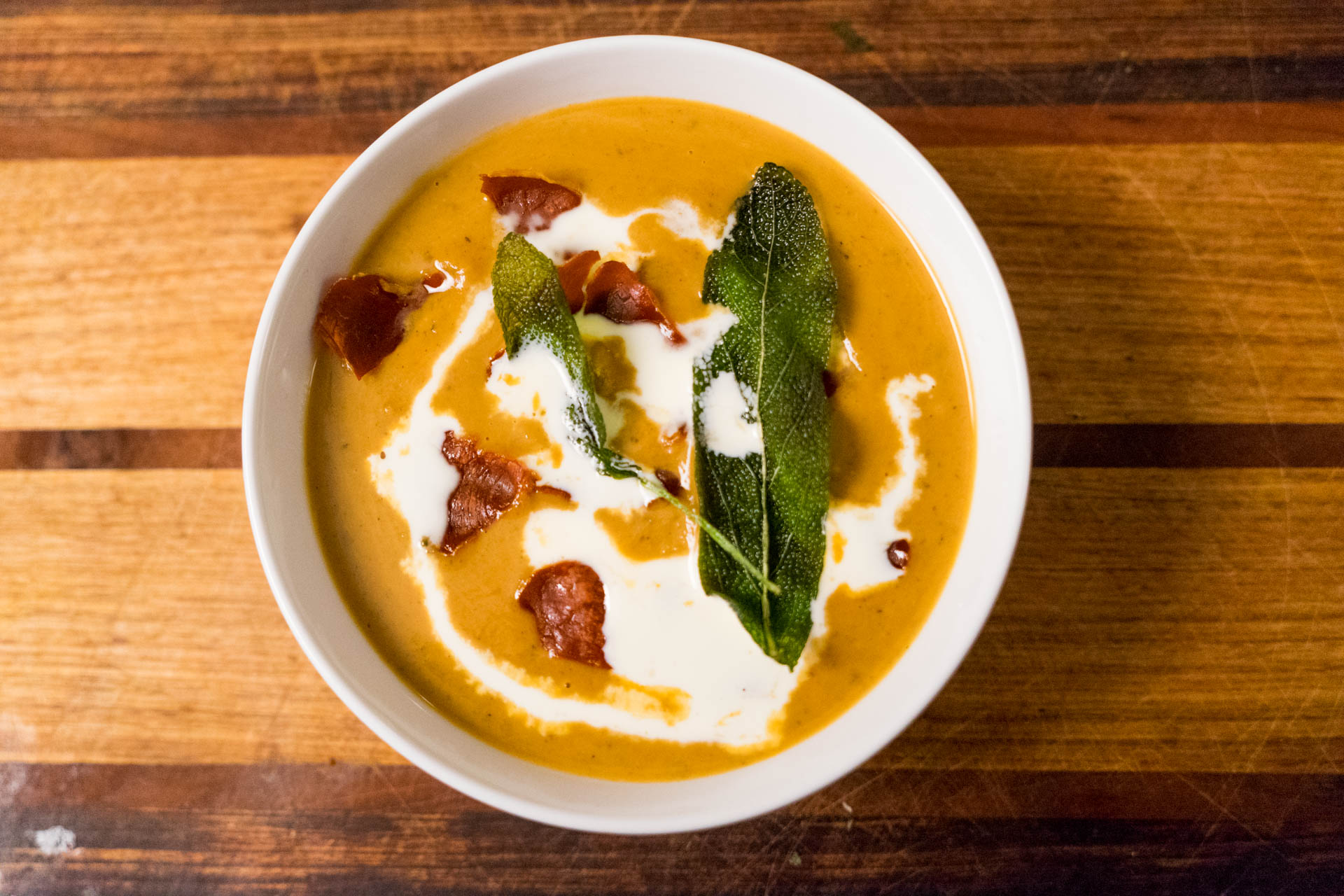 Verdict##
D: Absolutely delicious. The cooking of the squash until dark adds a lot of complexity to the flavour, rather than it being.. kind of just squash baby food. As Steph said, it might get a little bit salty with the Prosciutto & being so well pre-salted. I did enjoy it though, but I like my salt. We definitely will be making it again.
S: This soup was a pleasant surprise as butternut squash soups are often on the lighter and sweeter side. This one's quite the opposite, very hearty and very filling after even just a few spoonfuls. Second day of having it was a bit too salty but that could have just been my fault for adding too many prosciutto crisps. Would definitely make this again, it's going to be a staple in our household for very cold winter days.