D: We were looking for interesting sides, and came upon this cornbread recipe. I figured, you can't go wrong with cornbread; and yeah, it does have a bunch of stuff in it, but worth a shot. Cornbread is delicious, so we gave it a go. [S: the photos don't look so appetizing… but I guess that works with how the rest of this post goes.]
[Serves 6 to 8]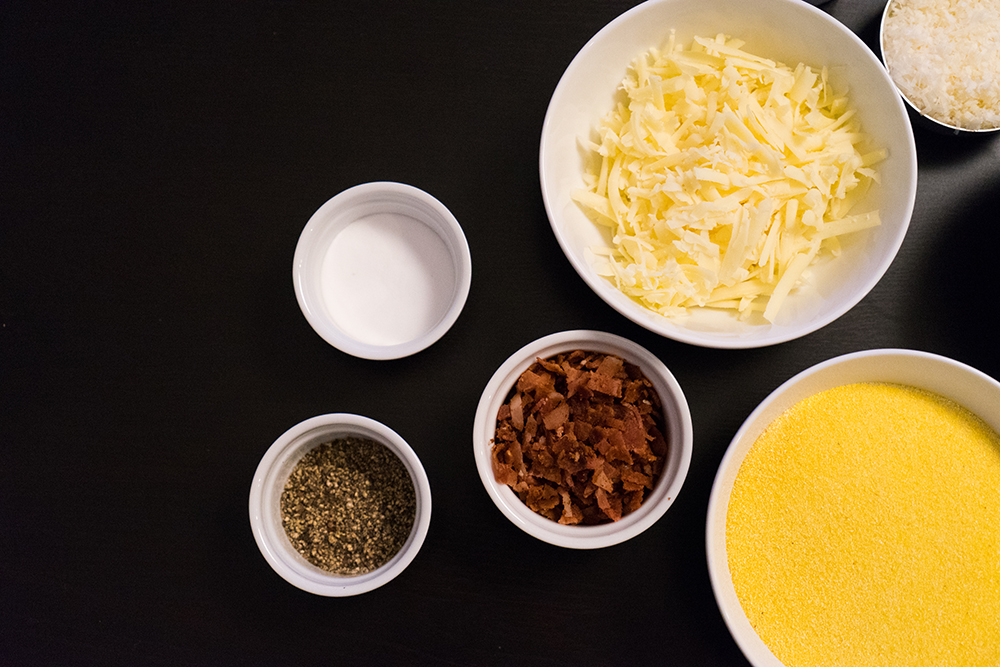 Ingredients:
6 slices bacon
1 stick (4oz) unsalted butter, cut into chunks
1C canned cream corn
3/4C buttermilk
3 large eggs, beaten
1C shredded cheddar cheese
1/2C finely grated Parmigaiano-Reggiano
1/2C sliced pickled jalapeno peppers, chopped
1.5C cornmeal
2tsp sugar
1.5tsp baking soda
1.5tsp kosher salt
1tsp freshly ground black pepper
Needed tools:
The Step-by-Step:
Preheat the oven to 375F.
In a cast iron skillet, cook the bacon over medium heat, turning occasionally, until crisp. About 9 minutes. Transfer to a plate with paper towels to drain. Leaving the fat in the pan. Crumble when cool.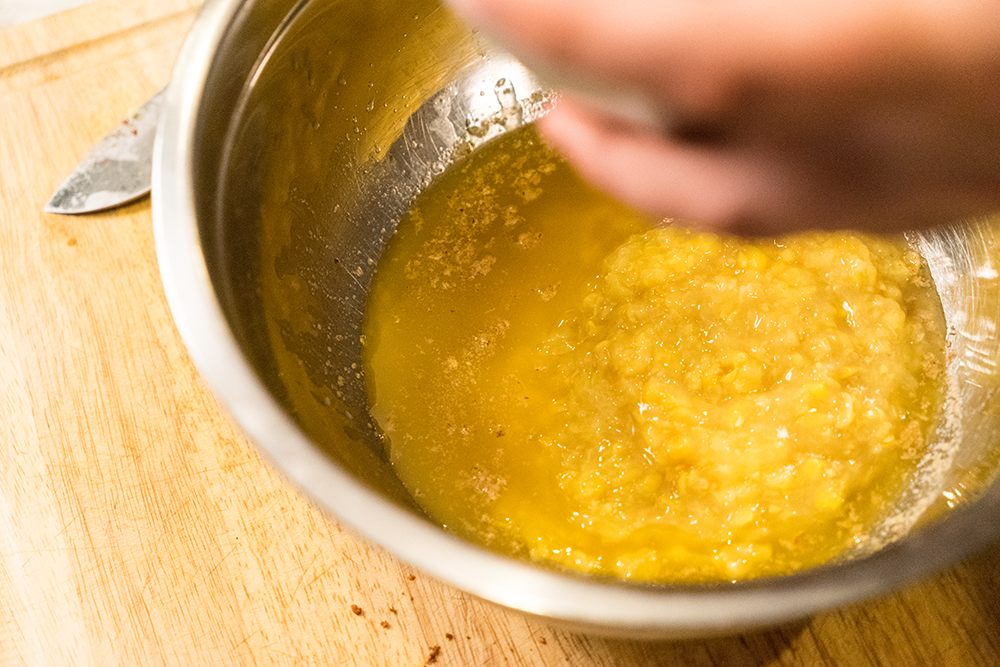 Add the butter to the hot pan to melt, then pour into a large bowl to cool for 10 minutes. Leave skillet as is for now, we will bake in it later. Stir the creamed corn into butter/bacon grease, then add buttermilk, eggs, cheese, jalapenos and crumbled bacon.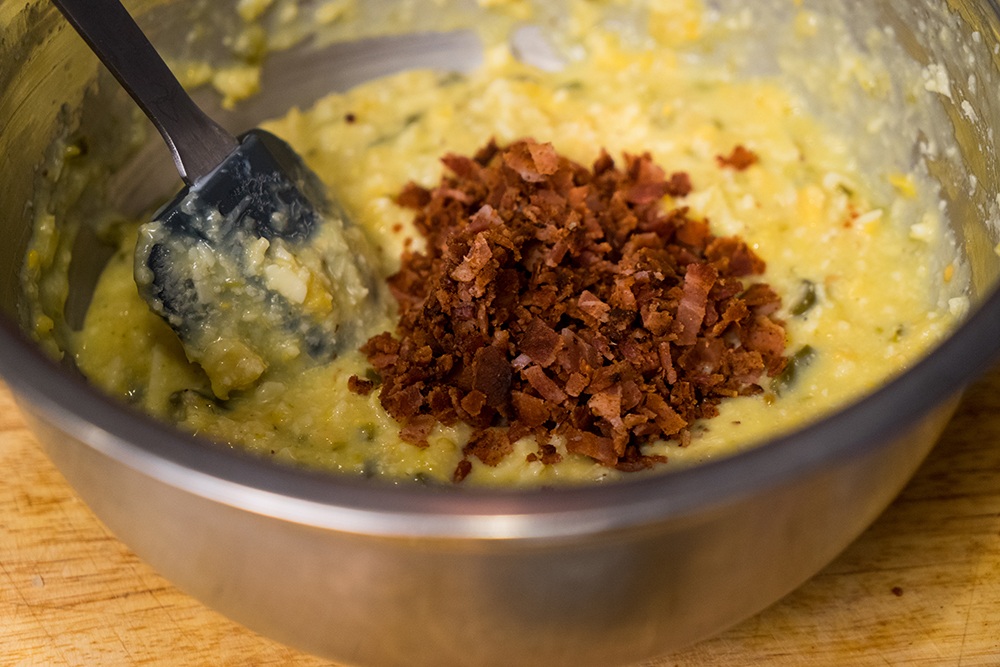 In another large bowl, combine the dry ingredients. Add the wet ingredients and stir until incorporated. Pour into skillet and bake 30-35 minutes. Let cool slightly before cutting.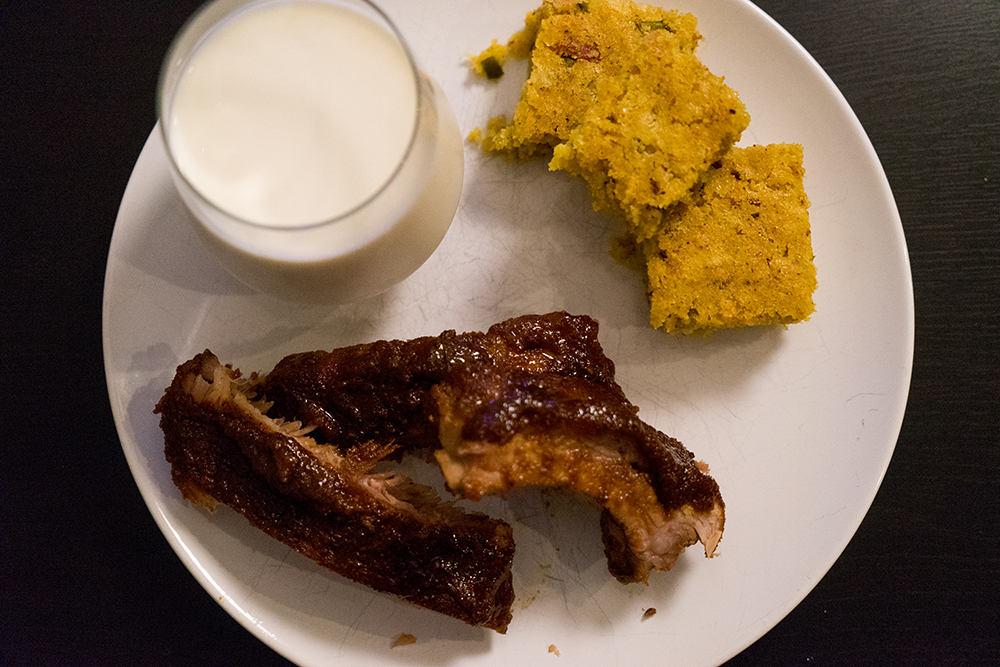 The verdict:
Eeeeh. I'm partial to a more standard cornbread. It was.. oddly kind of bland for having so much in it. I'm not sure I would make it again.
S: Not a fan of this cornbread at all. It had so many things in it that were flavourful… but it wasn't flavourful. Not sure how that happened, but c'est la vie.