S: As much as I enjoy Jamie Oliver's recipes… David and I both agreed that it was time for something new. And I'm glad that he let me pick the next recipe book, because I think we've found a winner. [D: not going to lie, this recipe sold me on the book] Chrissy Teigan, is my spirit animal. As I started to read through her cookbook, 'Cravings', I realized how similar we are to each other. How we write/speak, and our love of food. I tip my hat to her for her modeling career. I'll leave that part to her, and keep my chub to me (and behind the camera).
This week we jumped right into a lighter meal, as it's getting quite toasty here in the 6ix. The chicken lettuce wrap; is something I could eat everyday. It's like the duck lettuce wrap you get with a peking duck, but a tad healthier with lean ground chicken [D: cheaper too].
[Serves 6]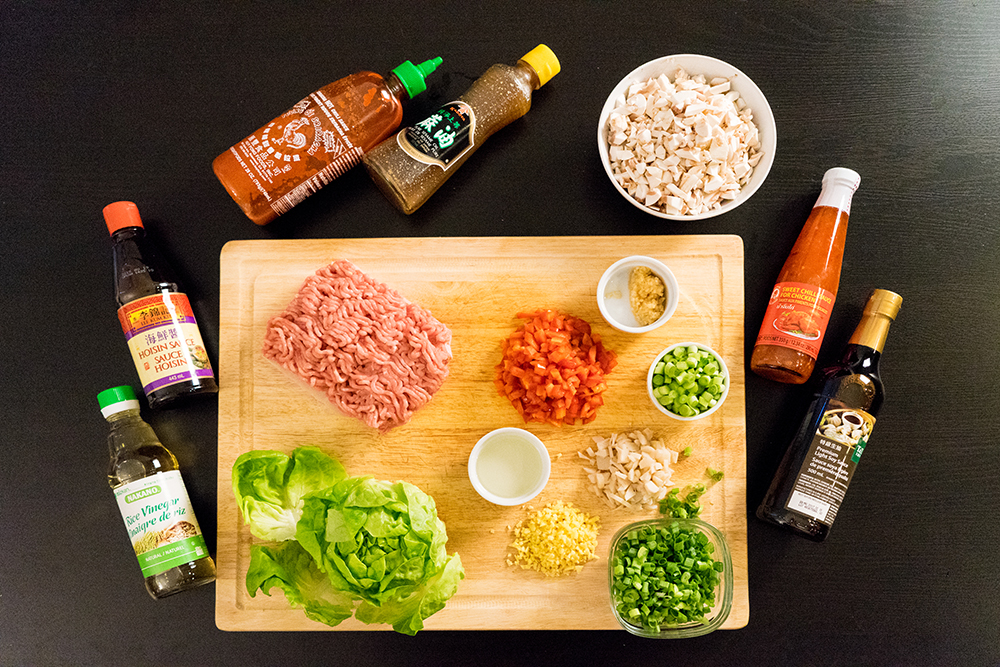 Ingredients:
For the sauce:
3 tbsp Thai sweet chili sauce
3 tbsp hoisin sauce
3 tbsp light soy sauce
2 tbsp Sriracha
2 tbsp vegetable oil
1 1/2 tbsp unseasoned rice vinegar
2 tbsp minced garlic (about 4 cloves)
1 tbsp minced fresh ginger
For the filling:
1 pound ground chicken* 3 tbsp vegetable oil
8 scallions, thinly sliced, whites and greens kept separate
1 tbsp minced garlic (about 2 cloves)
1 tbsp minced fresh ginger
1/2 pound white mushrooms, trimmed, cleaned, and finely chopped
1/2 cup finely diced canned water chestnuts
1 small red bell pepper, finely chopped
2 heads butter lettuce, leaves separated (or in our case, boston lettuce, as we couldn't find any butter lettuce)
Good to have:
medium mixing bowl for the sauce
medium mixing bowl for chicken mixing
large skillet
wooden spoon [spatula will suffice as well, for this use, good and hard one though]
The Step-by-Step:
The Sauce: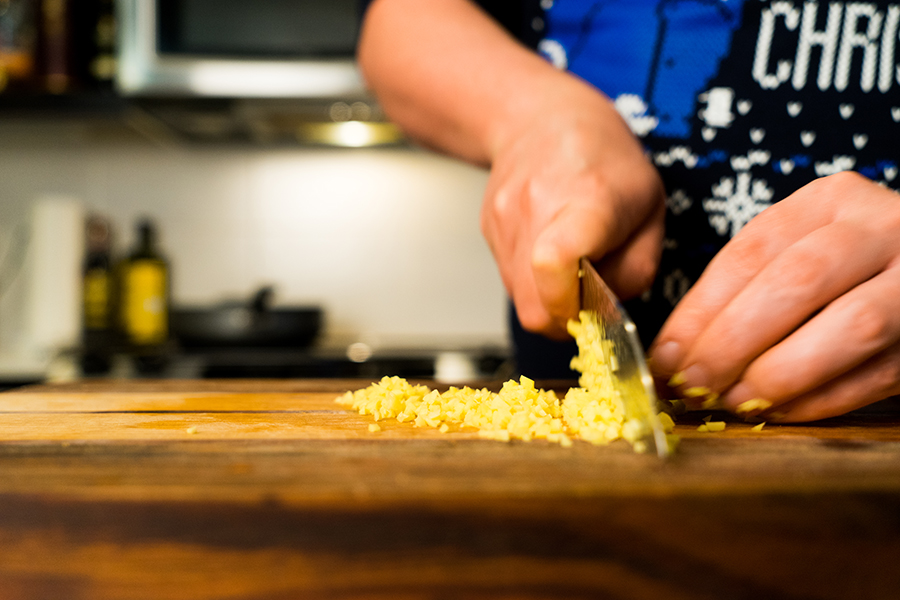 In a medium mixing bowl combine:
chili sauce
hoisin
soy sauce
Sriracha
vegetable oil
vinegar
garlic
ginger
The Filling: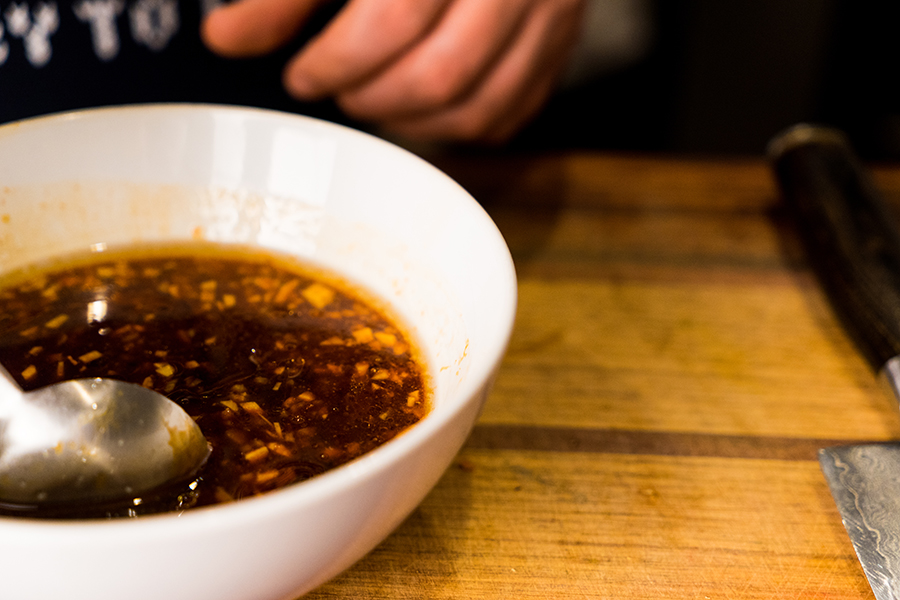 In a medium mixing bowl:
mix 2 tbsp of the mixed sauce into ground chicken
In the large skillet:
heat 2 tbsp of vegetable oil over medium-high heat
when shimmering-hot, add the chicken and cook, breaking up the meat with a wooden spoon until browned (5-6 minutes)
transfer the meat to a plate and set aside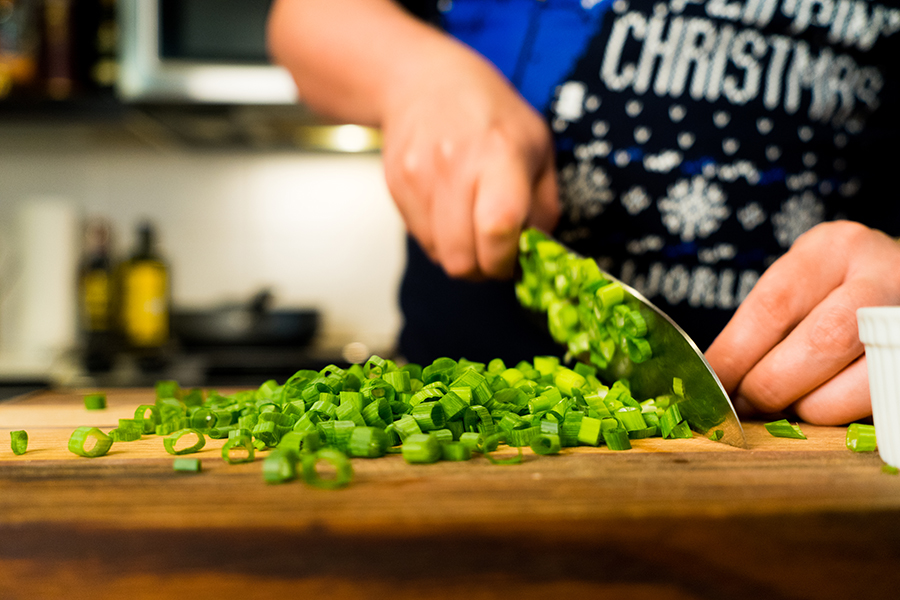 add the remaining tbsp to the skillet
add scallion whites, garlic, and ginger and cook, stirring, for 1 minute
add mushrooms and cook, stirring, until they release their liquids (3-4 minutes)
return the chicken to the pan, then add the water chestnuts, bell pepper, and the rest of the sauce and cook, stirring, until cooked through and the liquid has reduced and thickened slightly (3-4 minutes)
stir in the scallion greens
To serve:
transfer mixture into a medium sized bowl
set out lettuce leaves and serve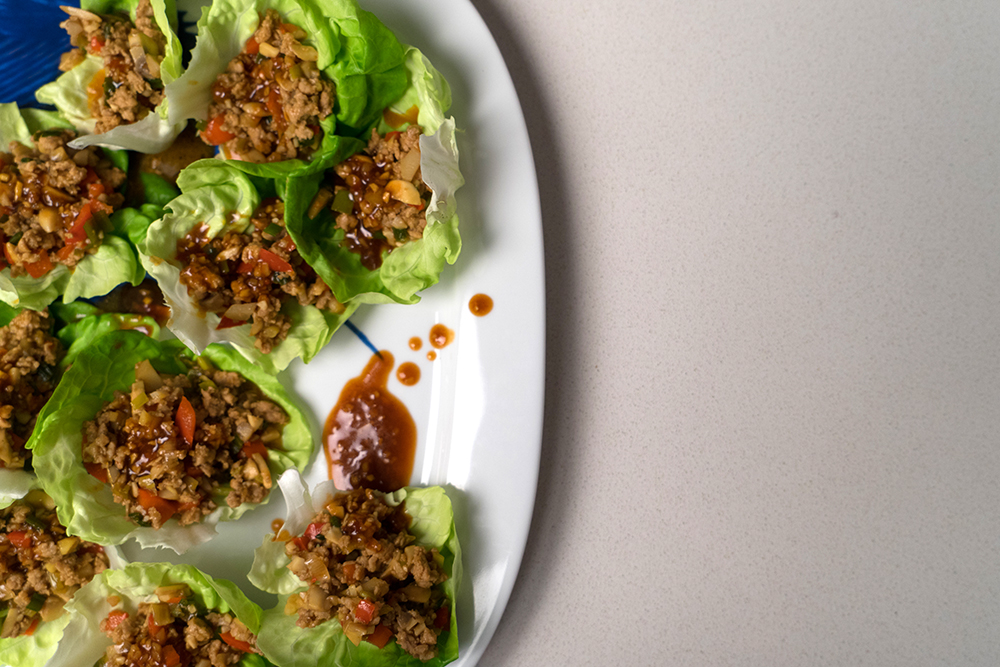 Final Verdict: S: I'm in love. And that's really saying something. The duck lettuce wrap you get at restaurants is probably one of my fav dishes on this planet. [I'd go with second favourite, the actual peking duck is the best] This dish feels like it should be the most unhealthy food ever, for how absolutely flavourful it is. I can picture myself just sitting in front of the tv, and not paying attention and eat all of it myself [true story] (yes I know it's for 6 people). I guess at least it's chicken and it's healthy… right? goes off to eat some more
D: Just a closing comment from me, I think the sauce is flexible enough to use with other dishes, it's really good. I'll probably be making it and trying it on its own as a dipping sauce or something, maybe thicken it a little first, but the sauce recipe alone is very good.