S: My parents have a family friend who hunts. They gave my parents 2 packs of venison, and they had no idea what to do with it. So cue in the hubster and I. Since we love to cook, and we eat less asian food (I'm Chinese), clearly that means we know how to work with venison. Well we/I didn't, but I was definitely up for the challenge. Thankfully, we were given 2 packs, so I could test out a recipe first on myself and the hubster… before subjecting my parents to it.
The one thing I wish I had known, before I bought everything to make this stew: that it was ground venison. Just the way it was packed, it definitely felt more like it was going to be a chunk of venison that I'd dice. Alas, that was not the case. But I persevered through it, and tweaked it to make it work. Huzzah using the good old noggin!
Ingredients##
2 tbsp vegetable oil
1½ kg diced stewing venison
3 large carrots, roughly chopped
1 onion, roughly chopped
4 cups of sliced cremini/white mushrooms*
3 med turnips, roughly chopped*
1 tbsp cumin seed
1 tsp ground coriander
a large pinch of chilli powder (or two)
1 small cinnamon stick
1 red chilli, whole (or a de-seeded habenaro)
1 heaped tbsp plain flour
500ml red wine
300ml beef stock
400g can chopped tomato
large thyme sprig
2 bay leaves
50g dark chocolate (more than 70% cocoa solids)
*I felt that these ingredients were needed, to make it more of a substantial stew
Required##
Large flameproof casserole dish
**Large stock pot
**Casserole dish
Directions##
Pre-heat oven to 320F with Casserole dish inside. **(Because our casserole dish is not flameproof, I used a large stock pot to do all my cooking, then transferred everything over to the Casserole dish)
Heat the oil in the large stock pot and brown the meat in batches (If you cannot fit it all in one layer). Put them to the side while cooking the veggies (The actual instructions tell you to add the veggies in and keep the meat in the dish. I didn't want to overcook the meat, so I opted to bring it back in after the veggies).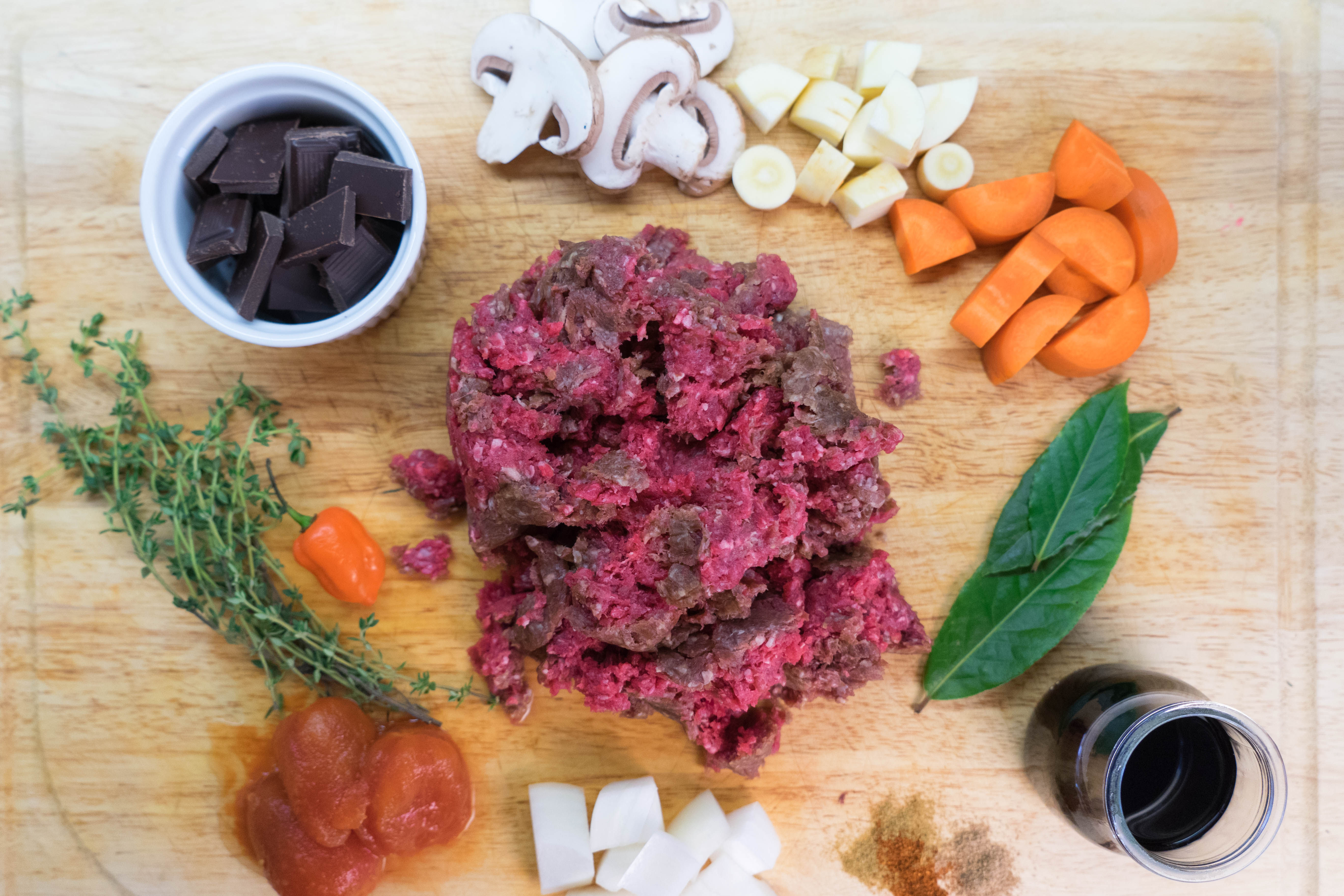 Add the vegetables into the pot and brown lightly, then stir in the spices, chilli and flour, and cook for a few mins.
Pour in the wine, stock and tomatoes, then add the herbs. Bring to a simmer.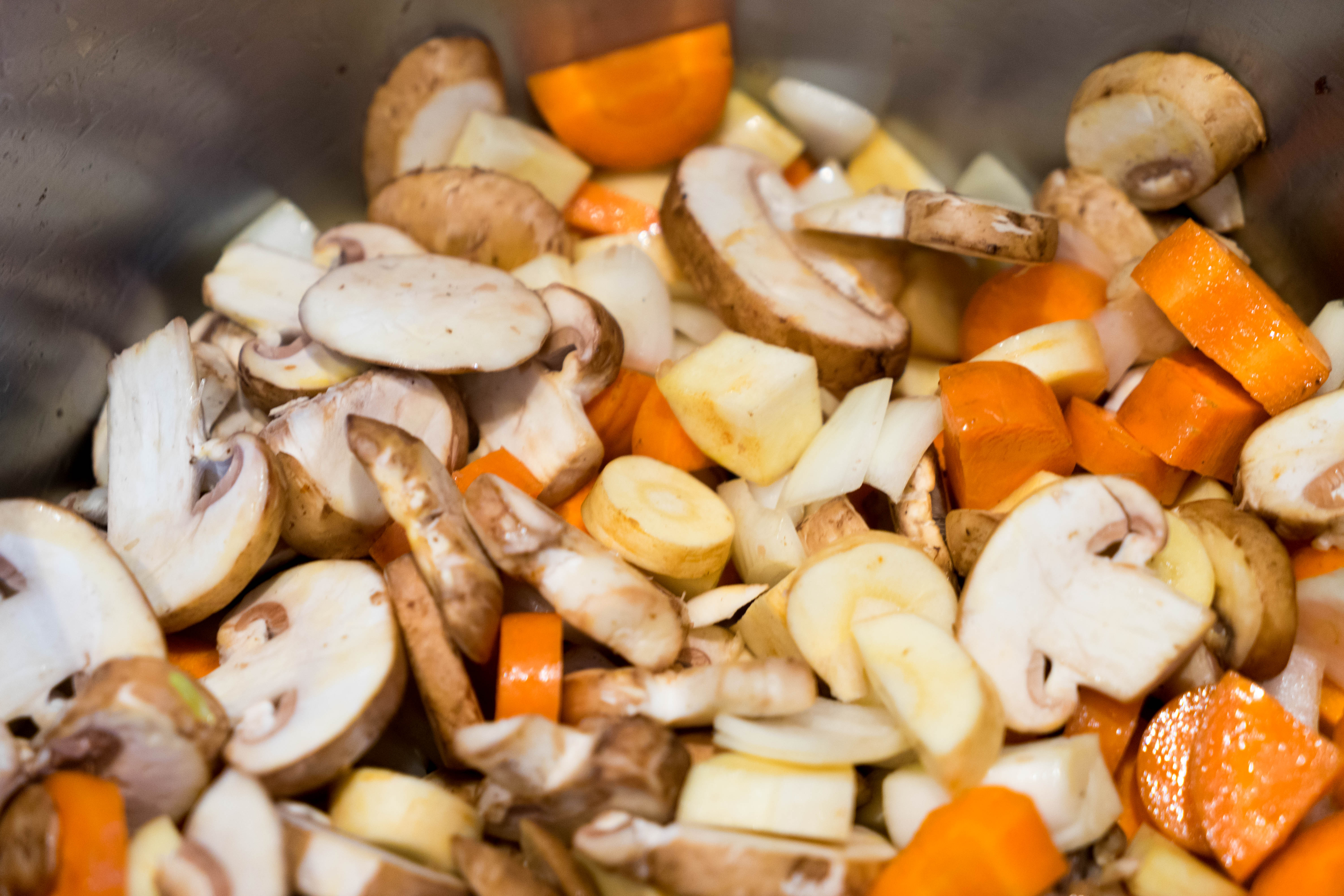 This is where things got interesting for me. I wanted to make sure the meat was equally distributed, so I layered.
Take out the Casserole dish from the oven. Lay out half of the meat in the dish. Dish out half of the veggies and sauce into the dish. Put the rest of the meat in, and the veggies and sauce.
Cover with a lid (We have no lid for our casserole dish, so tin foil it was!) and put in the oven for 1 hr 30 mins, then remove the lid and cook for a further 1 hr until the meat is really tender.
Remove from the oven and leave to cool slightly, then stir in the chocolate and serve. (My casserole dish was COMPLETELY filled up to the brim with delicious goodness. So for the sake of making it easier for us to put in the fridge after, and to be able to stir in the chocolate, I chucked everything from the casserole dish into a big glass bowl. Tossed in the chocolate, and mixed everything up).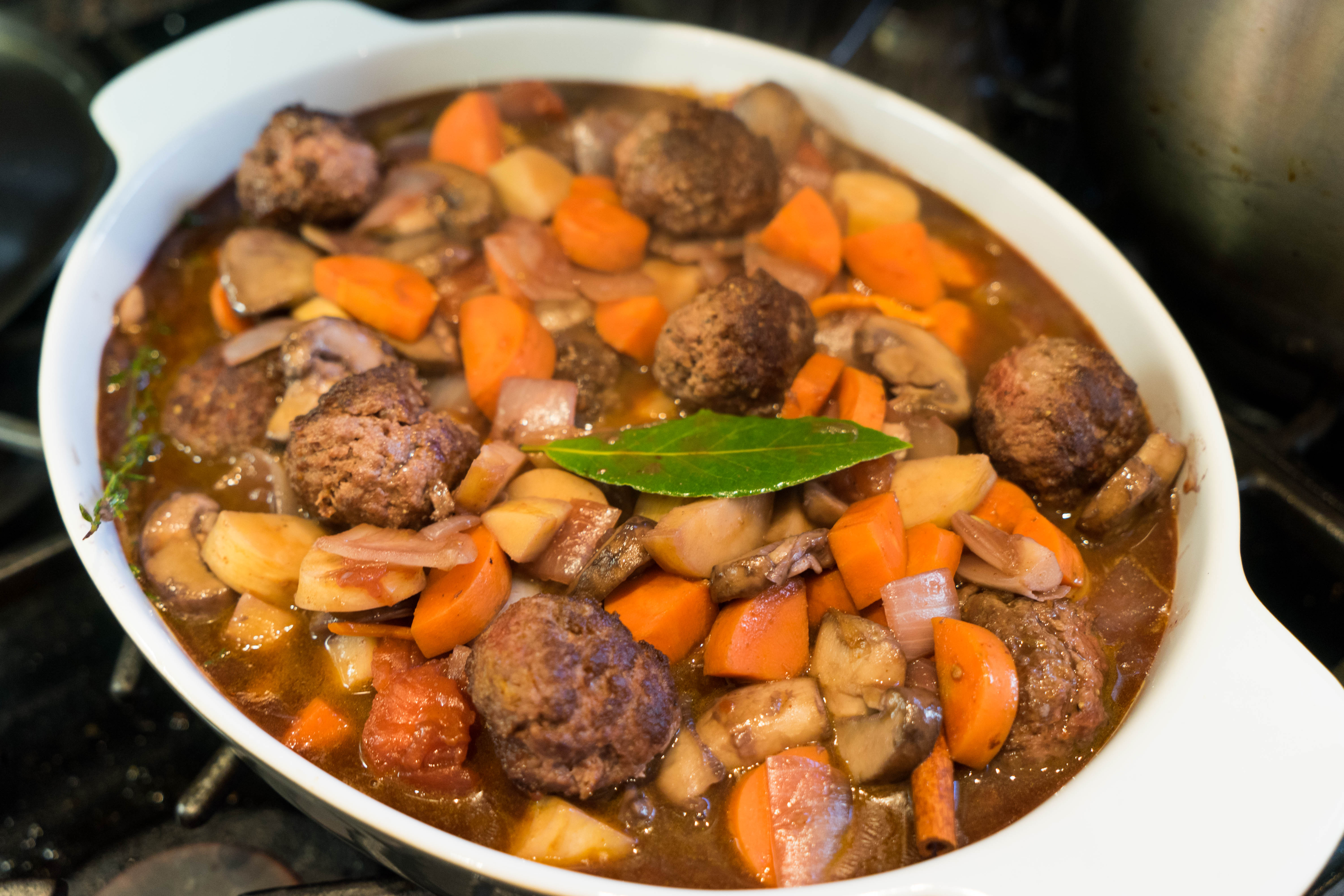 Verdict##
S: I'm still a little sad that we didn't have actual chunks of venison… but I worked through it, and I'm really glad the venison meatballs worked out in this stew. And on the note of the stew, so yum. I've been dying to try a savoury recipe that required some dark chocolate goodness. With that and the chilli, it really adds this extra dimension to the dish. I will note that I wish I had added the habenaro whole, as the kick wasn't AS much of a kick that I wanted. Hubster and I definitely added a little bit of homemade hot sauce for some kick. But overall, it was delicious. I'm glad I added some more veggies.
D: The meatballs turned out well, I feel like probably better than chunk would have been. I thought the general flavour, as steph said was… too savory? It was a bit one note? As she said, I ended up adding a skimpy tsp of Ghost Pepper sauce to it to bring the spice level up, and that was delicious. It was really good, but kind of a general warm savoury, and I like more salt, more spice, something of the sort. 10/10 with the extra kick though, very good, and the meatballs turned out great. Chocolate added a lot of depth over a classic stew.