So the hubby and I went to the Niagara Region, for the Niagara Icewine Festival last weekend. Though I've lived in Toronto all my life, I've never gone to a festival like this before. We decided to do a bus tour, so neither of us would have to worry about calling a cab/driving, while we had vino in our systems.
On the note of bus tours, unless you're willing to go with other people you haven't met (who may be in a big group themselves), plan to go with a few friends, 8 at least, to have a bus all to yourself. Don't get me wrong, it wasn't bad, but poor David was the only gent in the bus [that was maybe a tad unsettling, but perhaps unexpected].
One thing we both agree on, we were kind of disappointed that not all the wineries offered icemen, but normal wine instead. I understand that not all wineries make icewine, but then would it not make more sense to be part of the wine festival [that is, the Niagara Wine Festival (previously Grape & Wine)], not the icewine festival?
On that note, to our observations below [a note that neither of us are wine connoisseurs ]. Enjoy!
13th Street Winery 1776 Fourth Avenue, St. Catharines 905-984-8463 | 13thstreetwinery.com 13 Below Pulled Pork with Braised Apples, Pork Belly & Caramalized Onions Enjoy our picturesque winery boutique as you savour this amazing dish paired with either our 13 Below Zero Riesling or our drier June's Vineyard Riesling. Stay a while to browse the latest art exhibit and visit with 13th Bakery. Vegetarian option is available. - Niagara Icewine Festival:Festival Guide
This place wasn't actually the winery itself, but its wine shop that's located on 4th Street. The story told: their actual winery location didn't have enough space, so they found a new landing ground for a shop, which coincidentally is where their 13th Bakery is as well.
S - As the description above states, there were two different wines we could choose from, so I grabbed the 13 Below Zero Riesling, and David grabbed the June's Vineyard Riesling. Neither one of these were a true icewine; the 13 Below Zero Riesling is a blend - half Riesling and half Icewine Riesling. So it has some of the sweetness of an icewine, but the lightness of a white wine. It was hard to try and taste the pulled pork and such, due to the crostini being too crusty all around which made it hard to actually bite into it.
D - Not being a huge fan of Riesling to begin with (I tend to drink reds), I thought it was quite good for a Riesling, I'd drink it again. The 13 Below was quite good, and I do regret not grabbing a bottle, it was very good for a blend, and that brings the price down quite a bit; very good value for money. Pulled Pork on a crostini is perhaps something I might not choose to make as it was very difficult to eat; not my favourite of the food pairings.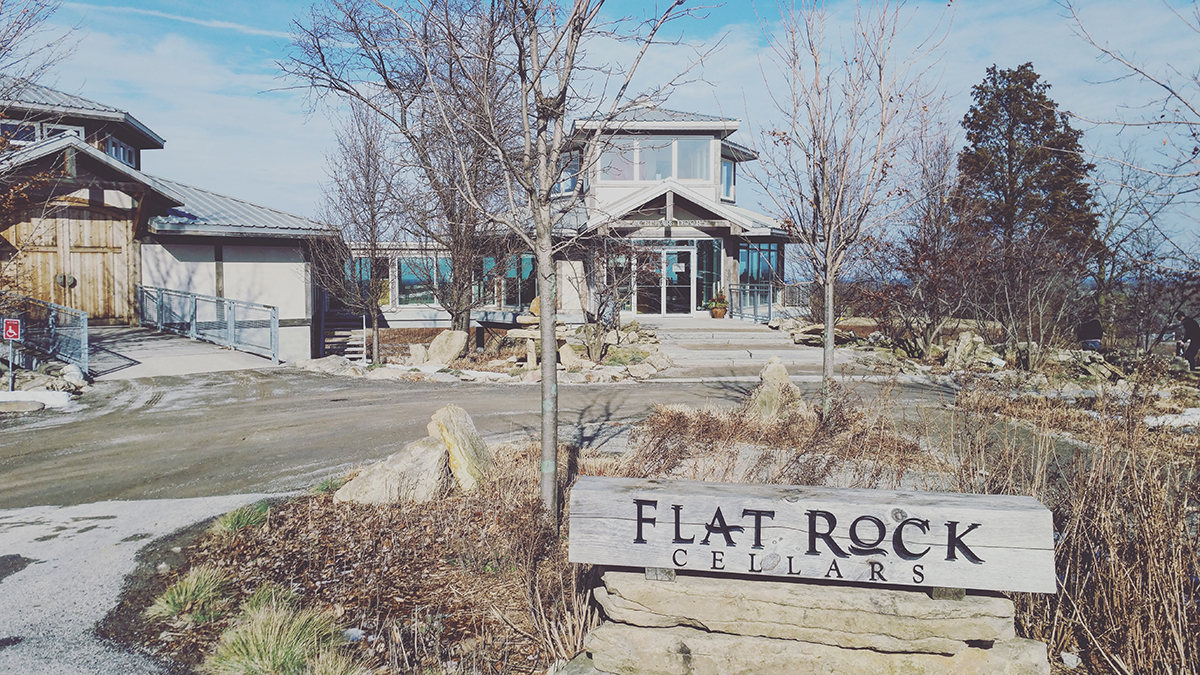 Flat Rock Cellars 2727 Seventh Avenue, Jordon 905-562-8994 | flatrockcellars.com Feeling Adventurous? Our favourite Twisted Chef, Patrick Wiese, is back! He'll be cooking up a Maple, Cowberry, Winter-herb, unbelievably tender Roasted Prok Belly! All topped off with a delicious sweet scented parsnip puree and wine caviar. Perfectly paired with Flat Rock Cellers' 2013 Late Harvest Gewurztraminer. - Niagara Icewine Festival:Festival Guide
S - Though icewine was not offered at this winery, David and I did enjoy the Gewürztraminer. We enjoyed it so much, we bought a bottle to bring home. Gewürztraminer is usually quite on the sweet side, but this one doesn't end off too sweet. I tasted a bit of lime at the end, which gave it a nice acidic end note to a usually overall sweet wine.
D - The Gewürztraminer was stellar; not sickeningly sweet. With the wine being a Late Harvest rather than an Icewine, the sweetness comes down (but it still feels very much like an Icewine), viscosity comes down, and the price runs a tad lower as well. Very good for something different to try. Food pairing was good, as it was delicious, and had good ergonomics (small wine glasses, the kind you might use for communion or something, with food in it) – food ergonomics are important.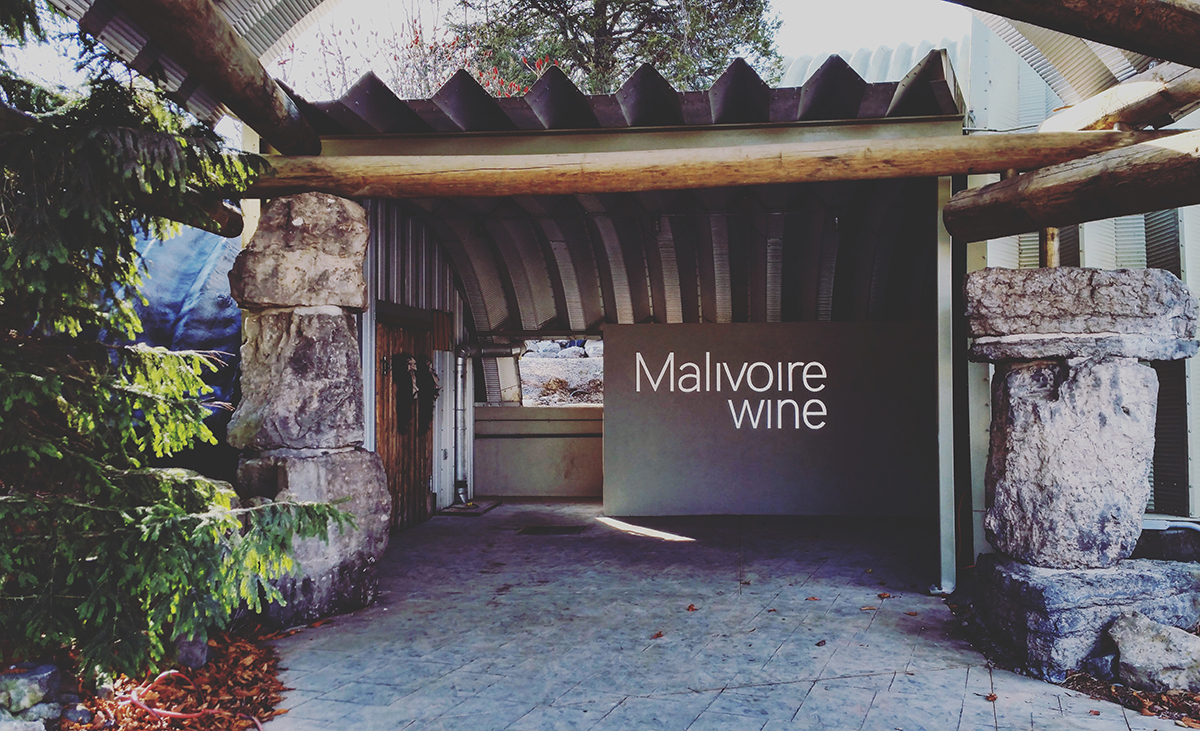 Malivoire Wine Company 4260 King Street East, Beamsville 905-563-9253 | malivoire.com Epicurean Delights with Riesling Icewine Delight in this perfect pairing with our 2014 Riesling Icewine as you experience a cider braised pork belly slider with quick butter OR the vegetarian option of a decadent Blue Cheese Crème Brule - both created by Chef Daniel of The Epicurean Restaurant, NOTL. - Niagara Icewine Festival:Festival Guide
S – Yay icewine! I have to admit that on its own, the Riesling Icewine, it's a little to sweet for me. I realize that icewine is supposed to be sweet, but this one was a tad too sweet for my palette. BUT when paired with the Blue Cheese Crème Brulee, the contrast from the blue cheese saltiness balanced out the sweetness that carried through from the icewine. It pretty much made music in my mouth when the both of them combined.
D - As Steph said, the Riesling Icewine is a tad on the sweeter side, as far as Icewines go. It did pair very well with the Blue Cheese Crème Brulee, I need to look into making a batch, it's a really interesting take on Crème Brule.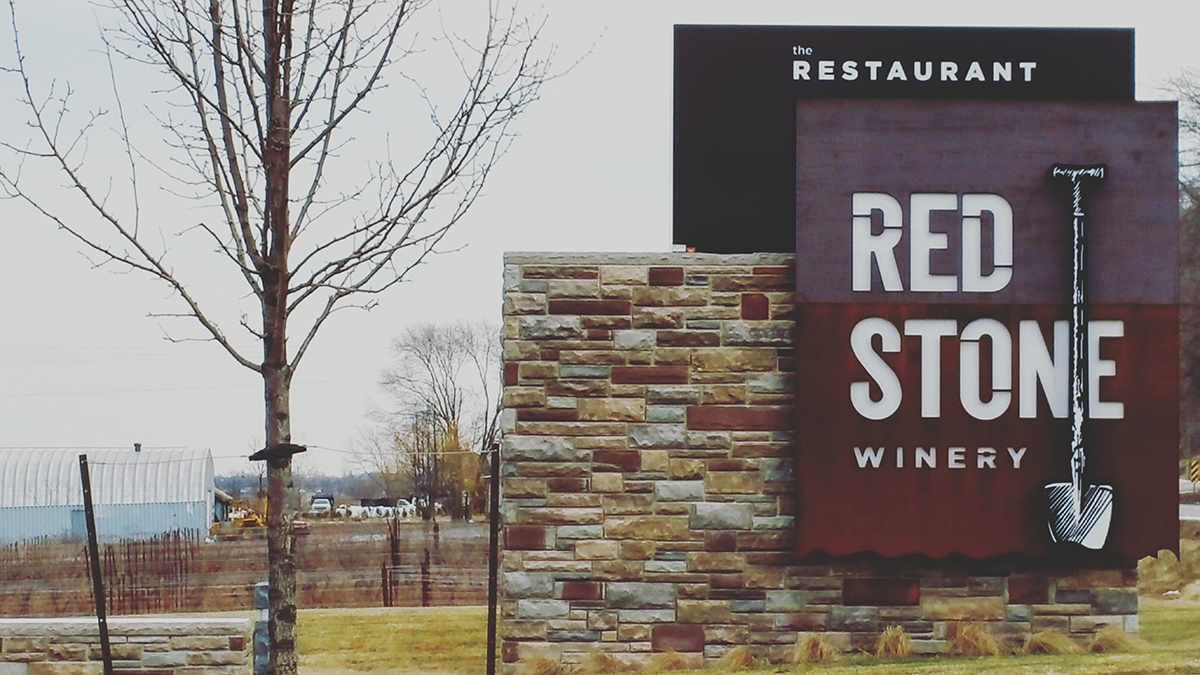 Redstone Winery 4245 King Street, Beamsville 905-563-9463 | redstonewines.ca It's Gonna be 'Chili'… Bundle up and join us fireside on the Terrace at Redstone to enjoy a cup of Chef Sider's Icewine-inspired creation. A sweet and savoury pairing of our 2010 Cabernet Franc Icewine with a Braised Venison and Dark Chocolate Chili is sure to keep you warm. - Niagara Icewine Festival:Festival Guide
S – I have to admit that I was just introduced to red icewine just a few months ago. I'd always assumed it was done with green grapes, but who knew? I was glad that there was a Cabernet Franc Icewine in the mix, as I think this is my favourite/best way an icewine should be made. Sweeter than a Gewurztraminer, but not so much so.
D - I could have gone either way on the Chili, it actually ended up quite bitter from the gameyness of the Venison, and the dark chocolate. It really needed the Icewine to balance it out, almost unpleasant on its own, not something I'll be making. Cabernet Franc Icewines are my favourite at this point, and Redstone's is no exception. Very good balance of the depth of a Cabernet Franc with the sweetness from being Icewine, a great offering. We bought a couple of theirs (as well as Inniskillin's to follow).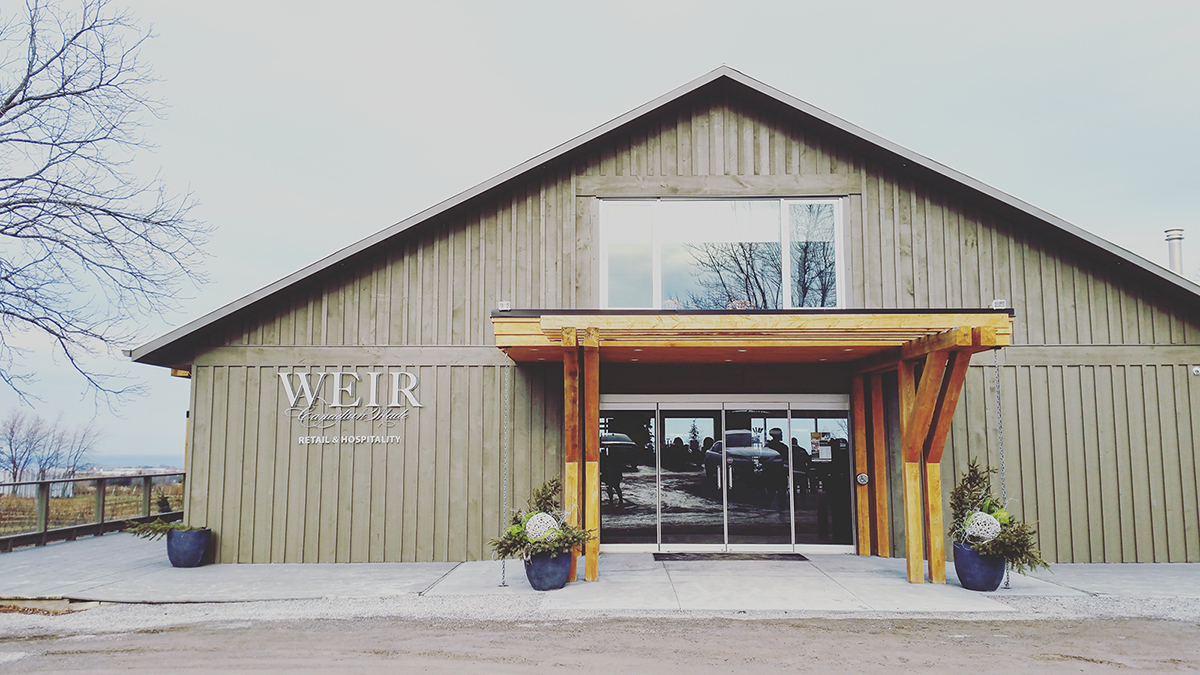 Mike Weir Winery 4041 Locust Lane, Beamsville 905-563-1919 | mikeweirwine.com The Yellow Pear-ing: Icewine Grilled Cheese & Riesling Join Mike Weir Winery & our facourite "Farm to Truck" friends, The Yellow Pear, to celebrate Icewine. Warm your bones with one of The Yellow Pear's signature comfort food dishes "Icewine Grilled-Cheese" paired with our 2014 Limited Edition Riesling. - Niagara Icewine Festival:Festival Guide
S – Unfortunately for me, this one kind of fell flat for me. The Riesling wasn't anything special. The wine itself just wasn't something I was fond of. The grilled cheese was alright, but at that point, anything pork was making my stomach not that much of a fan.
D - The Weir Reisling was about what I would have expected from a glass of Riesling. Sweet, kind of… one note a bit, really just floral and sweet; not my favourite.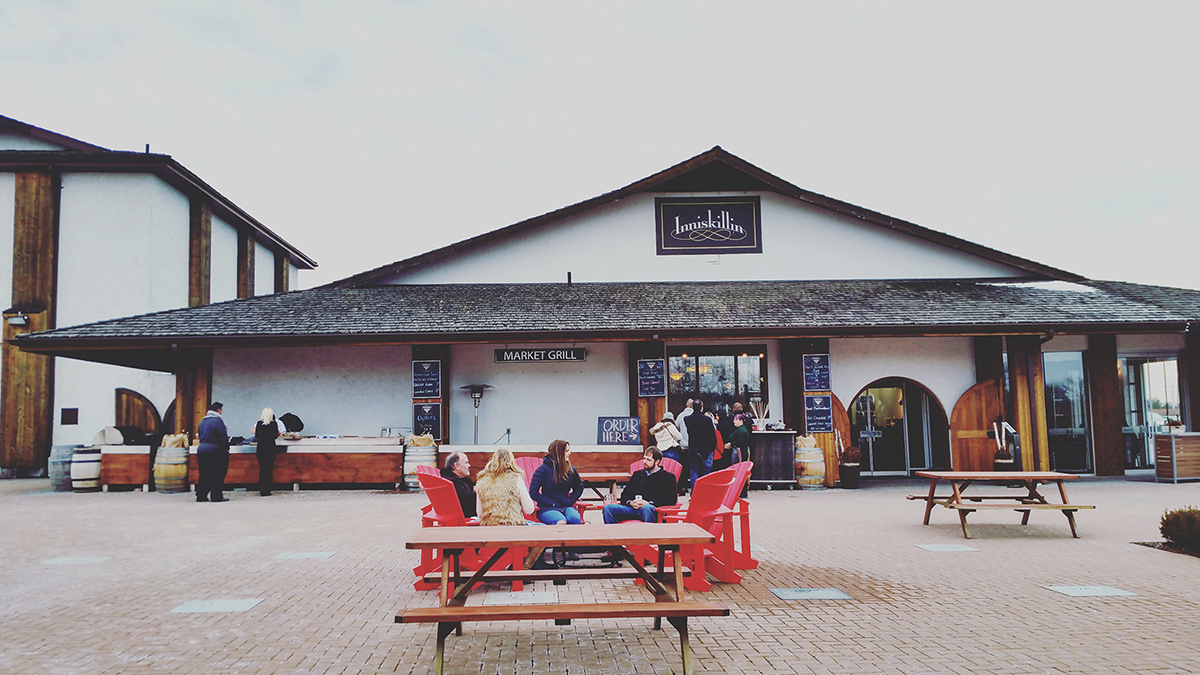 Inniskillin Wines 1499 Line 3 & Niagara Parkway, Niagara-on-the-Lake 905-468-2187 ext. 5400 | inniskillin.com Northern Cool Meets Southern Warmth Warm up this cold winter with our own take on the southern favourite, Chicken and Waffles, spread with our classic Riesling Icewine Butter. Enjoy this warm pairing with Inniskillin's cool and highly awarded Riesling Icewine. - Niagara Icewine Festival:Festival Guide
S – I have to admit that Inniskillin may have been my favourite. It helps that they have been making icewine since before I was born. I was introduced to the Sparkling Cabarnet Franc Icewine here, and man have I truly fallen in love with it. But I digress, and should talk about the Vidal. Personally, I believe that Inniskillin has gotten it /just/ right for the sweetness. There's no lingering aftertaste that isn't palatable on the tongue. And who can say no to Chicken and Waffles? Sadly, I think it fell through due to the huge demand for it. The food was all grouped into big tin foil trays, then assembled. I'm not saying that they shouldn't have done it, it was the only sane way to keep production going smoothly with so many people coming through their winery for the tour. The waffle just fell apart a bit, if you didn't eat it straight away, which was kind of hard when we were waiting for a place to sit down to try the wine with the food. It's still the pairing that counts, and if all had been 100%, it would have been so tasty.
D - Inniskillin was stellar as expected. The chicken and waffles were great, but yeah, served cafeteria style, not the freshest or anything, but a very impressive effort by Inniskillin. They had by far the biggest turnout, and their kitchen staff made sure they could keep up, and the quality was there. Great food, and naturally the Riesling Icewine was solid. They continue to be my favourite Niagara winery at this point.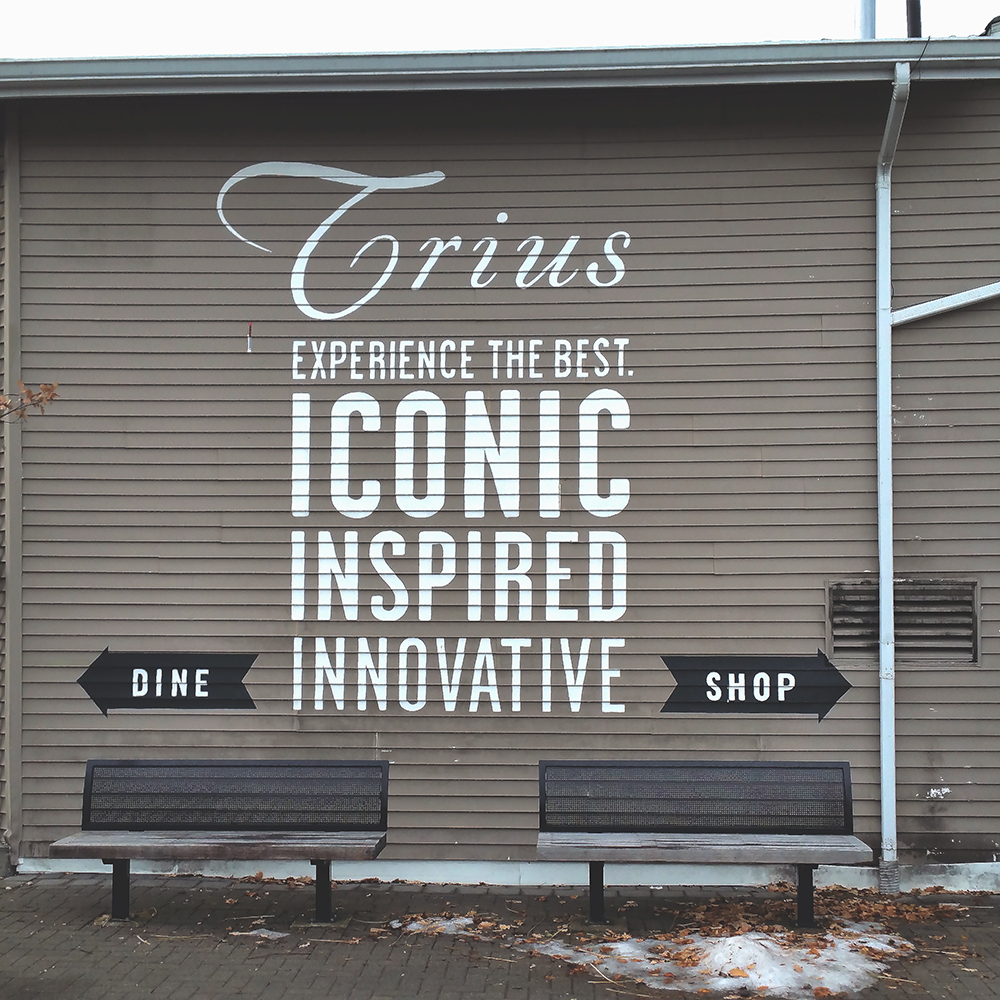 Trius Winery 1249 Niagara Stone Road, Niagara-on-the-Lake 1-800-582-8412 ext. 2 | triuswines.com Icewine By Fire Kickback fireside at Ontario's Winery of the Year and enjoy our outdoor winter ambiance while you "chill" by the fire with Chef Dodd's delectable pea meal bacon on a bun with Trius Icewine onion marmalade paired with our perfectly sweet Trius Vidal Icewine. - Niagara Icewine Festival:Festival Guide
S – Unfortunately for us, it had started to rain, and as it was the start of the day on Sunday, the campfires had not started up. And by the time it did, after we were done, it was smoking a lot due to damp wood. I'm not sure how to explain the Vidal Icewine, other than it left an aftertaste of alcohol, more so than any of the other icewines/wines we tried. The pea meal bacon on a bun was sadly also mediocre, as it was more bun with a small morsel of pea meal bacon.
D - I didn't mind the wine, it was different at least. As a Scotch drinker I don't mind the heavier alcohol content/flavour. Food very much fell flat, especially in comparison to what some of the larger wineries did.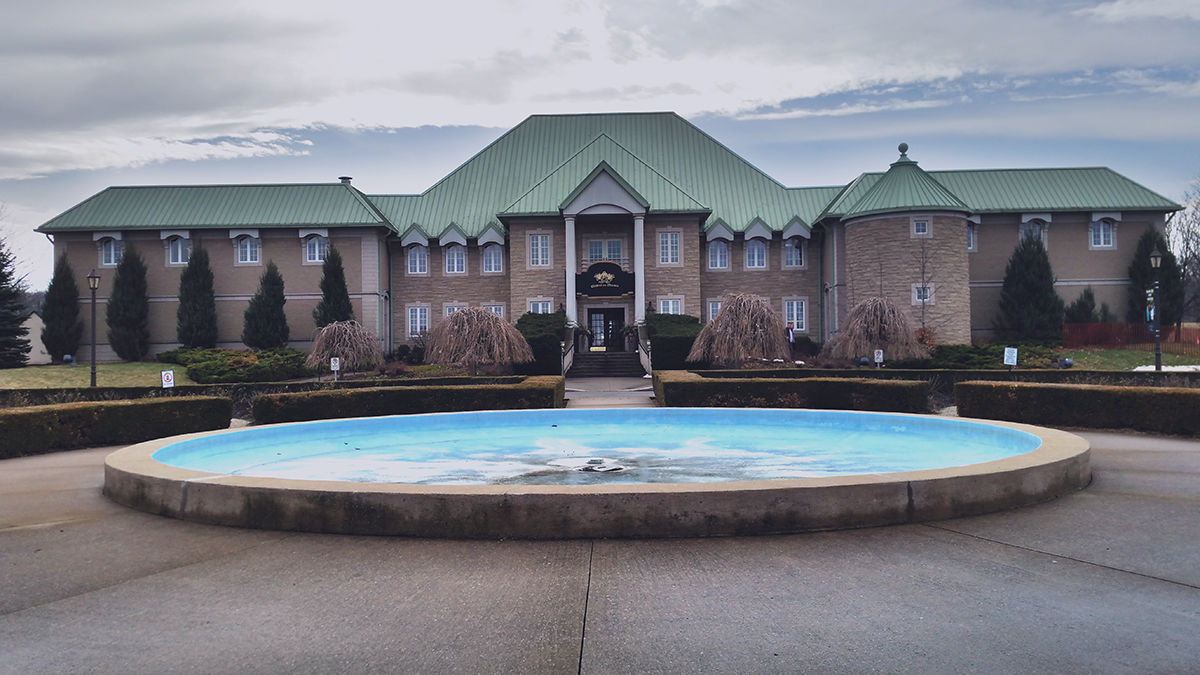 Chateau des Charmes 1025 York Road, Niagara-on-the-Lake 905-262-4219 ext. 238 | chateaudescharmes.com Sweet and Salty: Crafted by Executive Chef Marc Lyons of Queen's Landing, this month we'll be serving up a Pork Belly Taco with apple Onion slaw alongside our delicious 2014 Vidal Icewine. A liquid gold pairing not to be missed! - Niagara Icewine Festival:Festival Guide
S – I think food wise, even though it was more pork, the Pork Belly Taco offered at the Chateau des Charmes, was my in the top 2 for the weekend. There was just enough belly fat and slaw to make the taco juicy and delicious. The pork belly was nice and warm, which ensured the belly fat wasn't a solid piece, but a melt-in-my-mouth goodness. The Vidal Icewine wasn't anything to write home about, but was a great pairing with the taco. I wish I could eat that taco now. Mmmmm.
D - No real meaningful input on this one, I didn't love the food, or the Icewine really. Pretty standard Vidal. I kind of expected to be more impressed, knowing Chateau des Charmes; I feel like their offerings are perhaps on the safe side. Good as a gift perhaps.