D: The event was held in the King Edward Hotel on King Street, Toronto. I'd never been in this hotel before (the last one was at the Shangri-La). It was super nice inside (the outside is maybe a bit dated, I was amused by the bare wires hanging out of the speaker connection on the front steps), but a gorgeous lobby and the area that the event was held in was beautiful. I'm interested in trying a night or two stay there, cool old hotel.
Walking up the stairs to head to the event, Macallan had set up a number of cool posters along the railing overlooking the lobby. There were also empty boxes for the new offering being tasted at this event, Macallan Rare Cask, which was neat (considering the cost of the whiskey). Naturally, there was a bar for cocktails.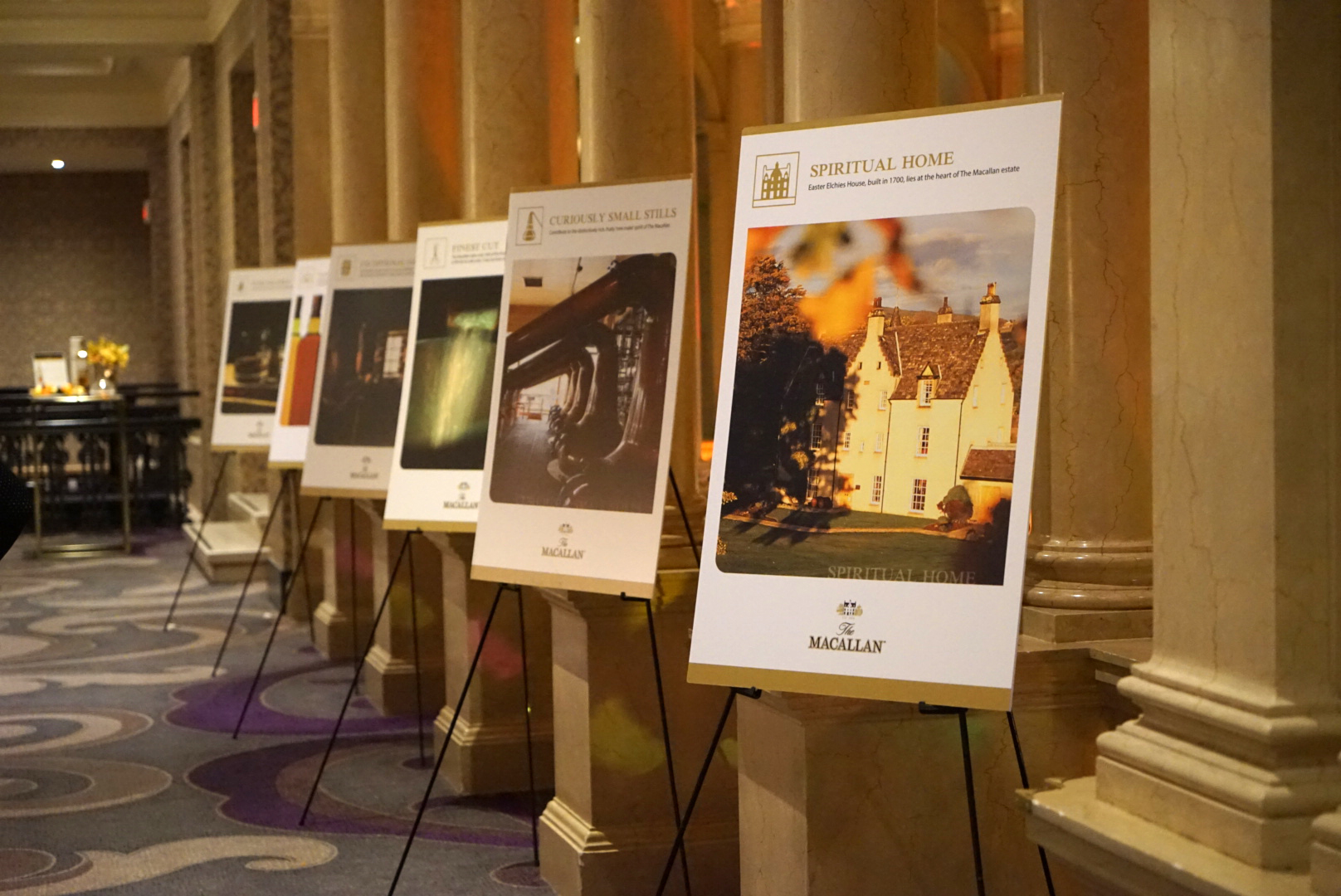 In previous years, two drink tokens were provided, and there was a choice of drinks. This year attendees received one token, and there was one drink offered (possibly due to the setup). At the Shangri-La, it was hosted in a room with a more permanent bar, Macallan had to work with what they had here. It worked well, but it was different.
Walking past the bar they had displays to represent the flavours present in each scotch being tasted, and had a decanter with each scotch for you to smell. Very cool.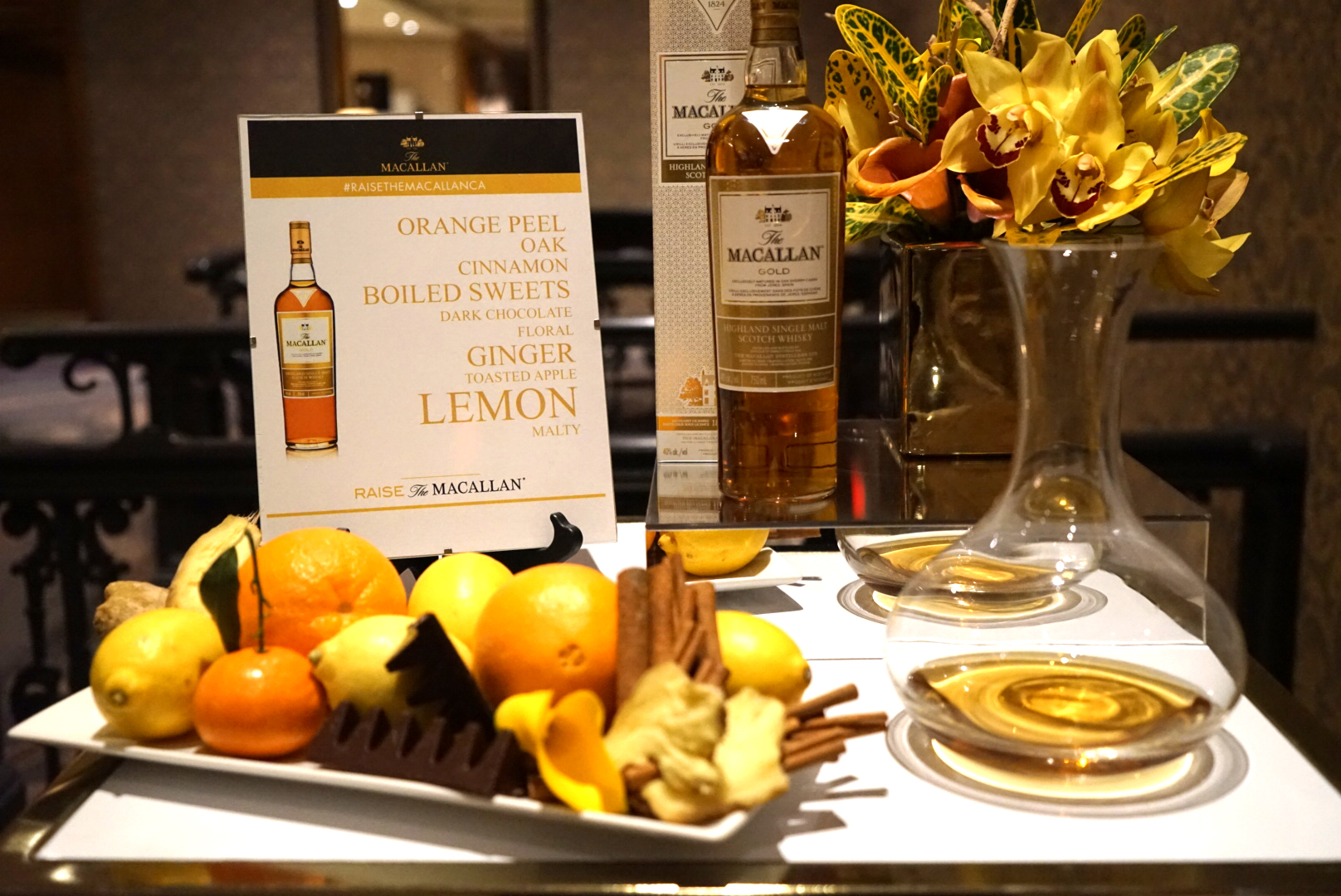 The available cocktail was an Elderflower Cordial & Macallan 10 cocktail. I'll be recreating this next week (mostly because we have St. Germain taking up room on the shelf). But I thought it was good, albeit very light on the alcohol. I'd wing it with 1 part St. Germain, 1 part Macallan, topped with soda water, squeeze of lemon, add lemon twist for garnish. Not a lot of Macallan when it's the light one. Basically just tastes like Elderflower Cordial. But it was good.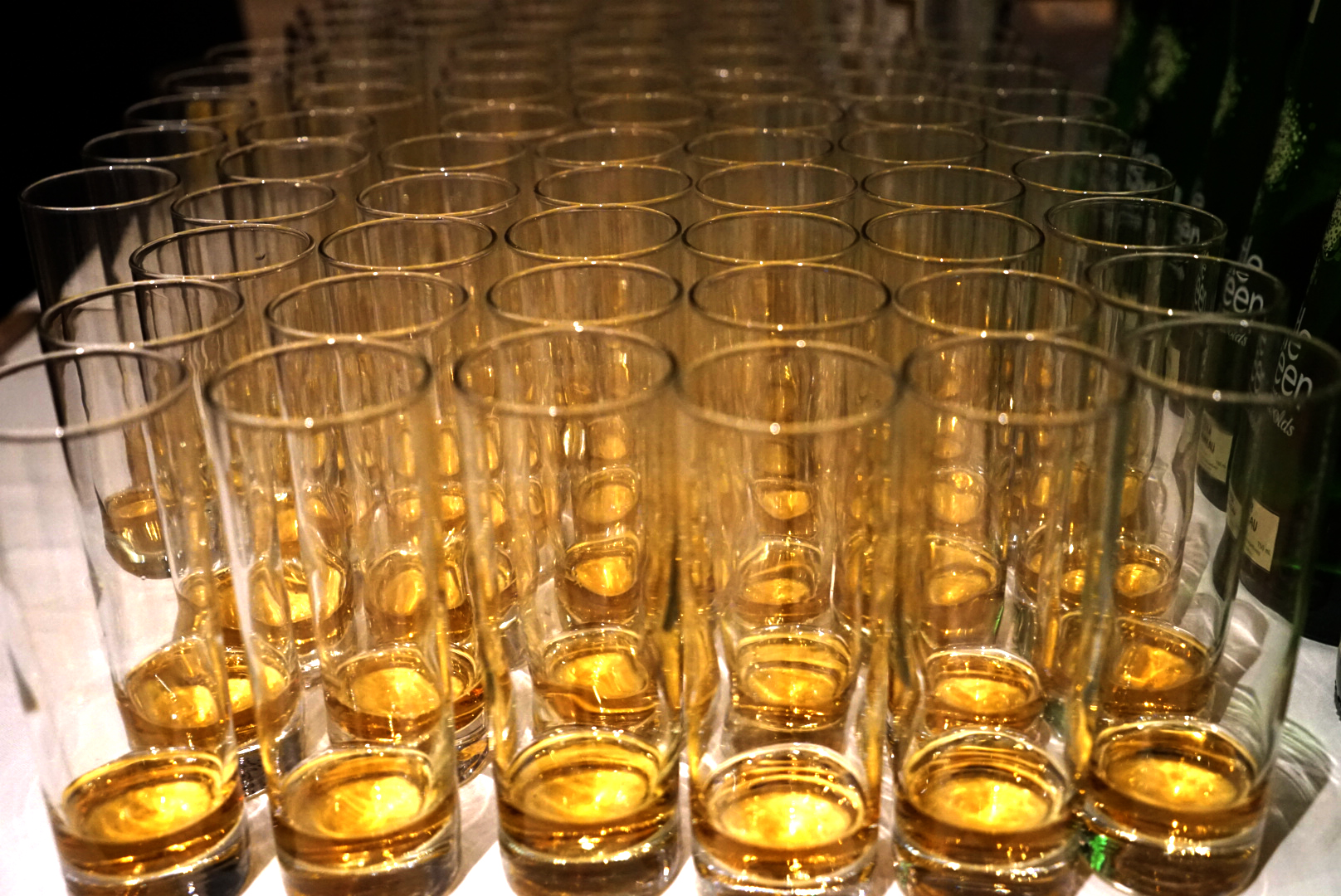 Appetizers were also offered. Included was:
goat cheese pouches (I think, goat cheese or feta; a light cheese anyways)
fried chicken skewers (breaded & fried chicken satays, basically)
fried breaded shrimp
crab cakes
We didn't love the cheese pouches, but the food was all quite good, considering. I'm not sure if it's a credit to the hotel ktichen staff, or Macallan, but great food service. The complaint raised by Steph is that the waitstaff can only come from one entrance, so all the attendees tended to crowd around the end where the food was coming from. This both got the food mobbed, preventing others from getting it; and also created mayhem depending on where people were trying to mingle. Even if the staff had to cut through the room the tasting was being hosted in (doors at the back of the cocktail area) it may have helped, just to keep things flowing better. Maybe it just wasn't the best space for the event; but they did make it work.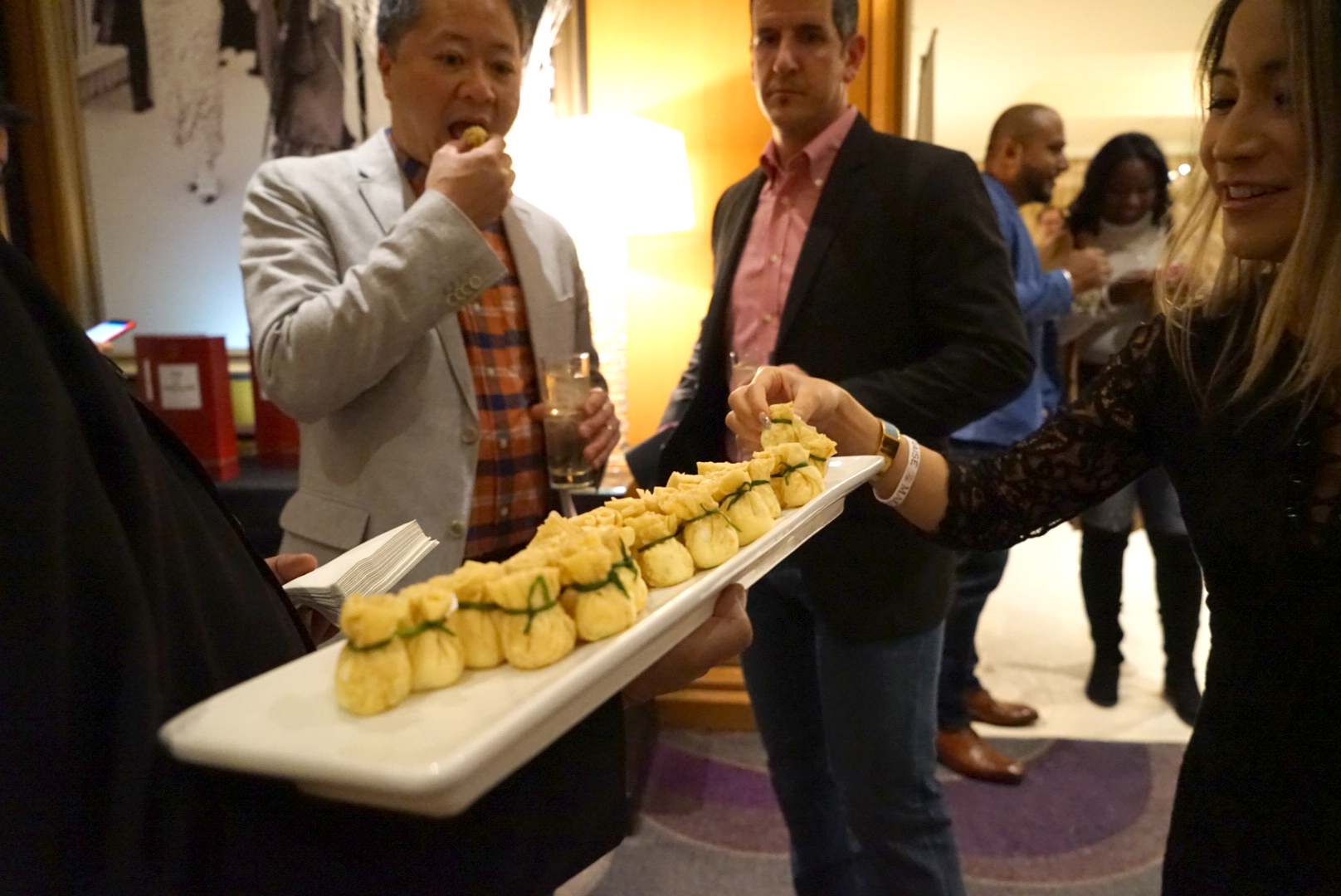 The Tasting##
The scotches being tasted at the event were the following:
Macallan Gold
Macallan Amber
Macallan Sienna
Macallan Rare Cask
The tasting is run, basically, as part guided tasting, and part history lesson about both Scotch, and The Macallan itself. It's very cool, and always very interesting. Even though Steph has been to a couple of the events, and I'd been to one in the past, we still learn something when we go and enjoy the speaker. It's a very good time, even for those that maybe aren't Scotch fans. They really try to teach you and immerse you in the idea of the Whiskey & Scotch industry, and try to help you build an appreciation for it. It is a bit of a marketing pitch for Macallan, obviously, but not entirely. It's a good balance; if you have someone who really doesn't have an appreciation for Scotch, or someone you want to maybe help understand why you like it, it's a good event to bring them to.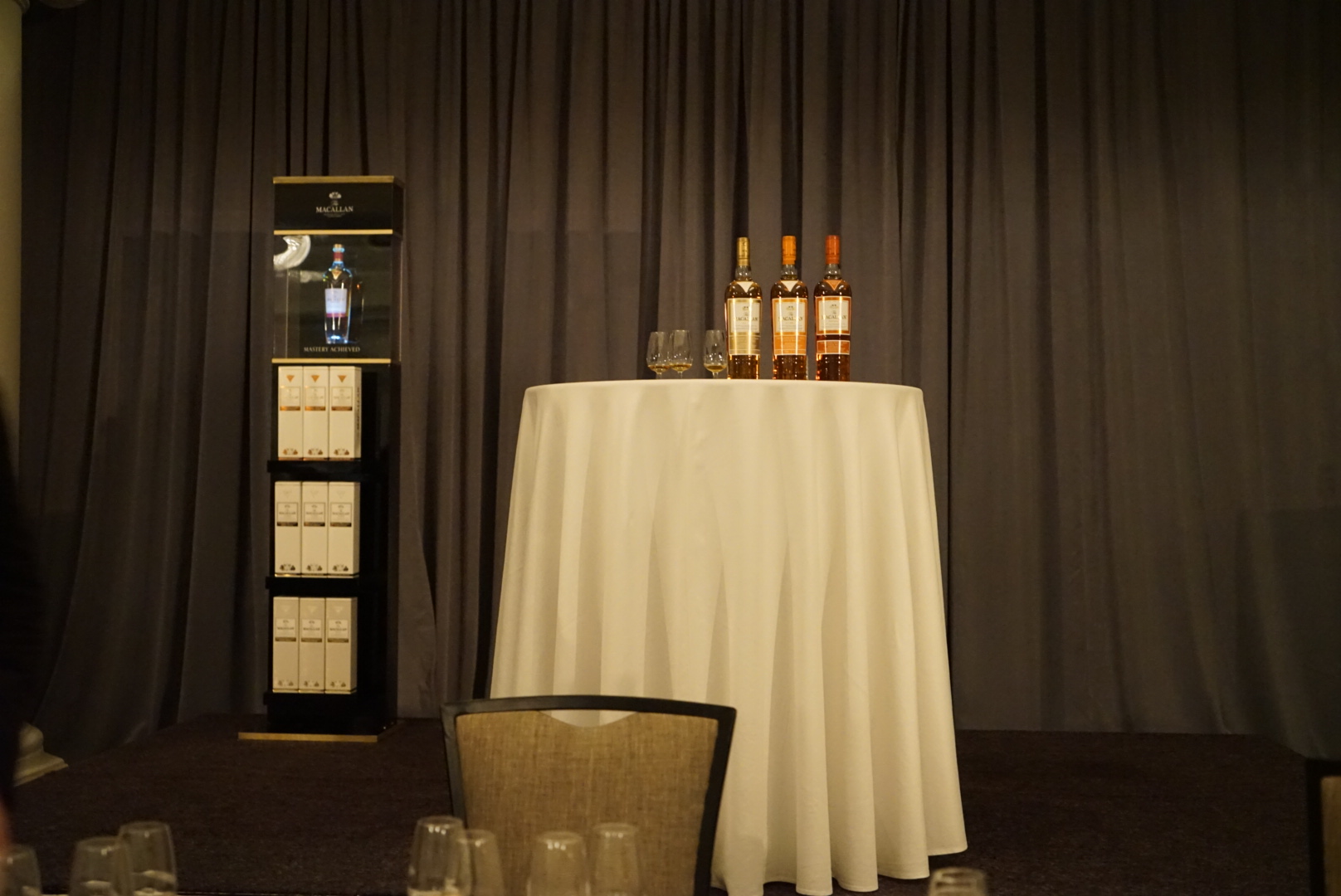 There is a video that is played to provide an introduction to Scotch Whiskey and The Macallan before the tasting starts, it covers (not an exhaustive list) the following:
what makes a scotch a scotch (Whiskey vs Scotch Whiskey)
the story of whiskey casks (Macallan and their strong focus on the quality, and care for their casks; the flavour and colour of Macallan comes ~ solely from the casks)
the Whiskey producing regions of Scotland (Islay, Highlands, etc)
what makes Macallan special (wee tiny stills)
Tasting Notes##
So I'm a pretty terrible taster; it is something you need to develop, and I apparently have not, so I'm not going to lecture on flavour notes and the like. But, the following were the Whiskeys that were tasted at the event, and a brief opinion of them:
Macallan Gold – "breakfast scotch" – very very light, very smooth, good for the newbie who doesn't want strong flavours
Macallan Amber – approaching a more complex scotch, still very light and smooth, more fruit and stronger flavours
Macallan Sienna – our favourite, lots of flavour, more depth, some smoke, not as gentle and smooth
Macallan Rare Cask – omg. Almost a souped up Sienna, lots of flavour, very smooth
So the Rare Cask is $399 a bottle. And it was stellar. If you notice from the tasting note pictures, you'll see similar flavours carry through the line: lemon, orange (citrus), Apple, Banana. But as you work your way through the line, you start getting stronger, darker flavours: chocolate, raisins, nuts. That's probably the best way to look at how the flavours evolve as you work your way through the line. The Rare Cask has much more of the strong flavours that one often attributes (well, I attribute) with a good, hearty Scotch. It's stellar. A very well rounded flavour (Sienna is maybe a bit one note in comparison), very, we'll go with full bodied. I need a special occassion to use an excuse to buy a bottle that expensive. It's very good.
Sienna is our favourite, if only because we didn't love Ruby that much. We celebrated our engagement with a bottle of Sienna (c/o Steph). We haven't finished that bottle yet, if only because I know just how expensive it is. God I love Macallan Sienna.
Amber is really good, we do have a bottle of it, but since my preferred Scotches tend to mostly taste like a bog that's on fire.. it's perhaps not my preferred Macallan offering. It's kind of inconvenient that the high end Macallans start developing the stronger and deeper flavours that lend themselves to my Scotch tastes (not quite, minimal peat, but I can appreciate them). Amber is a bit light for me.
Gold, as explained by the host, is "his Breakfast Scotch". It's very light, very smooth; if I wanted someone who's never drank Whiskey before to drink a Scotch and not recoil in fear, I'd probably pour them a dram of Macallan Gold. It's very light and smooth.
Verdict##
There are some general comments to be made about the event, things we would like to see changed, and some highlights.
We do wish the event had started closer to the actual scheduled time. It felt like (quote Steph) there isn't enough time between the end of the earlier tasting and the one we were attending (20:00). The event started quite late, and the presenter was required to power through the thing to get us out at a decent time. It did hinder the experience a little bit. I know it's a bit tight with people coming from work, and they want to make it available and accessible. But somehow a tweak should happen, it was tight and rushed. Kudos to the staff clearing and re-setting, ninjas.
During the cocktails there was really no water available. 2 small jugs were set on a side table by the door into the area the tasting was running in, with a few glasses. But the bar did not offer water or make it otherwise available. Also in the tasting, our table was short water glasses, and water was not topped up, so it was basically unavailable at the table. Again, the staff I'm sure did their best with the time and resources allotted, but with more time, and with maybe better planning, it would be nice to not have attendees go without water while tasting Scotch on a weekday.
Possibly related to the lack of water, we had an attendee attempt to leave the room.. let me paint a picture: viewing the picture of the bar, you see that the wall at the back is all glass (with brass fittings for the doors). The brass fittings are the only indicator that it's a glass wall there. So, an attendee attempted to get up and walk out, moving the curtains and walked, full speed, into the glass wall. The presenter recovered well, "that usually occurs after the tasting!" and buddy took it well; but perhaps commentary on the choice of venue (glass walls with people drinking), and lack of water to ensure everyone stays reasonably sober.
I would highly recommend checking out Raise The Macallan when possible. It's a great event, a good laugh, and very educational. A free evening of Scotch and entertainment. Check it out and buy a bottle of the Scotch you enjoy most from the tasting, even if it is the Rare Cask. Now I just need The Lagavulin to run one… or Laphroaig… Oh Islay, you complete me.