D: We were craving burgers, pretty much as always, and thought we'd try this recipe of Alton's. The thought of deep fried burgers was a little bit… disconcerting, since we had the fear of it being just a ball of grease. The recipe claims that as long as the temperature is monitored, it won't become greasy, and will actually be less greasy than other methods. So let's see how deep fried hamburgers work out!
Ingredients:##
2 quarts peanut oil, or shortening, for frying
12 oz ground beef
1.25 oz grated cheddar cheese
1 tsp smoked paprika
1 tsp garlic powder
Mayo
Mustard
4 hamburger buns
12-15 dill pickle slices
Required:##
5qt dutch oven or heavy stock pot
fry/candy thermometer
heavy metal spatula or grill press
upside down sheet pan, covered with foil, with a little bit of oil coating it (to press burgers on)
Directions:##
Add enough oil to the pot to reach 2 inches deep, install the thermometer and heat medium-high until 320F
Weigh the meat into four 3-oz portions, roll into balls and set aside to warm while you work on the rest
Grate the cheddar, toss with the paprika and garlic powder until the powders have stuck to the cheese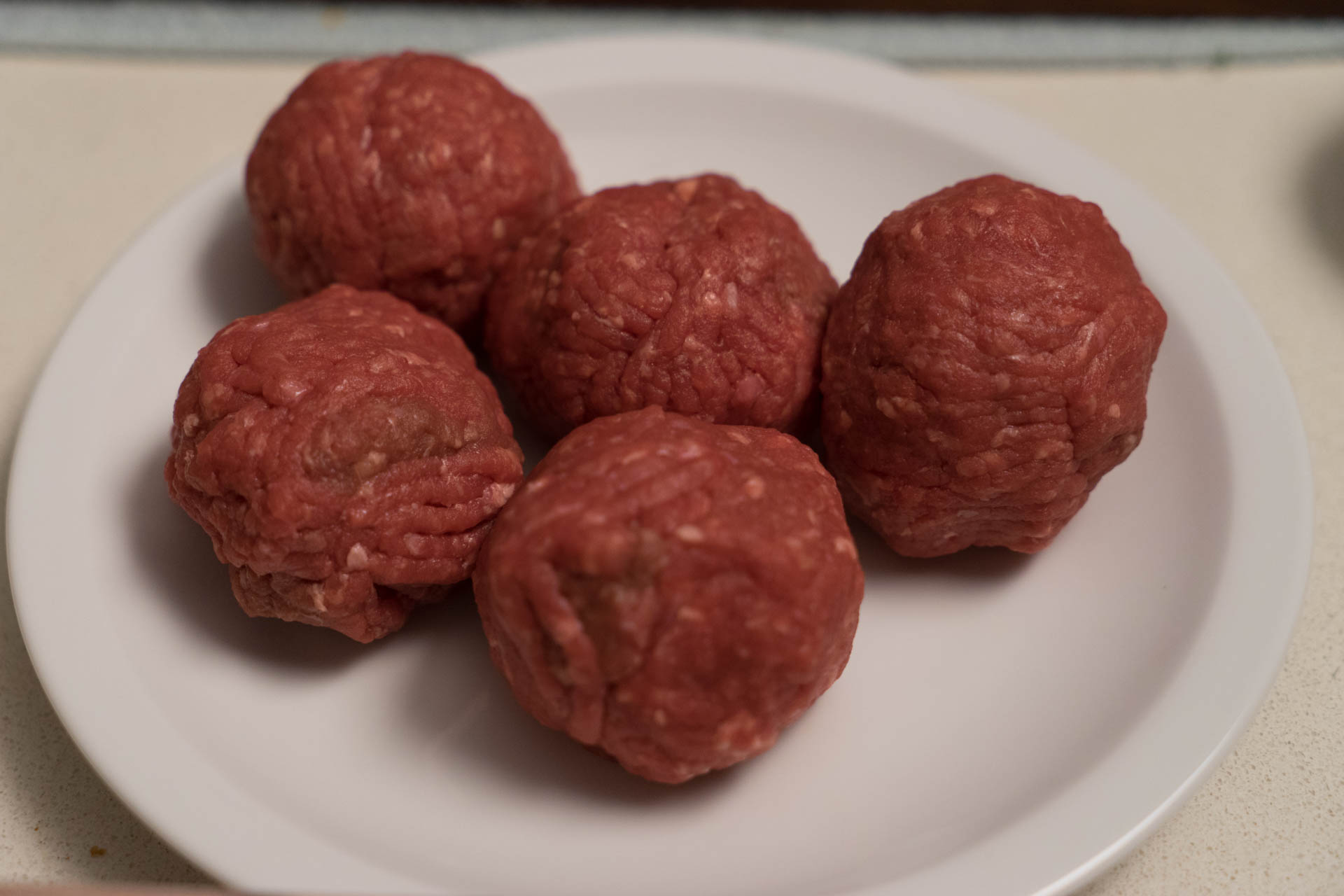 Place an oven rack in the top position of your oven and pre-heat your broiler
Place a thin layer of mayo on the bottom bun, cover with 1/8 of the cheese
Place a thin layer of mustard on the top, cover with 1/8 of the cheese
Repeat until buns are all coated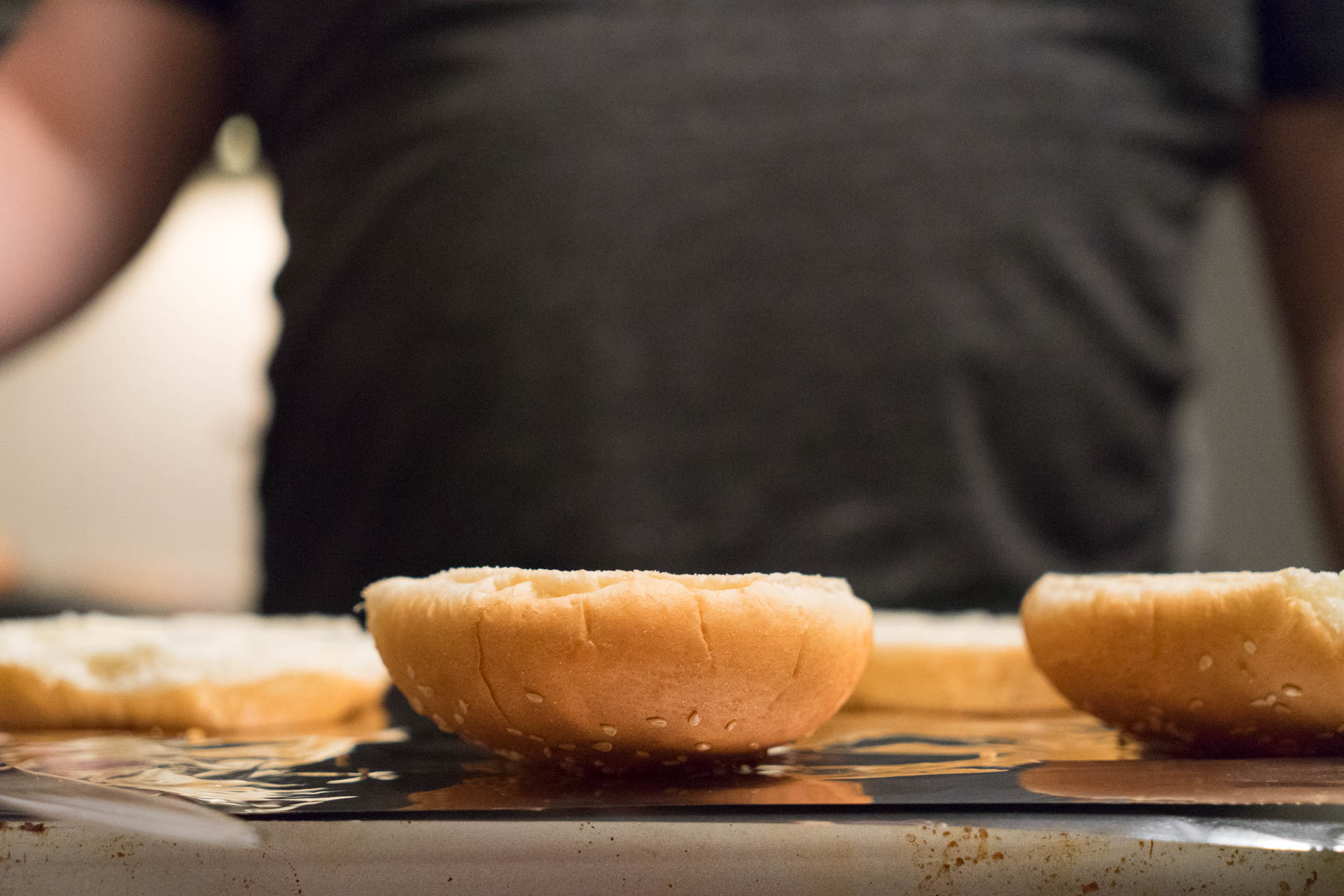 Once you've coated the foil-covered pan with some oil (pam, some oil, something so the meat doesn't stick), dip the spatula or press in the hot oil, and press down the patty until it's 5-6in wide
Gently scrape up the burger, and lay it into the oil, cooking for exactly 1 minute; keep an eye on the temperature of the oil and let it recover between burgers
Remove the cooked burger to a paper towel to drain, and repeat with the rest
When you have a couple of burgers remaining, put the buns in the broiler, ensure they don't burn (you want everything all good and melty and just out of the oven; they're best with the cheese still nice and melty)
Place a burger on the bottom bun, placing pickles on top of the burger, and top with a top bun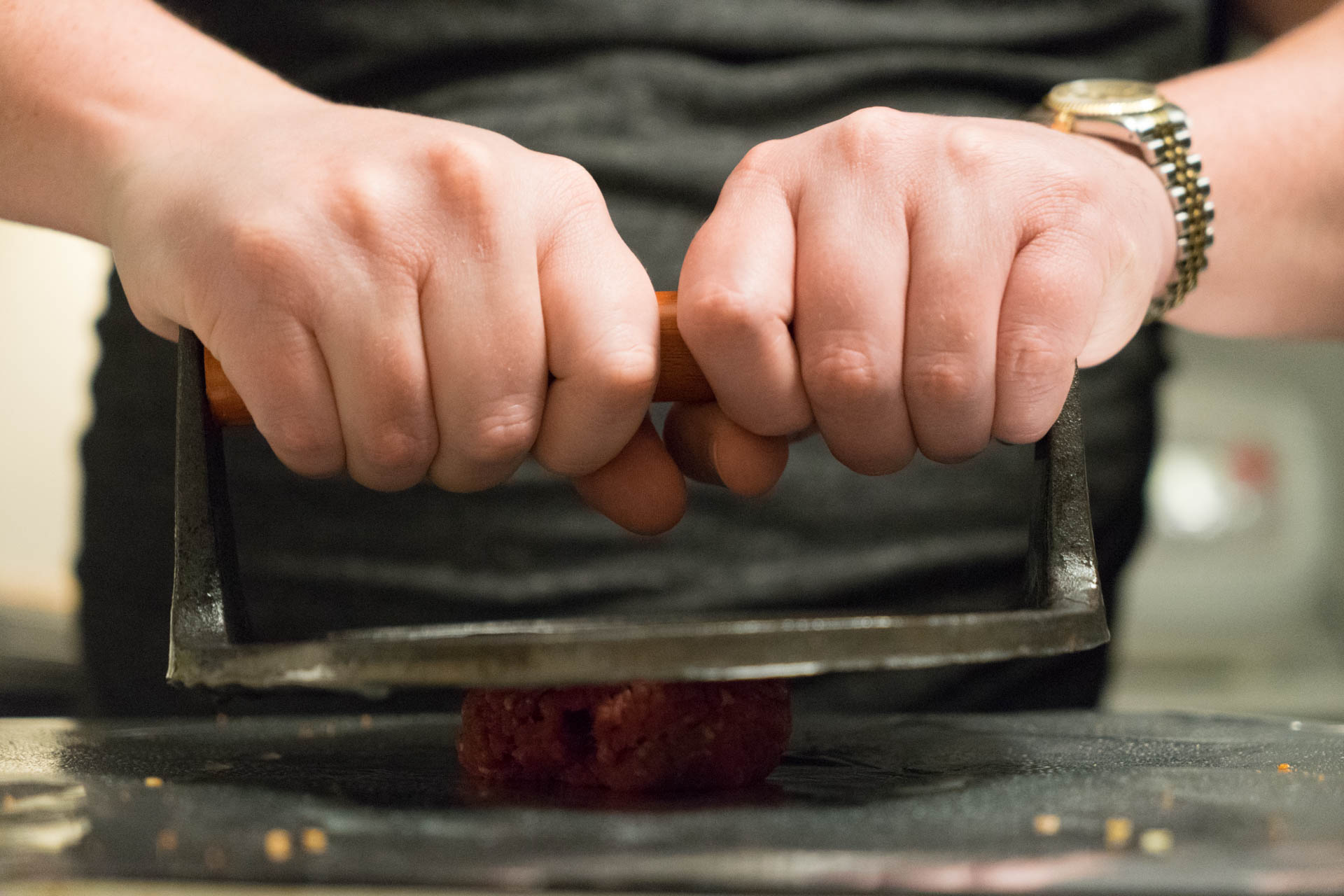 Verdict##
D: Great burgers. With watching the oil temperature, they don't end up at all greasy, and they taste great, nice and moist – assuming you don't overcook them. Be very careful on the timing, they can overcook quite quickly with being fried. We'll be making them again this week, they were awesome. I got lean, instead of extra-lean, to bump up the fat content, since they might benefit from it. They really grab very little fat from being fried, so feel free to mess with the meat mixture or get a grind with a little more fat. Can't wait to make them again, just awesome.
S: mmmm delicious. Probably one of the best burgers that we've ever made. Up there with the Jamie Oliver burger recipe we tried last year. Nice and simple, yet very fulfilling. I want another one right now. [D: do note that we're making them again this week, so good.]