D: I was given free reign to choose the recipe (largely because Steph was busy this weekend), so, wanting to get into the Alton cookbook, I chose that. We're going with Chicken Picatta, since it sounded freakin delicious. Breaded chicken in a wine and mushroom sauce, how can you go wrong?
Ingredients:##
3 oz white wine
4 oz chicken broth
1 lemon, sliced into 8 wafer-thin slices
1/2 lemon, juiced (1 1/2TBsp juice)
8 boneless, skinless chicken thighs
2 tsp kosher salt
1/2 tsp freshly ground black pepper, more for serving
1 C AP flour
3 TBsp unsalted butter (we used closer to 4.5)
2 TBsp olive oil
8 oz white button mushrooms, sliced
3 TBsp capers, drained but not rinsed
2 TBsp chopped fresh flat-leaf parsley
Directions:##
Combine the white wine, broth, and lemon juice, set aside
Season the thighs with 1tsp of salt & pepper
Place the flour in a large freezer bag (or a few)
Seal and shake to coat, open partially and flatten with a meat mallet until it's approximately 1/4in thickened, remote and plate, repeating with the others
Place a large straight-sided frying pan (with a lid) on high heat for 1 minute
Add 1TBsp each of butter and olive oil, let heat through, and add 4 of the thighs; cook for 90 seconds, then flip and cook for 90
Remove the chicken from the pan, add another 1 TBsp of oil and butter, cook the remaining 4
Remove the chicken, add mushrooms and tsp salt, stir for 2 minutes until golden (we added another TBsp of butter and olive oil here, as our pan was dry)
Push mushrooms to the outside of the pan, cook the capers in the middle for ~ a minute
Add the chicken back to the pan, reduce the heat to low, distribute the lemon slices across the tops of the chicken and add the broth mixture
Cover the pan with a lid and let it braise for 5-7 minutes until tender
Remove the chicken, discarding the lemon, to a plate; crank the heat until high and add the remaining butter
Boil gently, stirring constantly until it reaches sauce consistency (I added a tbsp or so of flour since ours was a bit runny and I'm impatient)
Pour the sauce over the chicken (including mushrooms and capers of course), add some more pepper and top with parsley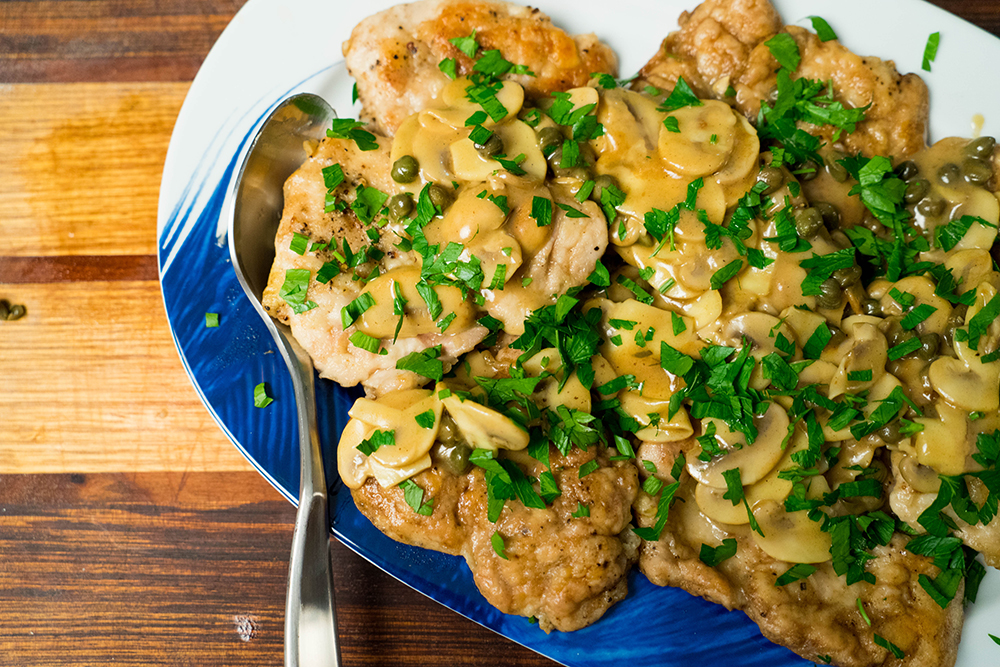 Verdict:##
D: Tender, moist and delicious. We did add some extra butter and a little flour to help the sauce come along. Great, I'll definitely be making it again. It would be a good recipe to knock out when people come over; super cheap since it uses chicken thighs (good god Chicken Breasts are expensive these days) and tastes great. I'd highly recommend it, would very much make it again. A note that we added roasted carrots as a side, since the recipe is only for the chicken portion of the meal.