D: Steph chose the recipe this week, going with the Onion Oxtail Soup. We both really like French Onion Soup, and Oxtail is always… well, different anyway. I also was pretty onboard with a) soup, and b) something that I can kind of just leave to cook, since I'm still coming off of a flu. So, onion soup with oxtail, let's do this.
Ingredients:##
Onion Oxtail Soup###
3lb yellow onions (2-3 large)
2 TBsp kosher salt
1 TBsp dark brown sugar
1/2 tsp baking soda
2lb beef oxtail (4 large)
1 C red wine
5 thyme sprigs, tied into a bundle
1.5 quarts beef broth
1/4 tsp black pepper
Groovy Gruyere Sticks###
8oz grated Gruyere cheese
4 thin sourdough bread slices (about 1/4in thick)
Needed:##
Dutch Oven or other thick stock pot
Panini press or 2 cast iron pans
Directions:##
Soup###
Heat oven to 300F
Halve and peel onions, slice to ~ 3mm thick and place in a bowl
Toss with 1TBsp of the salt, brown sugar and baking soda
Place onions in a colander over a bowl and let rest for 15 minutes, tossing occassionally
Place a 4qt dutch oven, or a stock pot over medium-high heat (high heat on a stock pot may burn, use care) for 5 minutes (or enough to heat)
Season the oxtails with 2tsp of the remaining salt and sear in the pot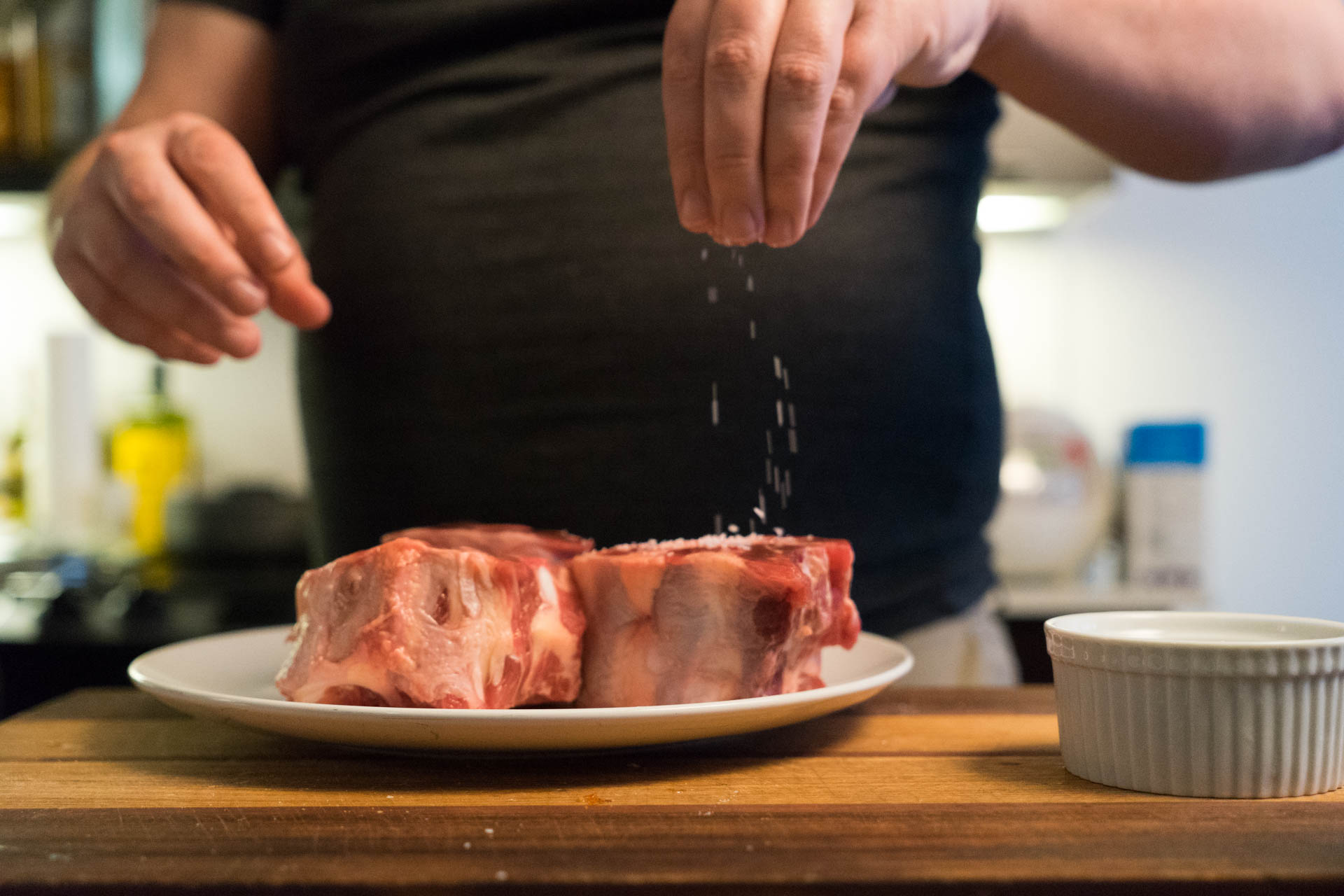 Set oxtails aside after seared, but leave fat from cooking in the pot
Wring the onions out by pushing them down into the bottom of the colander
Sautee the onions in the pot, over medium-high heat until they brown, about 8 minutes
Add the wine and cook for a further 5 minutes
Place the oxtail meat and thyme bundle on top of the onions, pour in the broth (should cover)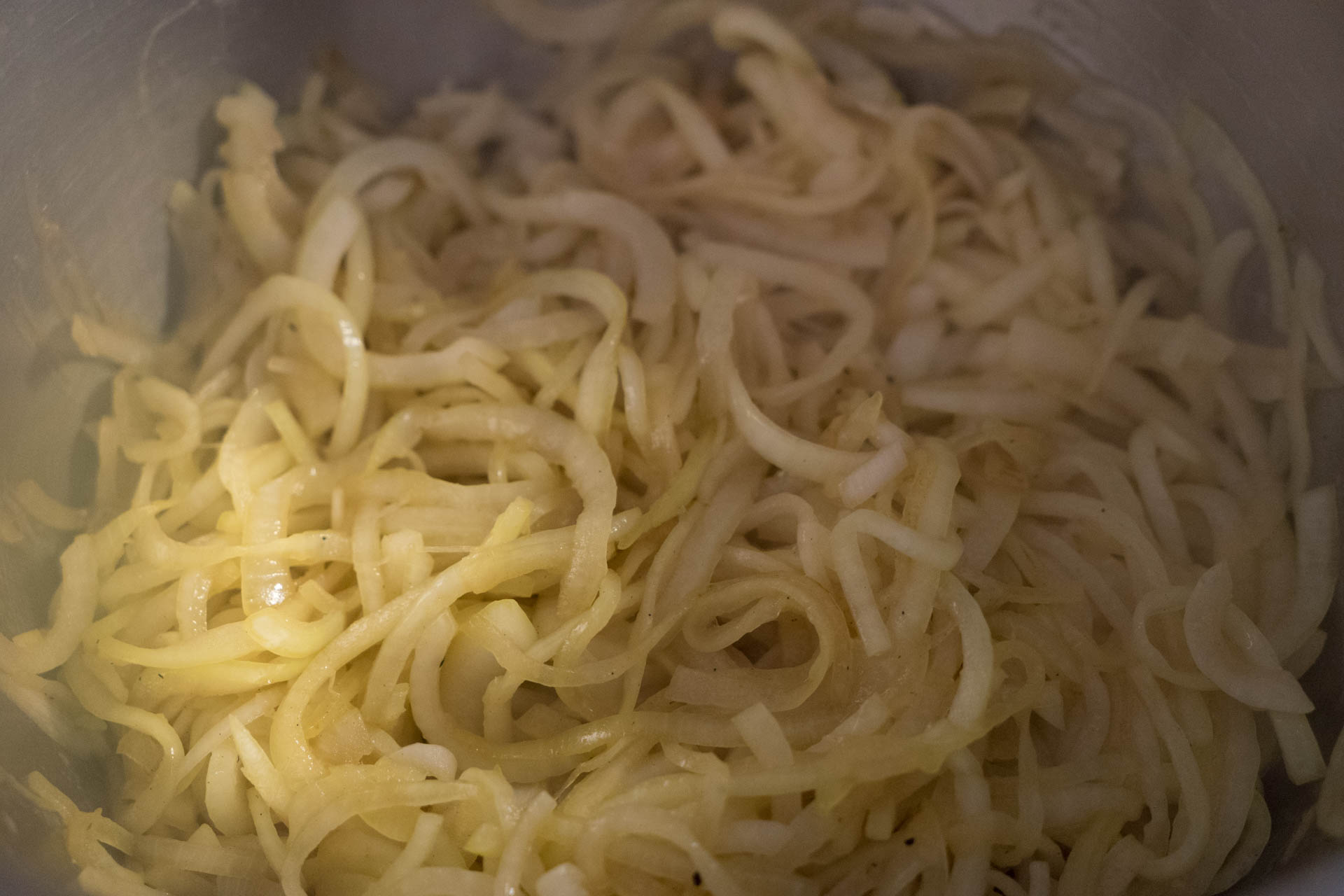 Place the lid on the pot and place in the oven, simmer for 3-4 hours, until the oxtail is soft enough to pull apart easily
Remove the oxtails and thyme and set oxtails aside to cool
When cool enough to handle, separate the meat and chop or pull apart
Add meat back to the soup, bring to a summer before serving
Taste and adjust seasining with the remaining salt and black pepper
Gruyere Sticks###
Heat a panini press to high, or 2 cast iron pans to medium
Take 2 oz of the Gruyere and sprinkle it into 2 bread-shaped beds
Lay a piece of bread on each, top with another oz of cheese
Press, or place a second cast pan on top, for 1 minute
Remove to a cooling rack, repeate with other pieces
Once cool, cut into sticks and serve with soup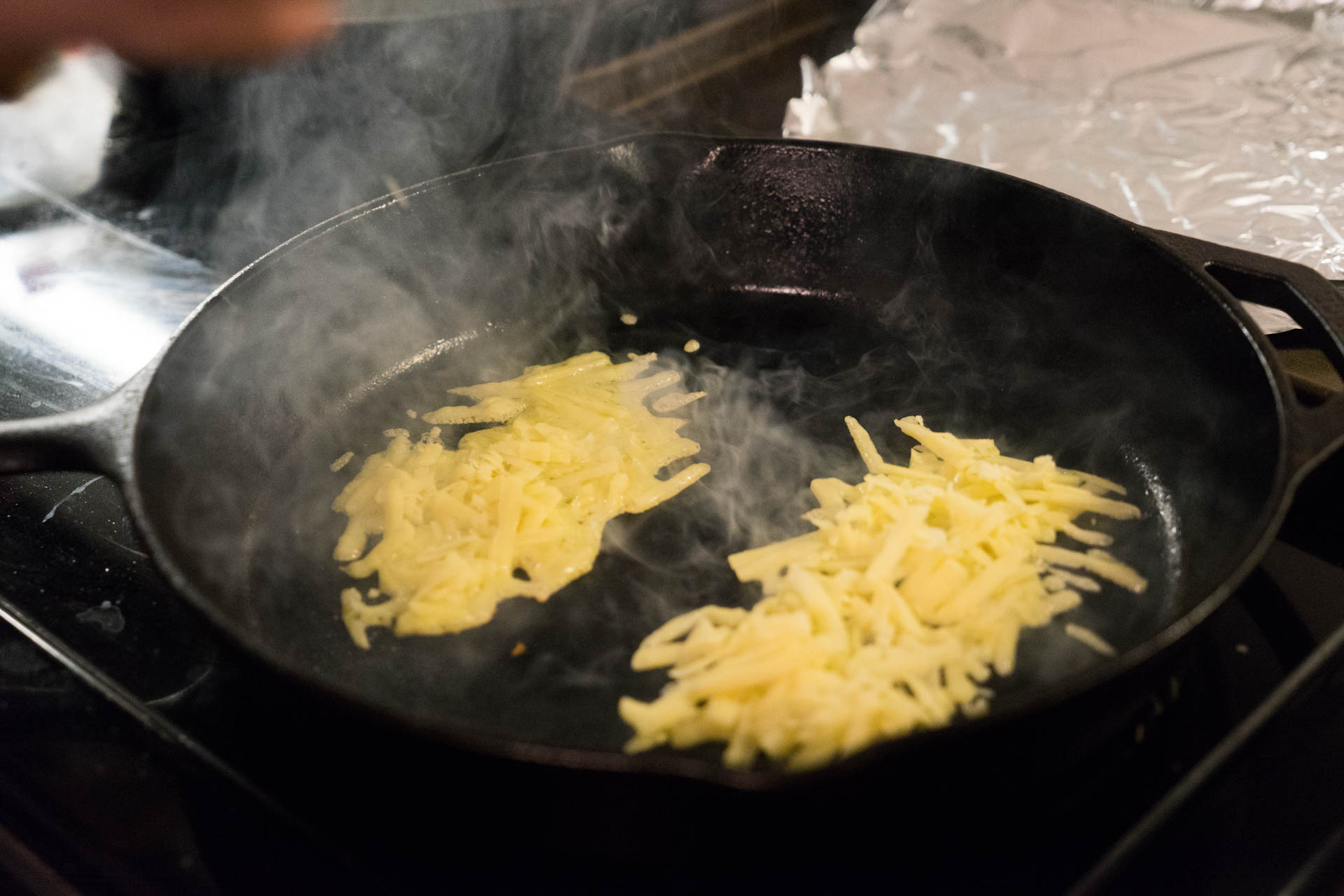 Verdict##
D: We need a dutch oven. Otherwise, the soup and sticks were very good. Salt content was fine, and we didn't need to add the remaining salt. Has a bit of sweetness to it from the brown sugar and the onions; pretty much onion soup and oxtail soup, frankly it's about what you would expect. Very good soup, I'll make it again, we enjoyed it.