D: This week we're doing jumping ahead a couple of meals and doing a dinner recipe. This meal is effectively a pesto crusted fish and veggies. It's super easy, and helps resist the urge to treat dinner as a red meat meal, as I often do.
You'll notice, in this post, I've added a required tools section. My beef with the recipes in this book so far, is that tools, especially uni-taskers that one might not already have are buried in the body of recipe. So I'm going to add in my notes:
a) any odd required tools that might be a surprise b) I'll move up any prep that I think should be done earlier, in my opinion (this will largely affect next week, you'll see, you'll see.)[S: David has a love/hate relationship with Jamie Oliver recipes. It'll be mentioned more than once for sure.]
[Serves 2]
Ingredients:
7 oz ripe cherry tomatoes on the vine
1 slice of whole-grain bread (or bread crumbs, or panko)
1/2 a bunch of fresh basil (1/2 oz)
1/2 a clove of garlic
1 tbsp pine nuts
1 lemon – 1/2 cut into wedges, 1/2 to juice
2 large eggs
3/4 oz Parmesan cheese, grated
extra virgin olive oil
2 * 4oz fillets of firm white fish, skin off, scaled, boned
8 oz baby white potatoes
3 1/2 oz each of green beans, broccolini, baby spinach
1 tbsp balsamic vinegar
1 pinch sea salt
Required tools:
mortar & pestle (can be substituted with a food processor, preferably with a small work bowl)
oven, preheated to 400F
pot or pan with matching colander [S: If you don't have one, no worries. Keep reading and see the hack we did since we lacked this ourselves]
medium sized mixing bowl to toss and coat vegetables
Time the cookbook says it'll take: 30 minutes Actual time it took to cook: 30ish minutes
Verdict: I really liked this recipe. With a couple of tweaks, it's a super easy dinner to throw together that is filling and tasty. We'll be making it again, and likely ~ somewhat often as a fallback when we're not sure what to make for dinner [S: We actually made it again the day after. So it's definitely something we'll be keeping in our back pocket].
The Step-by-Step:
Step 1: Cherry tomatoes
lay out the tomatoes on a sheet pan, put in the oven for 10 minutes while doing other prep
while tomatoes are cooking, pulse a slice of whole grain bread in the food processor until broken down into crumbs (this could be substituted for bread crumbs or panko to speed up prep time – somewhere around 1/4 cup of breadcrumbs/panko if substituting)
start water, salted boiling in the pot on the stove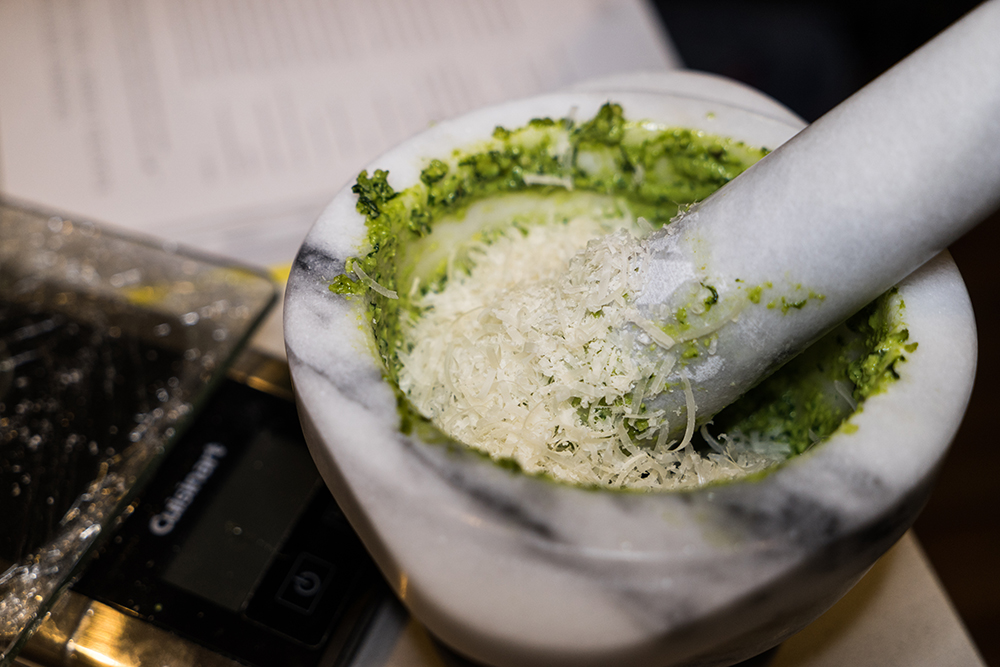 Step 2: Pesto
peel the garlic
pound the basil in a mortar and pestle
add the garlic and sea salt
add the pine nuts
work into a paste
squeeze in 1/2 the lemon's worth of juice (around 0.5 tbsp)
grate in, or add grated parmesan
add 1 tbsp oil
mix together
Step 3: Breading the fish
cover the fish pieces in the pesto (this will be messy)
bread the fish in the breadcrumbs (pesto is the binder)
remove the pan from the oven, add any leftover breadcrumbs to the pan with the tomatoes
add lemon wedges to the pan, to roast
place fish on pan
roast in the oven for 15 minutes, or until fish is cooked through and breading is golden brown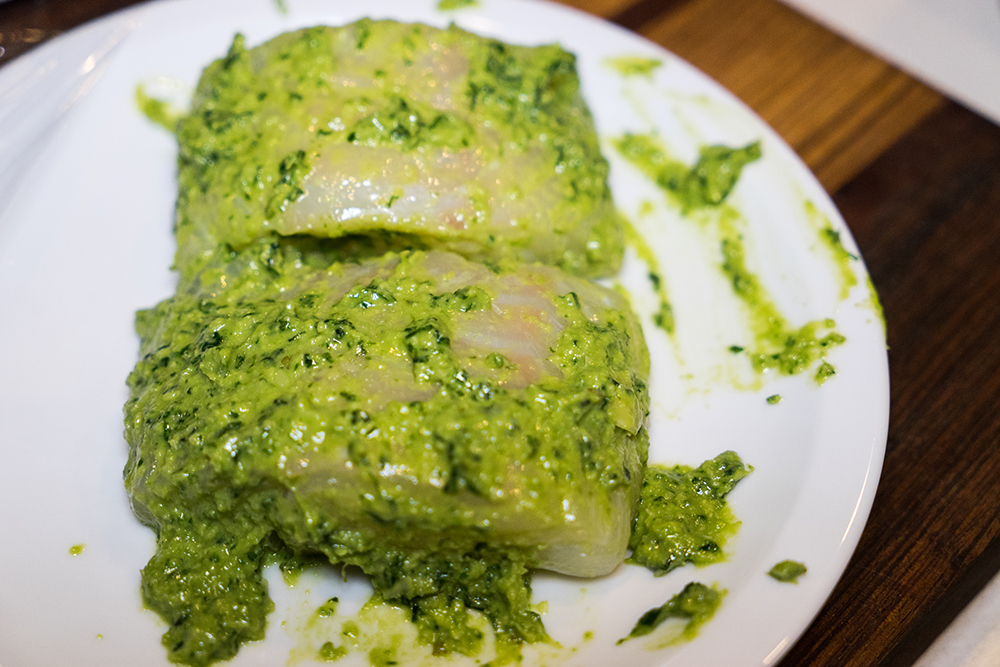 Step 4: Vegetables – potatoes
clean the baby potatoes if needed
half any larger potatoes, small ones can remain whole-grained
add to boiling water on the stove, will be cooking for 15 minutes, but in parallel with steaming the other veggies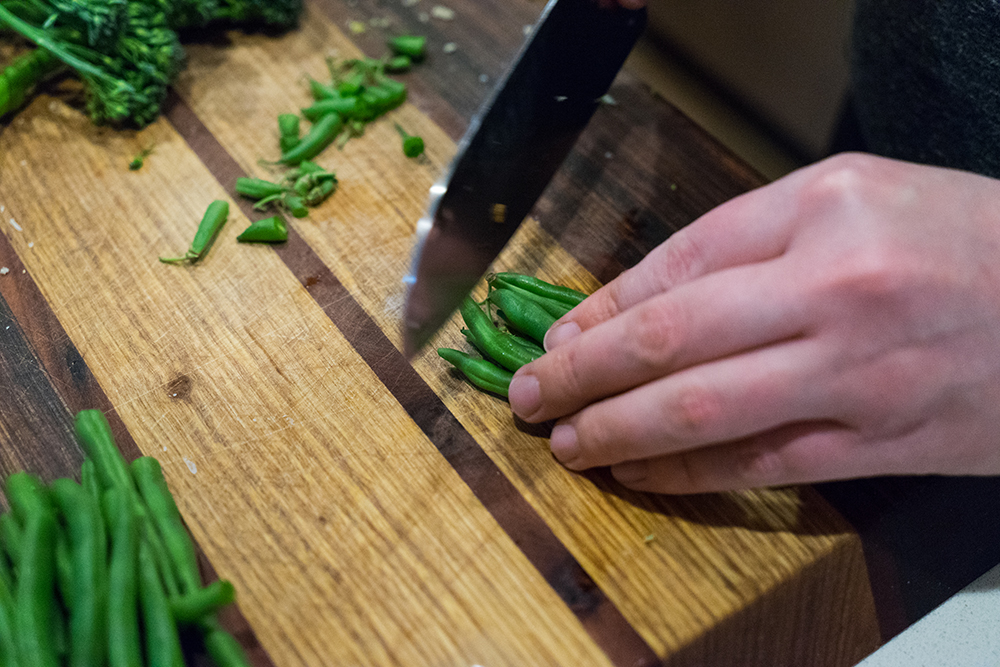 Step 5: Vegetables – greens
clean and trim green beans
halve the broccolini
after the potatoes have been cooking for 10 minutes, place the beans and broccolini in the colander to steam
after 13 minutes, add the spinach to the colander
You'll notice we happen to not have a pot with a matching colander. So that was our solution in the image above, we used a drying rack over top of the pan, and put the lid over that [S: Not going to lie, was quite proud of thinking of it at that very moment.].
Step 6: Dressing vegetables
add balsamic vinegar and 1 tbsp oil to a bowl large enough to toss the vegetables in (a medium sized mixing bowl)
drain potatoes
toss vegetables in the dressing
serve, with the roasted lemon wedges, and a drizzle of balsamic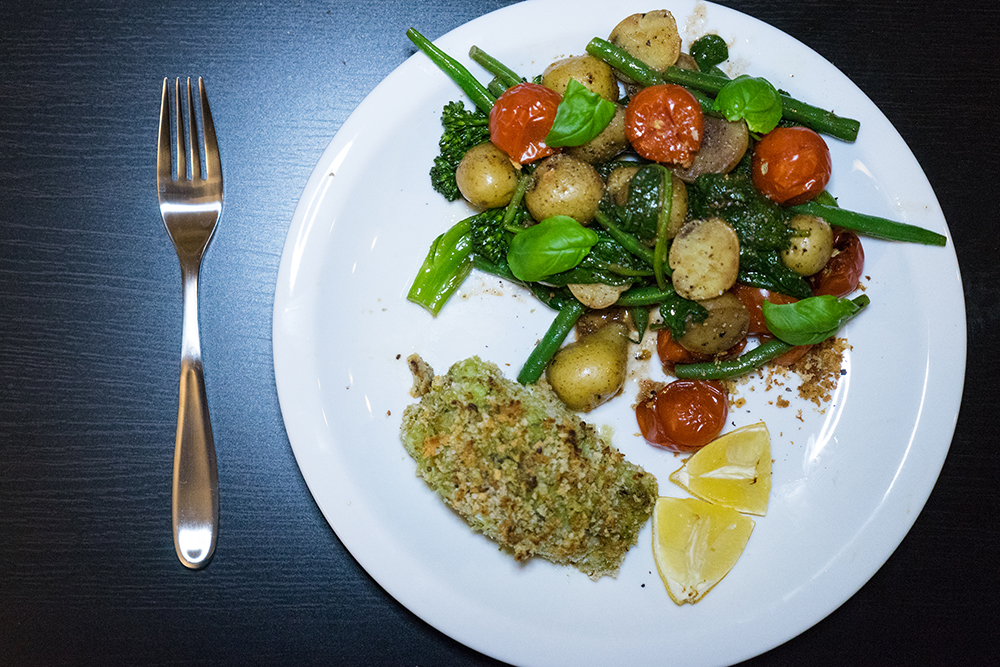 That's it! With some streamlining of the process, and a little bit of practise with prepping everything, it's legitimately a few minutes of prep and around 25 of cook time. Easy peasy, just need to.. uhh.. thread your prep steps so you're not wasting any time while things are cooking.