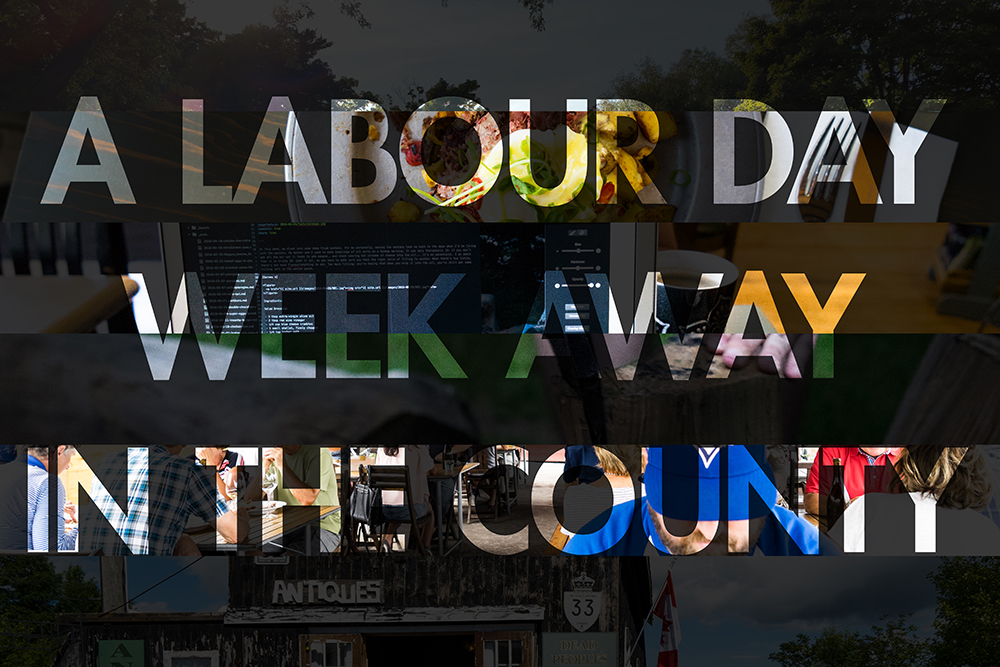 S: So far this year, since we got married in October (last year), we haven't really gone on a long vacation (this doesn't include weekends away, or our honeymoon). Since labour day landed on the same week as the hubster's birthday, we decided that taking that week off would be a nice idea.
So far, we've only done day trips to Prince Edward County. One day is most definitely not enough time to explore all that there is to offer in The County; granted I'm not sure the 5 days we had was enough either. We like to not rush through checking out places, so it's usually a place or two a day. With that being said, that's not everyone's cup of tea. So if you're willing to cram a lot in a day, 5 should be plenty for you.
I digress… We decided, "Why not go to The County, for our vaca? It's not too far, but just far away enough to be considered not in the city anymore."
This post is dedicated to our time in The County, and the wonderful places we went to.
A Sidenote: 2 things we noticed - 1) As it's between end of summer/beginning of fall… if you choose to eat outside at restaurants/in your backyard… there are tons of flies who would love to join you [D: omg so many flies]. 2) If you decide to take the week of Labour Day off, it would be wise to drive ANYWHERE, on the Sunday. The rationale? Everyone's already done their driving to where they need to be, and nobody's heading home until Labour Day. Simple as that.
DAY ONE: Ideal Bike -
So the original plan was to get me back on a bike, after having not been on one for almost a decade. There are two different rental spots in The County, this one being the friendlier one to those who are 'noobs', getting back on a bike. Was helped by Robin, who was very friendly and accommodating to all the questions I had to ask.
In the end, I ended up only riding the bike once… but that still counts as getting me back on the bike, right?[D: kinda >.>] **Note that unless you reserve for a specific time, and know exactly what you want, you may have to wait from 10minutes - 3 hours, for a bike that fits you right (if you're making your rental reservation online/over the phone) [D: yeah, that was a bit of a pain. I would have figured a reservation would mean that the bike is reserved, but they are a small shop, and they tried their best].
Airbnb - A Sandbanks Retreat Le T'Apartment -

Outside of the Apartment: the backyard is huge, with a bonfire/campfire spot available for those staying at the farmhouse and/or apartment [D: which was really sell setup, lots of seating]. Just make sure the fire ban isn't on, before lighting it up.

Inside of the Apartment: very quaint spot, just enough space for 2 people. Kitchen is adequate enough, as long as you're not too picky about the cutlery you use (ahem, David) [D: hey, I own sharper spoons than any of the knives in that place; it's not being picky, it's being woefully unprepared].
I looked long and hard for our week long residence. I had debated between being close/inside the Sandbanks Provincial Park, or staying in one of the towns in The County. I debated between BnBs and Airbnb; and in the end went for airbnb.
Michele owns this cute little farmhouse with the apartment attachment, we stayed in the apartment attachment to the farmhouse. She was very accommodating with all the questions I had, before booking the rental. The photos she has up on airbnb are accurate.
I quite enjoyed our little nook. The biggest perk of all, was having the seasons pass to Sandbanks Provincial Park. We definitely didn't take enough advantage of it, but when we did, it was most worth it [D: and then promptly forgot to drop it off back at the place on our way out.. and had to drive back to return it; ugh]. Doesn't hurt that our little spot in The County, was literally just outside of the main entrance to Sandbanks.
We ended our first night with a nice campfire with roasted marshmallows and s'mores.
DAY TWO: Drake Devonshire Grub -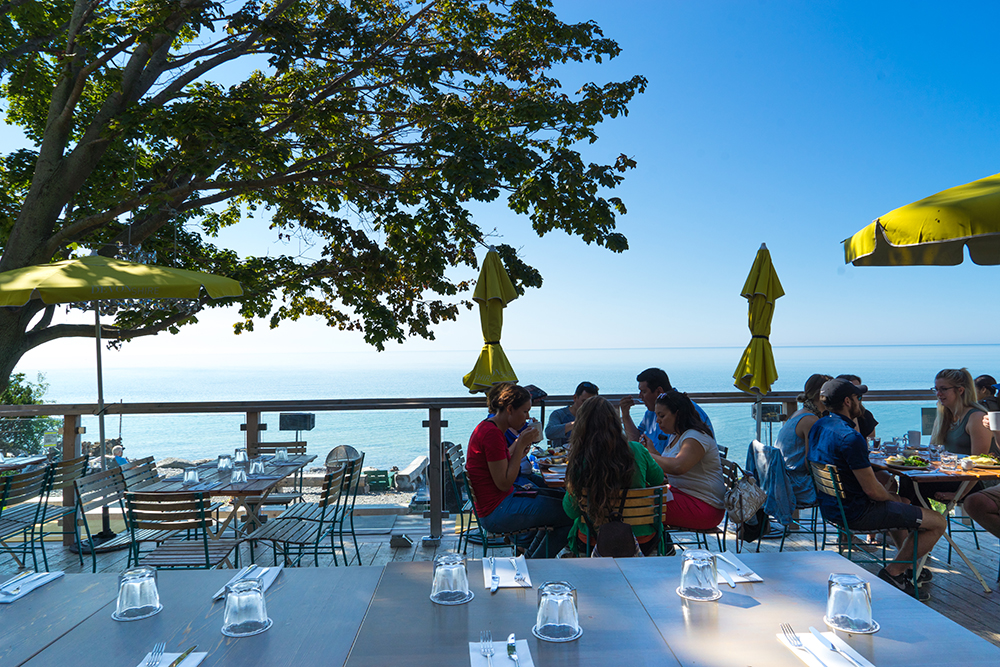 Day two of our adventures was Labour Day, so we took it real easy. We slept in a little, then got ready to go for our first foodie adventure. I've already been to the Drake Devnonshire Inn, for some grub, so I knew it would be great. David was still in the dark, but as we've been to Drake One Fifty before, he had an idea of what he was getting himself into. So far for me, on the Drake side of things, I've had their lunch and their dinner. So brunch was going to be a new adventure.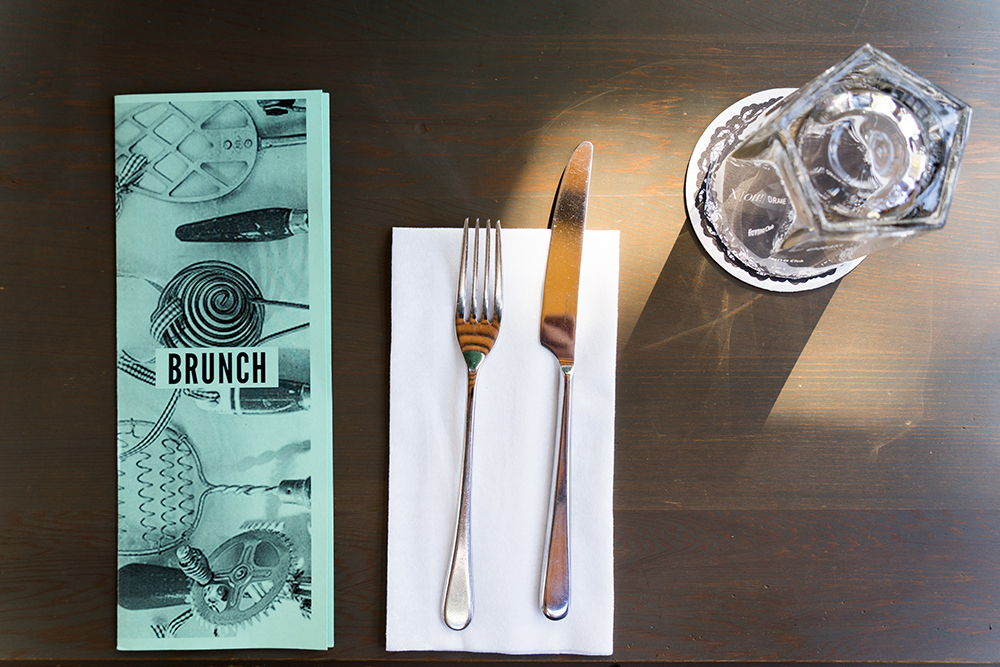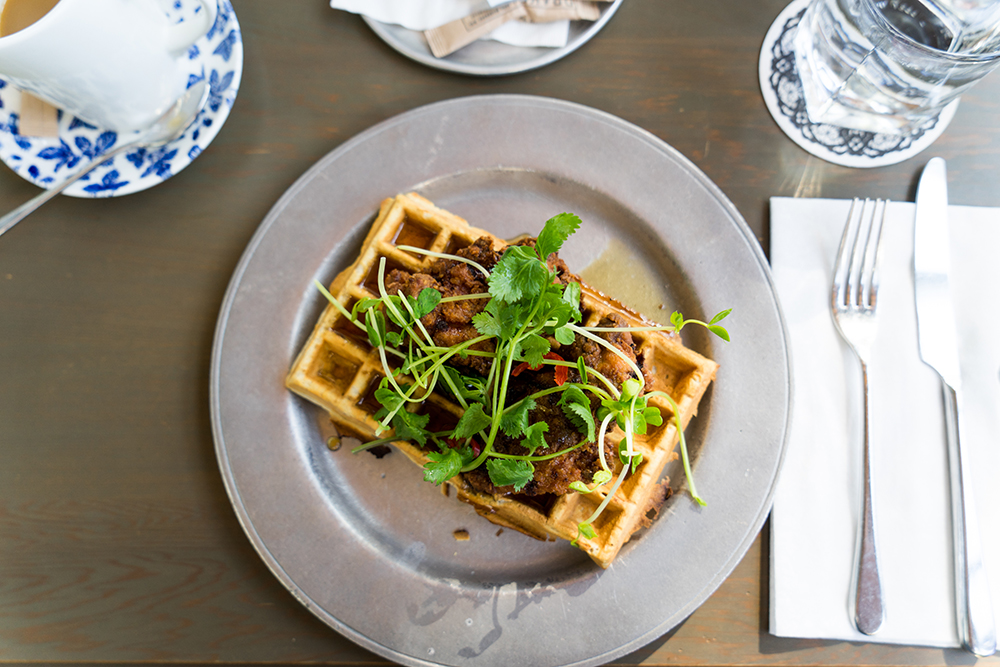 The food, as usual, was phenomenal. I ordered the Chicken & Waffles, while David ordered the Smoked Brisket Hash [D: as hash is always amazing]. I need to admit something, I totally preferred the hash over the chicken & waffle [D: rightfully so; hash is hash]. I think the lack of some sort of whipped cream/cream of sorts, to help balance the sweetness of the syrup was what tipped the hash over the chicken & waffle [D: very much so; the dish badly needed some barely-sweetened whipped cream, it was definitely too sweet with how the maple syrup was portioned etc. Or even a Caesar as a side or something, something to cut the sweetness]. Chicken was succulent, the waffle was delicious, but the sweetess needed to be cut with something else.
DAY THREE: The Bean Counter Cafe -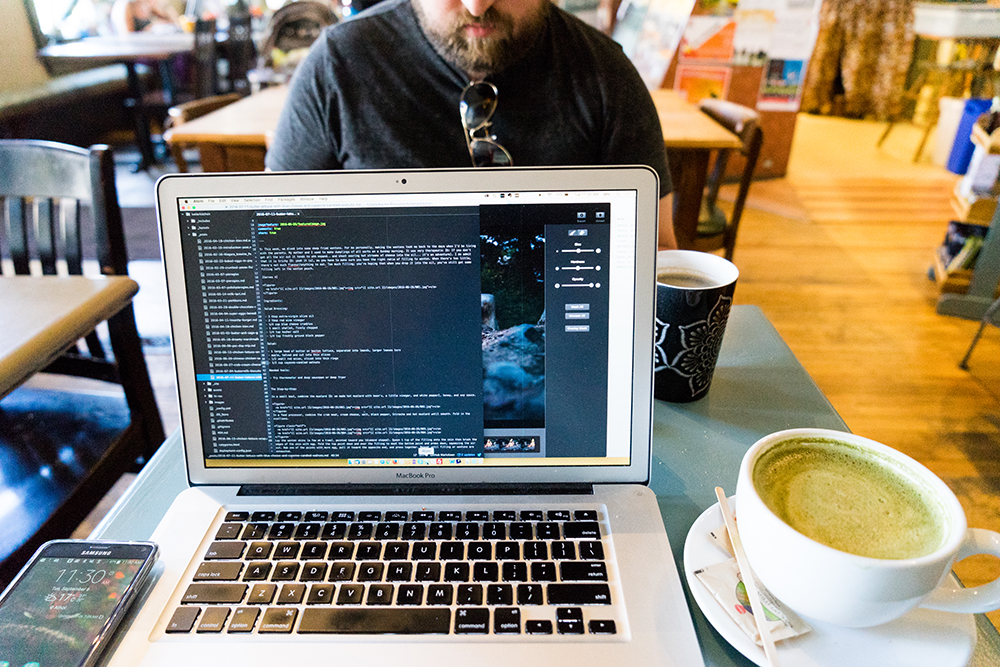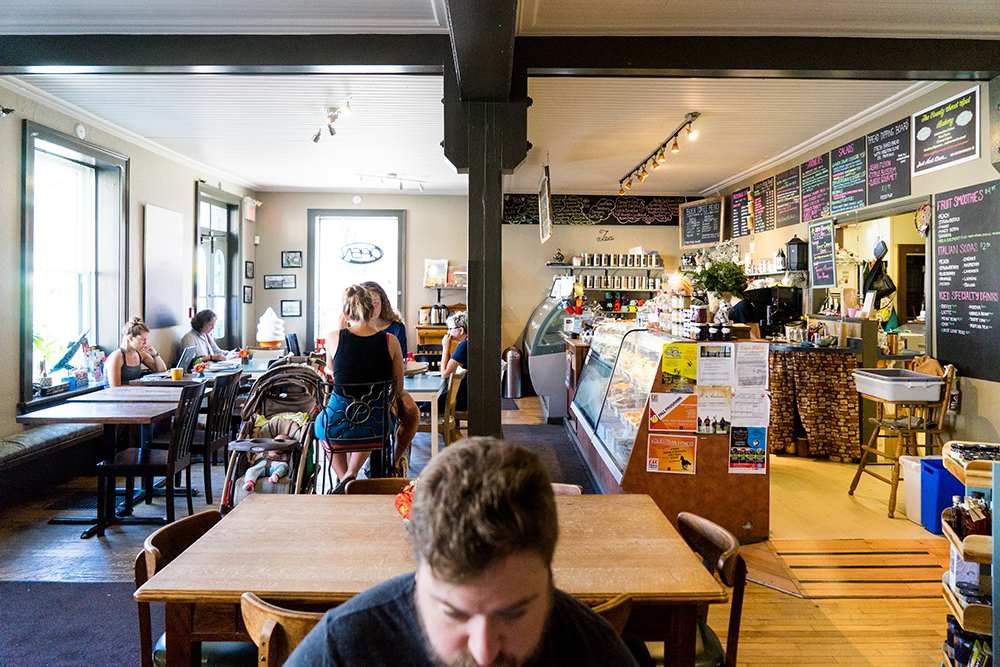 We found ourselves a cafe! Yaaaaaay! I have to add here, that our little home away from home, has no wifi… so David and I had a fun time of using our data [D: RIP my data plan, blew past that thing]. Thankfully, we both have decent data caps, so it wasn't too horrible.
And who cares? We found a cafe with wifiiiiiiiii. It came in handy, when we wanted to upload our blogposts according to our normal scheduling.
The cafe itself was very rustic, and I loved it. They had quite the variety of coffee and teas to choose from. David grabbed an americano [D: and it was good], while I went for the matcha latte. What better way to start off our day? After spending a couple hours in the cafe, we were off to my usual haunt when I visit The County…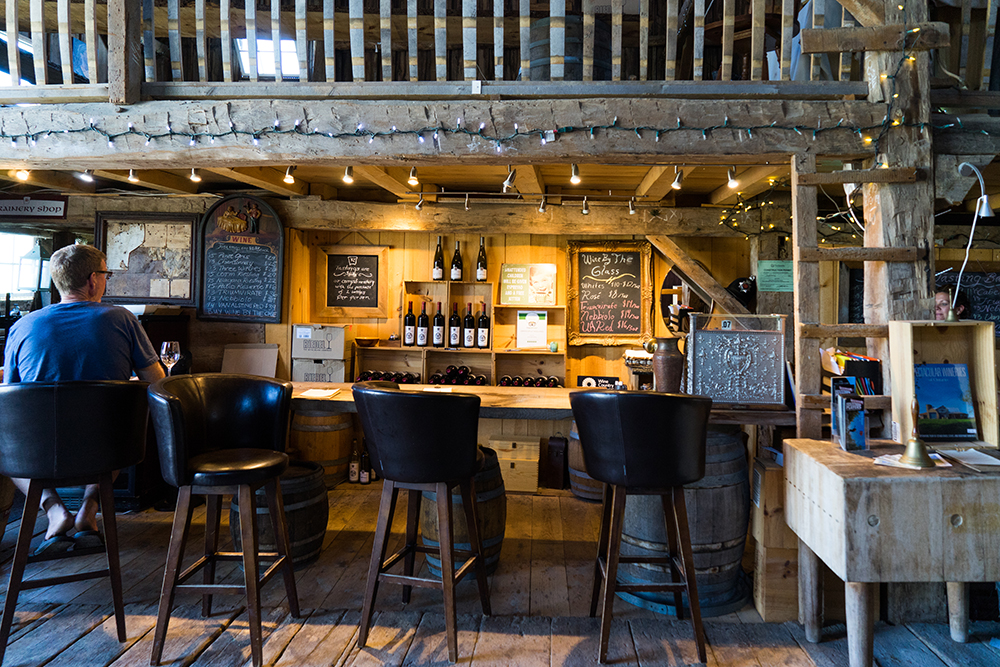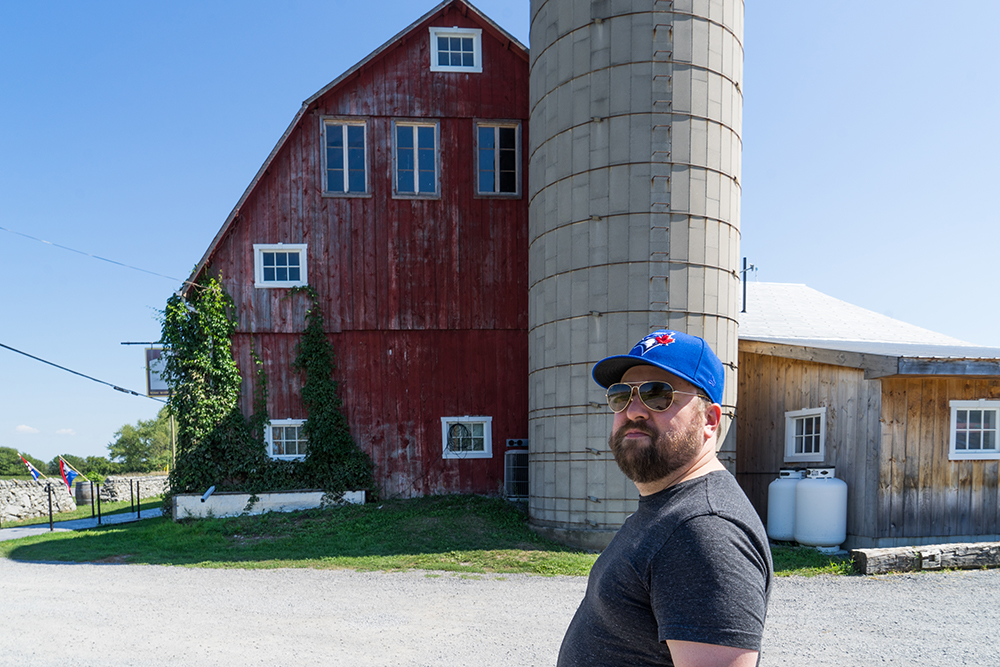 The County, isn't The County, without Karlo Estates. I might be a little biased, as I know the owner of the winery: Sherry Karlo. It was also the first stop I made, the very first time I visited The County… roughly 6 years ago? I've had the great privilege of watching this winery grow from a fixer upper barn, to it's tasting room and indoor washrooms it now has. It's been amazing watching it grow… and it doesn't hurt that their wine is amazing. I seem to grab at least 2 bottles each time I'm there for a visit [D: always so much Karlo wine, largely because it's all very good, and reasonably affordable].
Below are a few shots of the main tasting room in the back of the barn. Isn't it just absolutely idyllic? I can picture it being the perfect place to hangout and cuddle with a loved one, in the cooler seasons. Those throws are absolutely calling to me. Maybe a fall/christmas visit is in the future?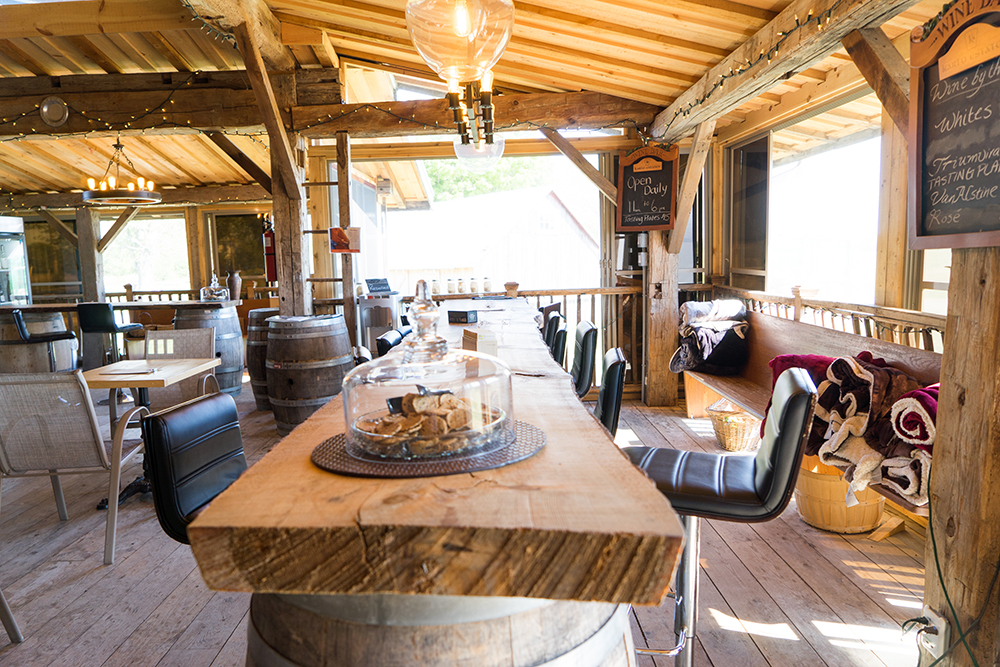 If you're a native Torontonian, and you know ice cream, Greg's ice cream is da bomb. But I have to admit, I may have fallen for a new roast marshmallow ice cream. Slicker's is the tiniest of tiny ice cream shacks. Has many delicious flavours… and I just can't.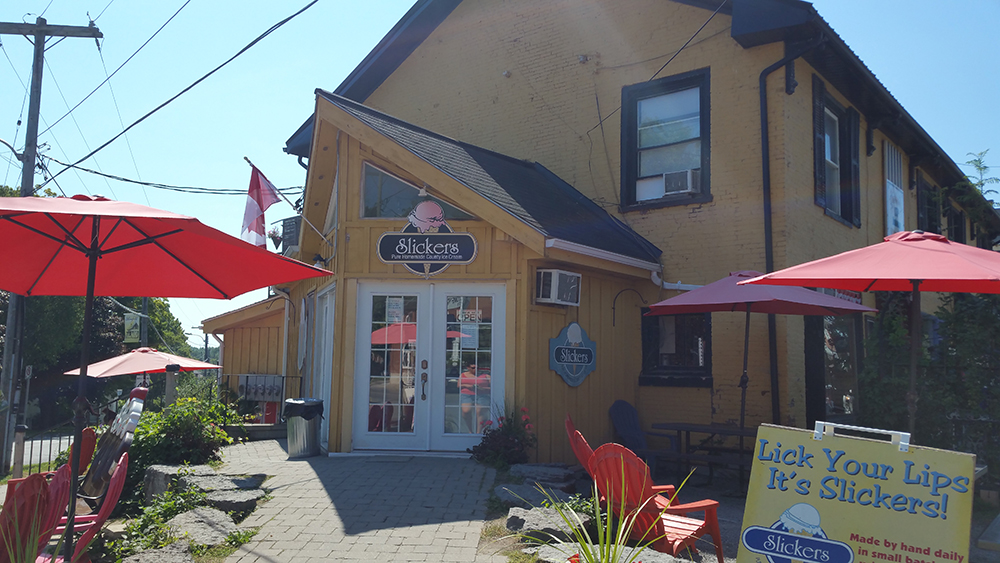 D: This was a first for me, and it was by far the best ice cream I've had. They basically ruined all other ice cream for me. Rude.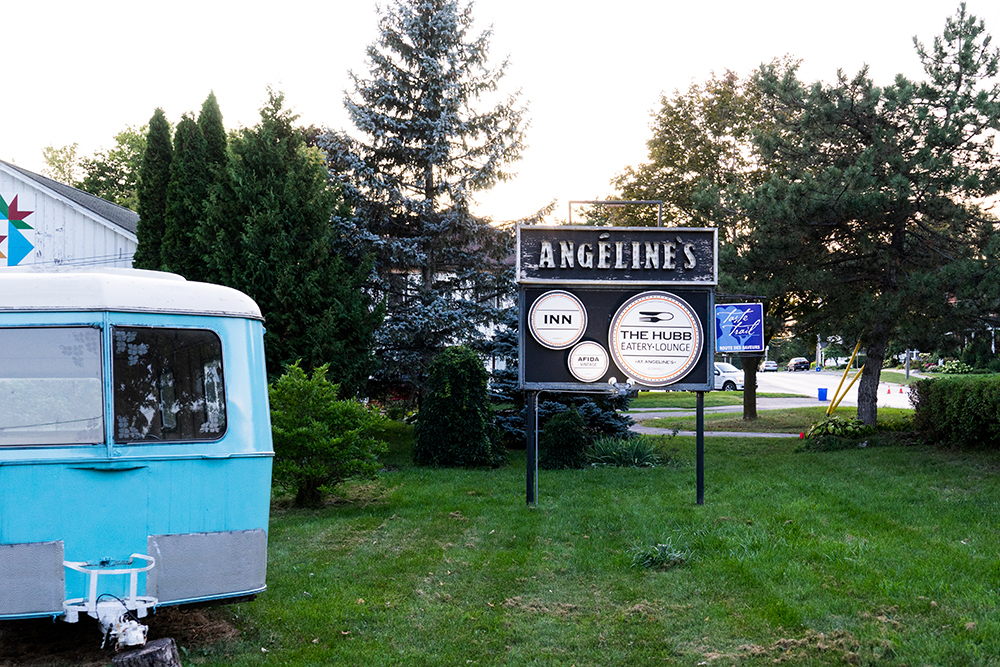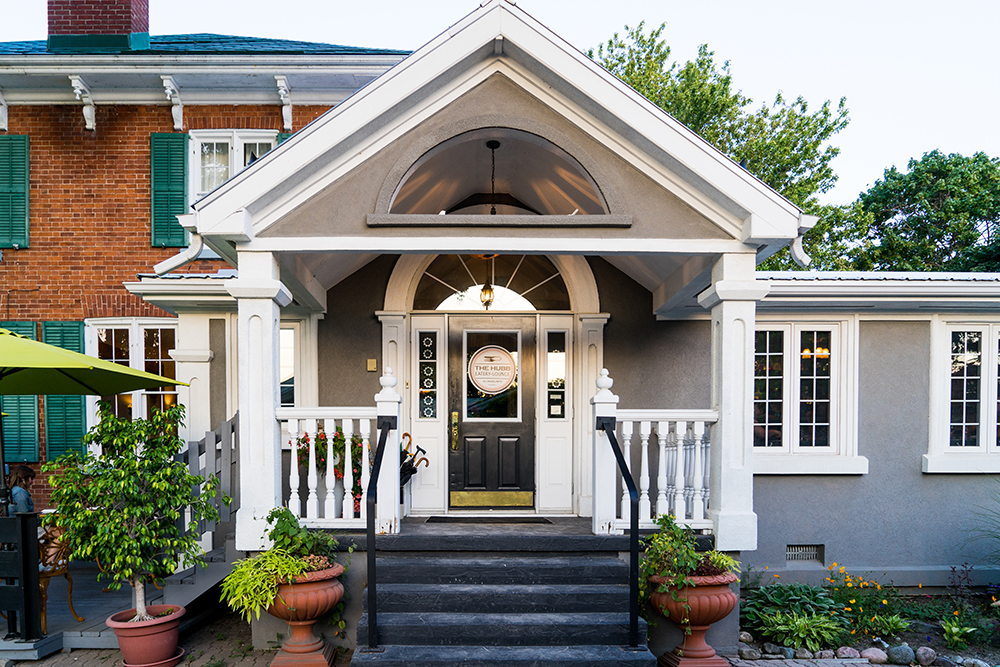 Angeline's Inn is adorable. It's a quaint little area, and my dream is to rent the cottage one day. It just looks so amazing to cuddle with a loved one in.
As it was gorgeous outside, we opted to eat outside (as per above, there were flies… but by this time, we were used to feasting with the flies). Loved the table designs, and oh my word, the food. We decided to order one item from each of the main 4 boxes (not the huge flinstone steak). We ordered: Beef tartare, small charcuterie & cheese board, pan seared foie gras, and the parisienne gnocchi.
D: The staff were great; the charcuterie was absolutely delicious. I think next time we're up that way we'll need to stop again. Great place.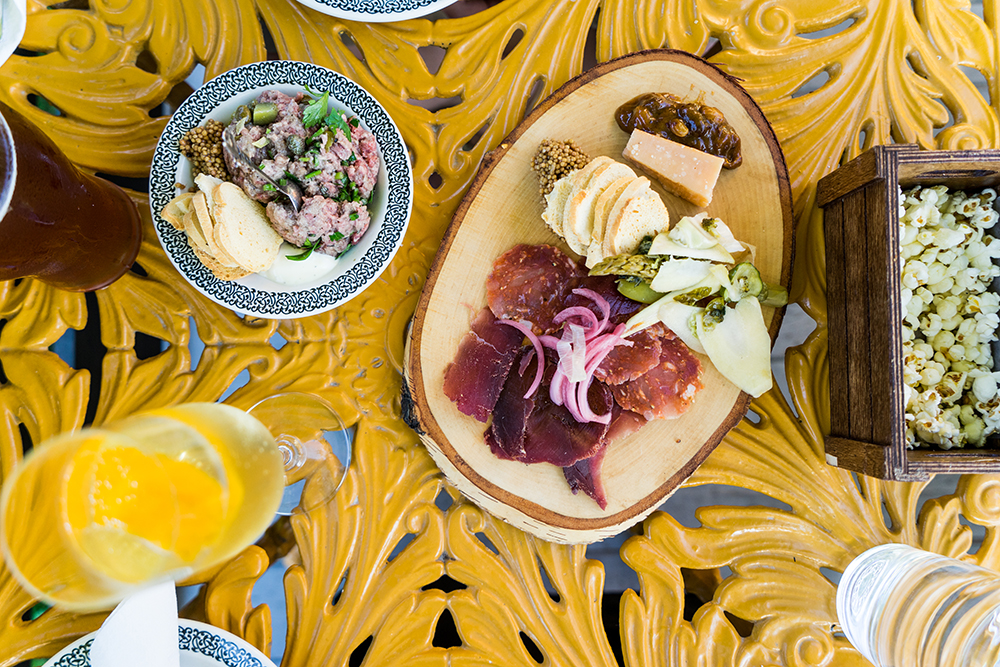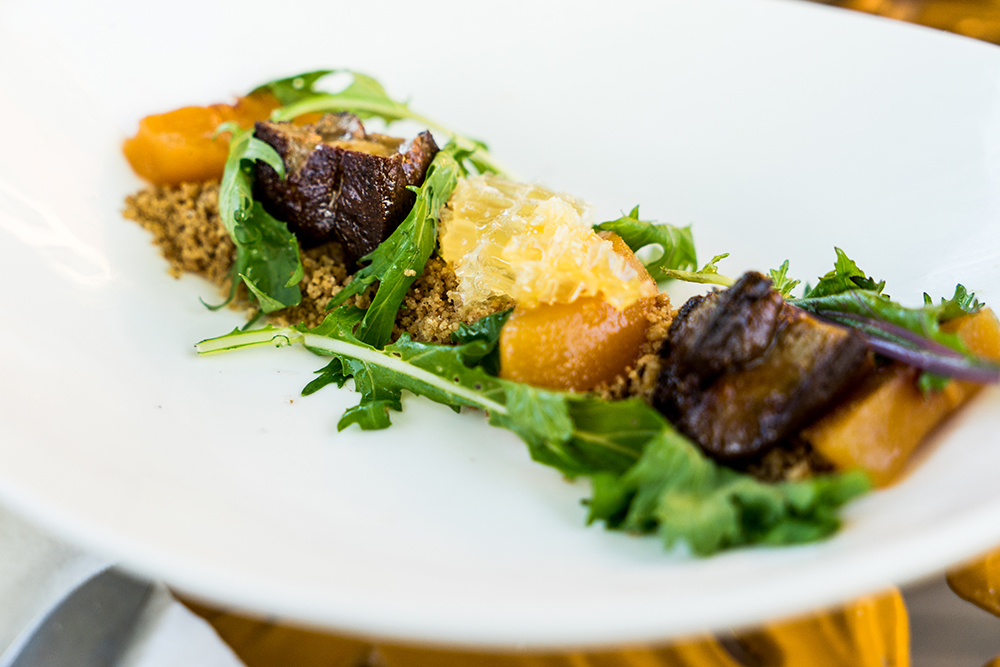 The food… I'm drooling just looking at the photos again. The charcuterie & cheese board were all local fare from The County. David needed more food, as he was hungrier than I, so the gnocchi was more for him, and the foie gras for me. The foie gras, literally melted in my mouth. It's been a very long time since I've had it… and man did I forget how absolutely delicious it is. [D: And the gnocchi was delicious; best I've had outside of making it with Flavia at The Club. Basically homemade, would highly recommend.]
DAY FOUR: The Bean Counter Cafe -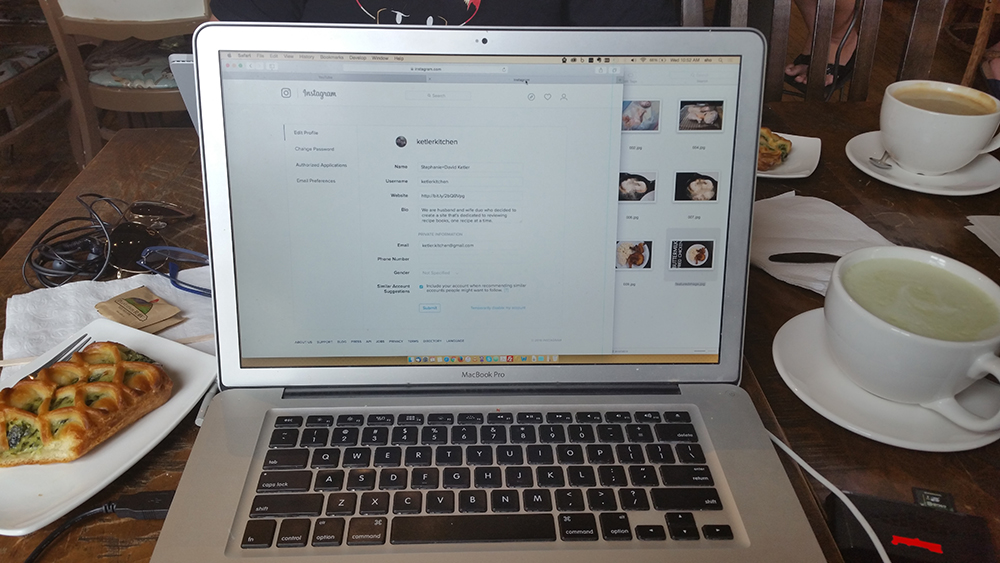 Start of day four, had us back at the Bean Counter Cafe. I ordered my matcha latte again, David had his americano [D: as always]. We sat at a different spot that day, so a new view to show off on the blog! Nothing different from the previous day's visit. Though we were next to a group of elderly folk who were facetiming some young'uns. It was a tad loud and annoying, but thank goodness for earbuds [D: OLD PEOPLE SO LOUD! SO LOUD].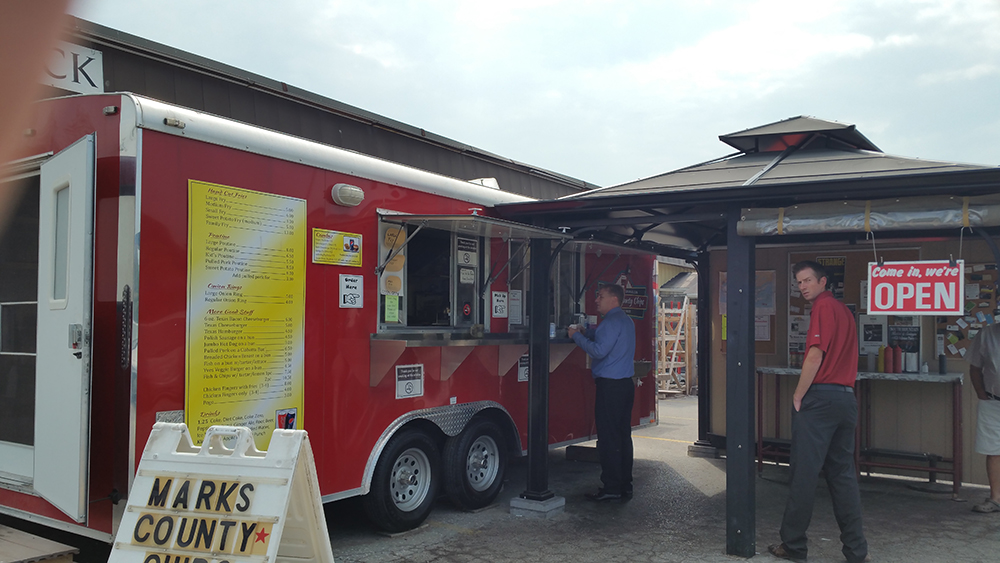 When we visited Sherry at Karlo Estates, she was kind enough to spend some time marking up a map for us, of places to checkout, eat, and enjoy. One of the spots she mentioned, was a food truck that was parked in the Picton Canadian Tire, parking lot. Nothing fancy, but boy was it busy! We ordered the fish and chips. And if any of you know… I've been very selective of my fish and chip places, since coming back from my honeymoon in Newfoundland. I can count on one hand, how many times I've had it since (and it's been close to a year since Newfoundland). And what can I say? The fish was tasty, and the tartar sauce yum. The potatoes may have been a tad undercooked, but for a food truck fish and chips, it was all I imagined it to be [D: the fish was better than I expected, the chip were kind of eh; but as Steph said, good, better than expected. I do still miss dressing on my chips though :( One day we'll open an East Coast style fish and chippery here. Yes, that's the technical term, a chippery. Look it up].
I'll admit something… I didn't take pictures today. But man was it a gorgeous day to be at the beach. David hadn't been to a sandy beach before, in Ontario, so it was a nice first. The water was very clear, and it was amazing just floating in the water.
Birthday Dinner September 7th, that's the hubster's birthday. So we decided to cook up a nice meal on the BBQ, as we don't have one in the city. Did a little prep work in the kitchen… then started grilling the veggies on the BBQ.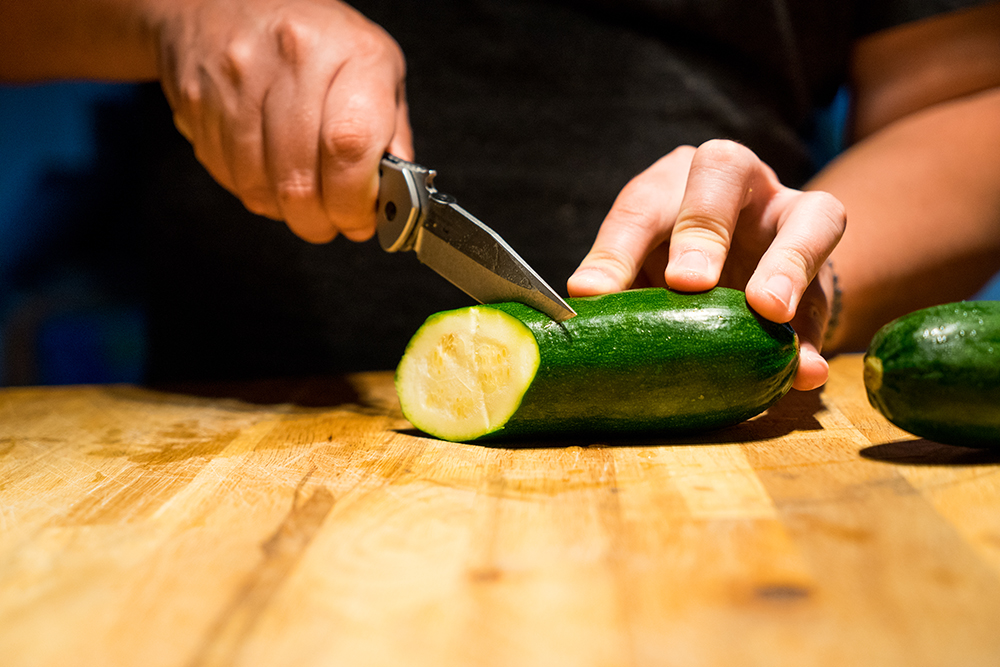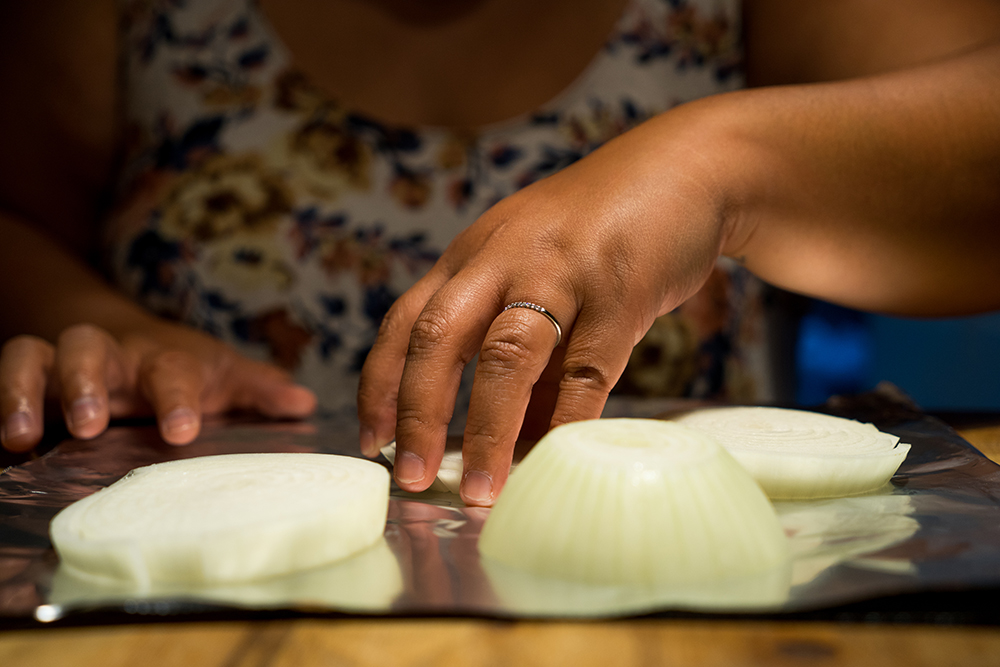 Then… we find out that we're completely out of propane [D: I was enthused]. Was it because we used it all up? God I hope not, considering there was a big tank that was supposed to suffice for the entire farmhouse and apartment portion. Thankfully, Michele was actually coming to The County to stay in the farmhouse section for a couple of days. The people who were supposed to fill up the tank monthly, had apparently not done it since June. With that said, we hadn't even completely finished grilling the veggies yet. But we set them aside, and started working on a campfire to cook up the steak we had planned for the night. And let me tell you… it was a bit of a struggle. It had rained some, so a lot of everything was damp… making it hard to create a good campfire.
D: yeah, that sucked a lot. Our wood supply wasn't great (a lot of large, damp logs; I did get a hatchet but I would have needed an axe to actually split them), so the fire wasn't great. The steak did end up cooking quite wel, but it was a tough go. Definitely not what I was hoping to do for birthday dinner. It did end up working out in the end though. Also, as great as my Kershaw CQC-6K is for cooking… I'm going to grab a Cold Steel SRK or a Ka-Bar at some point so I have something closer to a full sized fixed-blade to cook and stuff with. Folding knife cooking – not the best.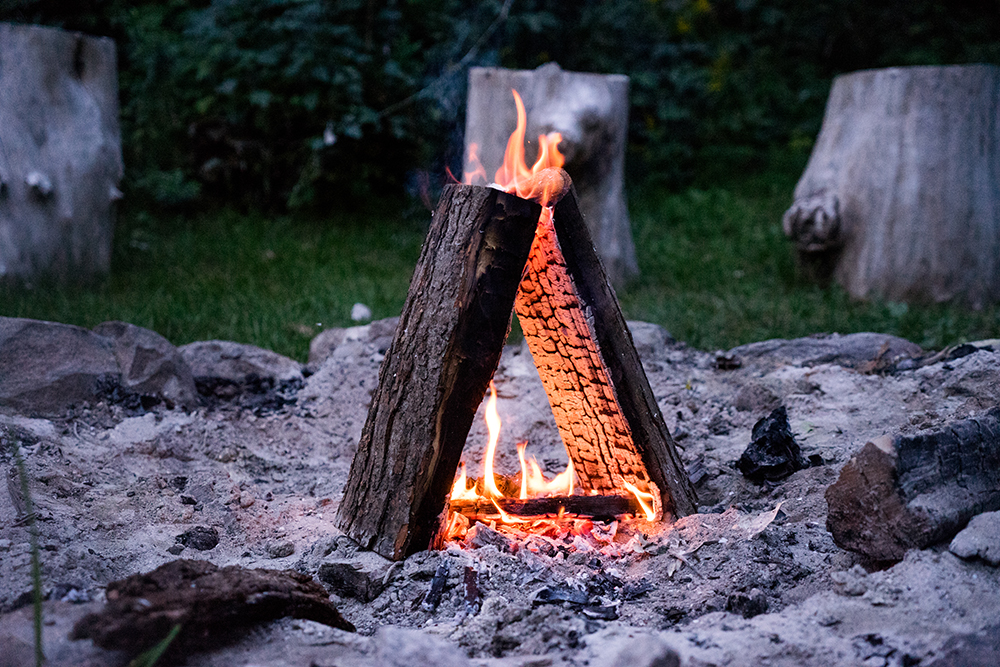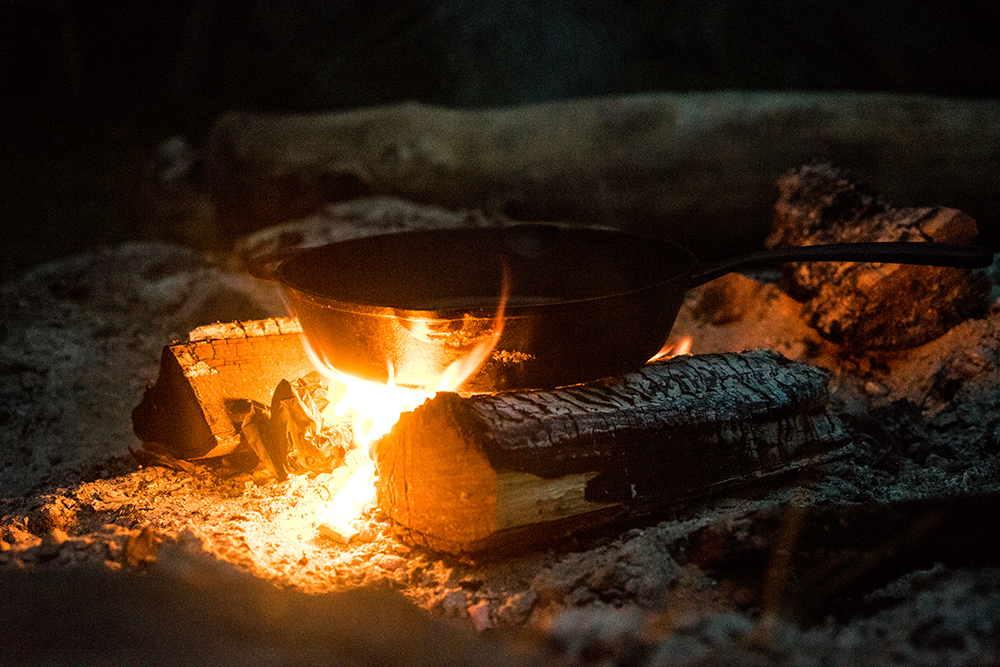 With the use of the microwave as well, we managed to have a warm/cool dinner in the end [D: temperature was questionable simply because there wasn't really cook surfaces for everything with a mediocre fire to work with; hot food separates us from the animals! We invented fire!].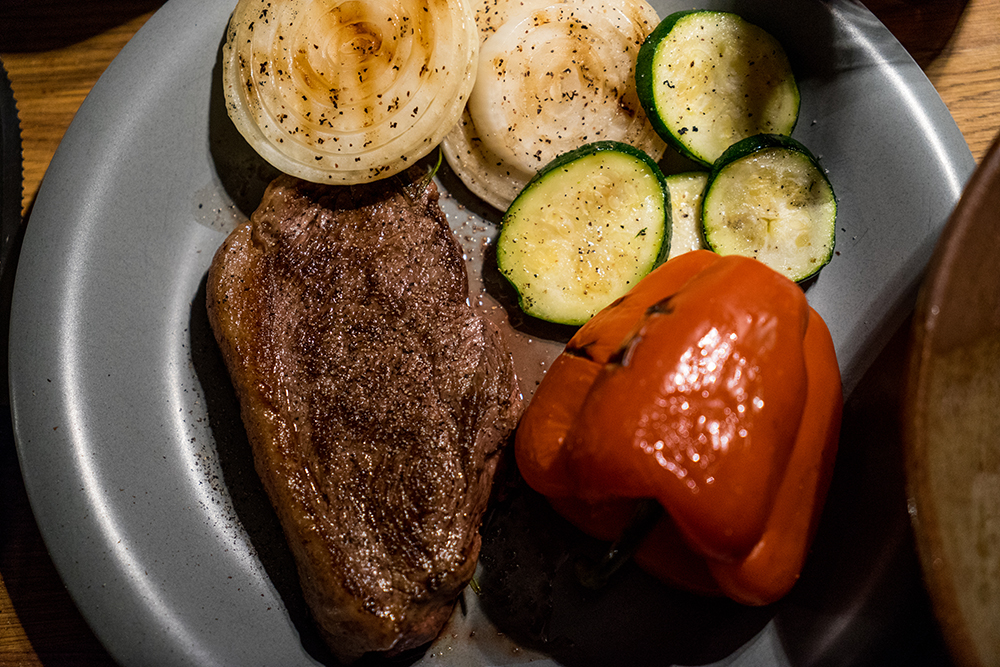 DAY FIVE: Norman Hardie Winery and Vineyard -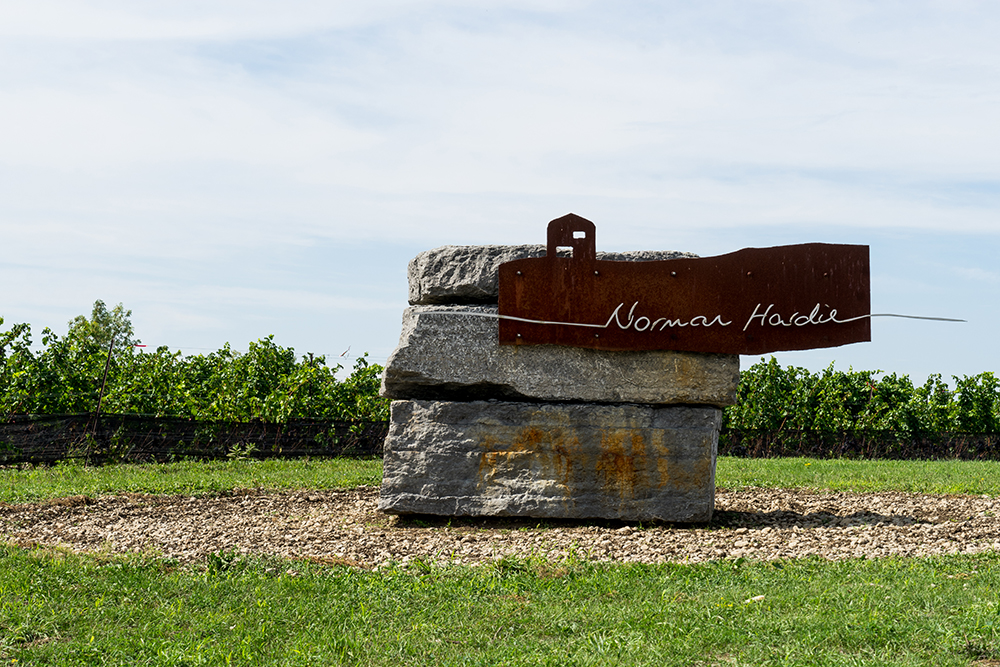 This was one place I had to go to, the week we spent in The County. I could maybe not have gone to some other places, but the one place I did have on my MUST GO LIST: the Norman Hardie Winery and Vineyard, for their clay oven pizza outside. Thank goodness the rain behaved, and we were able to eat outside. I was very worried as we drove there, that the pizza oven would be closed, due to possible pouring rain. Though it rained some on our drive, it kept away while we were there.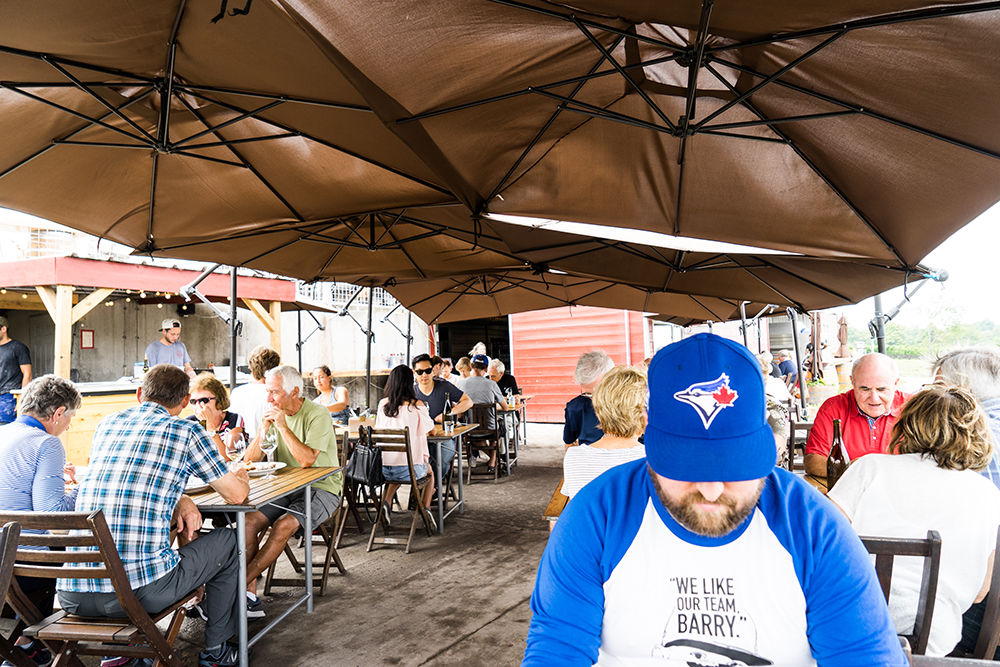 And thank goodness we got to eat there. The pizza was divine, just like they make it in Italy. Nice thin crust, with simple, yet delicious ingredients that just burst with flavour in your mouth. I ordered the 2015 Riesling to drink, and the Funghi pizza; while David went ahead and got himself the 2014 Cab Franc to drink, and the Napoli pizza, for the anchovy. Both pizzas were delicious [D: stellar pizza, wine was good too], and watching the chef make the pizza in front of us was pretty awesome too.
We did kind of a 2 trip type thing: 1st trip, we went and played in the wavy waters. 2nd trip, we went to go checkout the sunset, as we had been informed that the sun would set against the water. If you ever knew me…. I'm all about them sunsets, so I had to go. It had to be 2 trips, as we had to change into warmer clothing/longer clothing, to try and ward off the black flies that enjoyed biting us.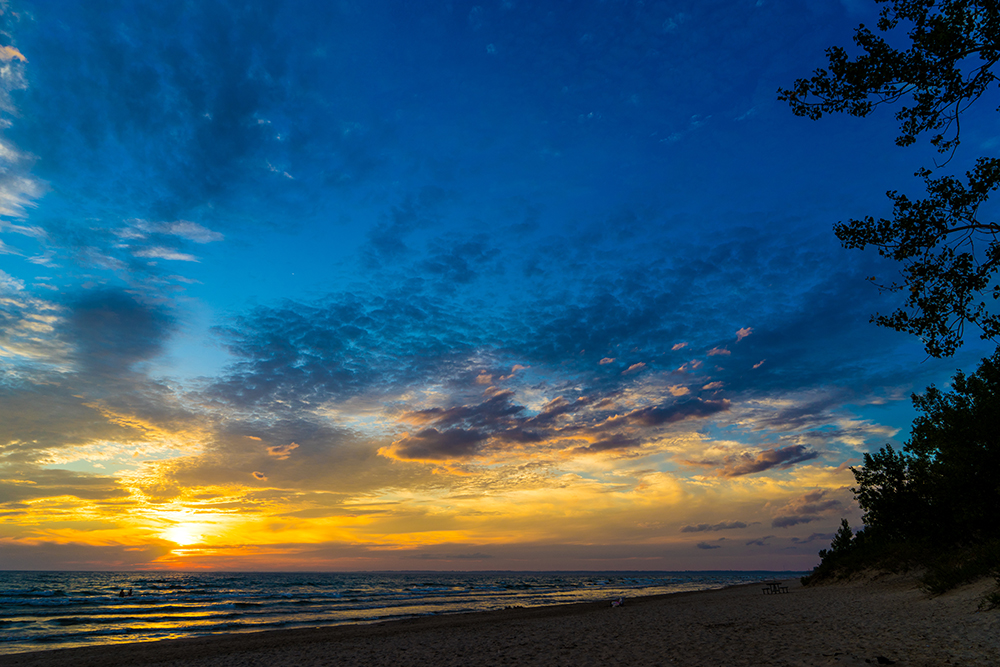 It was totally worth it though… I mean come on, look at those colours.
DAY SIX: Our last day in The County =(
We didn't really go anywhere that has a link in the morning. As it was a gorgeous day outside, we figured we'd hop in the car and drive around to see some of the scenery around there. And let me tell you, there's some cute little homes/farms/greenery to be had in The County.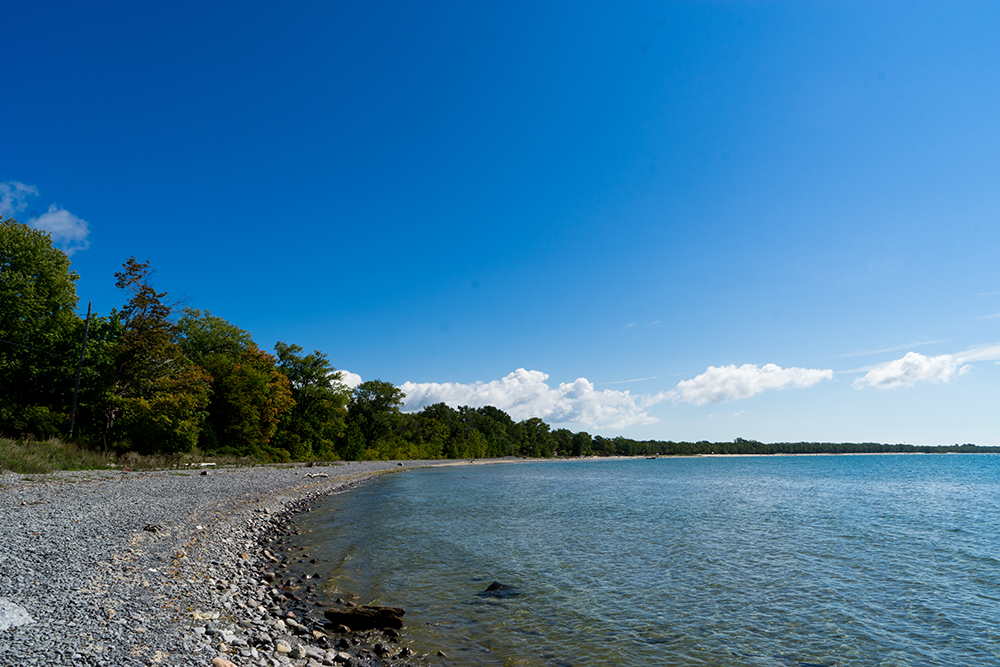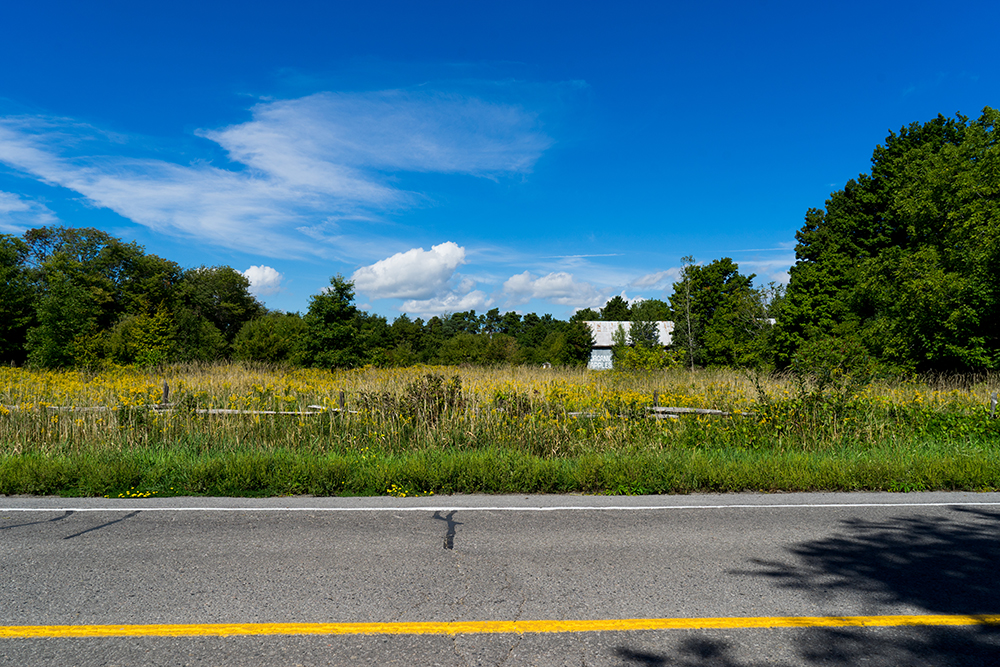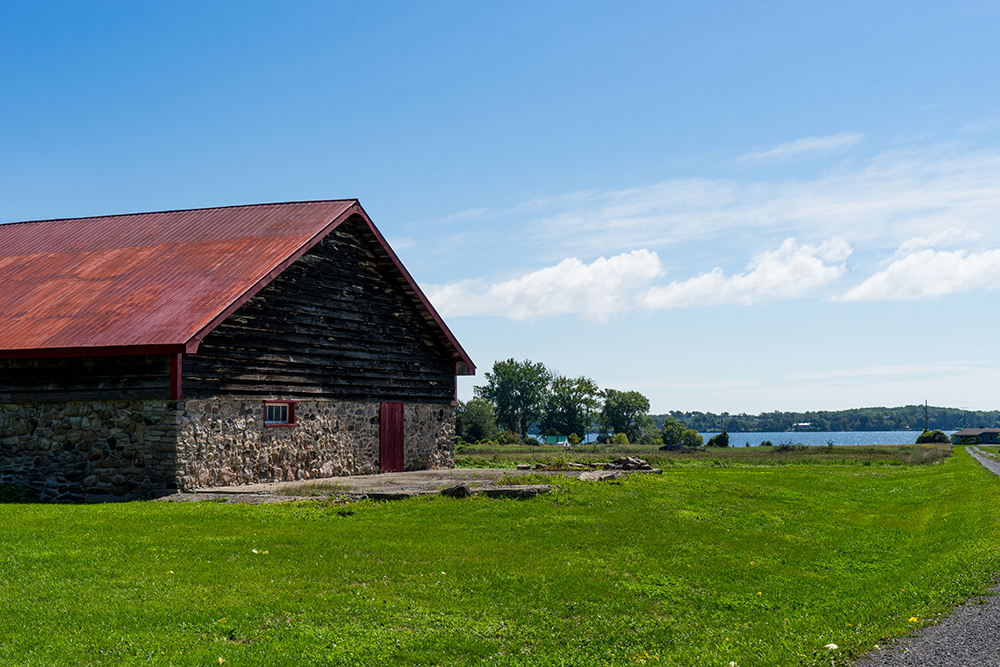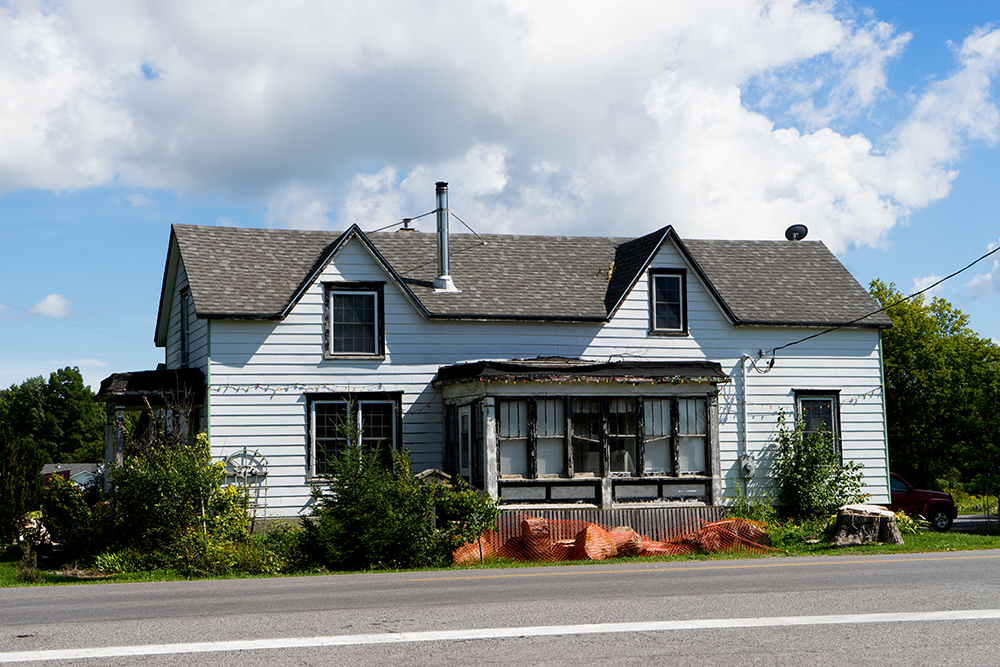 Dead People's Stuff Antiques -
I love little chachkas, anyone at work could tell you that. I have little bits and bobs all over, to make it feel like home. So when I heard that there was a place called, "Dead People's Stuff", I knew I had to pop by and see what they had. Unfortunately, I didn't actually buy anything, but there definitely were some interesting trinkets here and there, for the antiquing connoisseur.
D: It was, for the most part, like going through the old stuff we have kicking around at our house from my Grandparents, etc. I wasn't super impressed.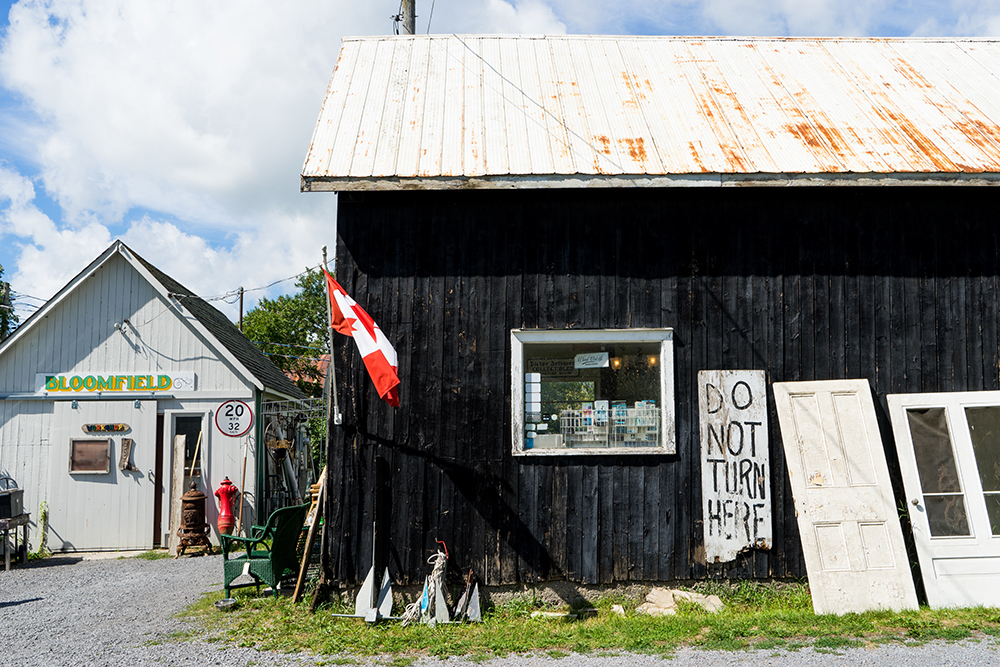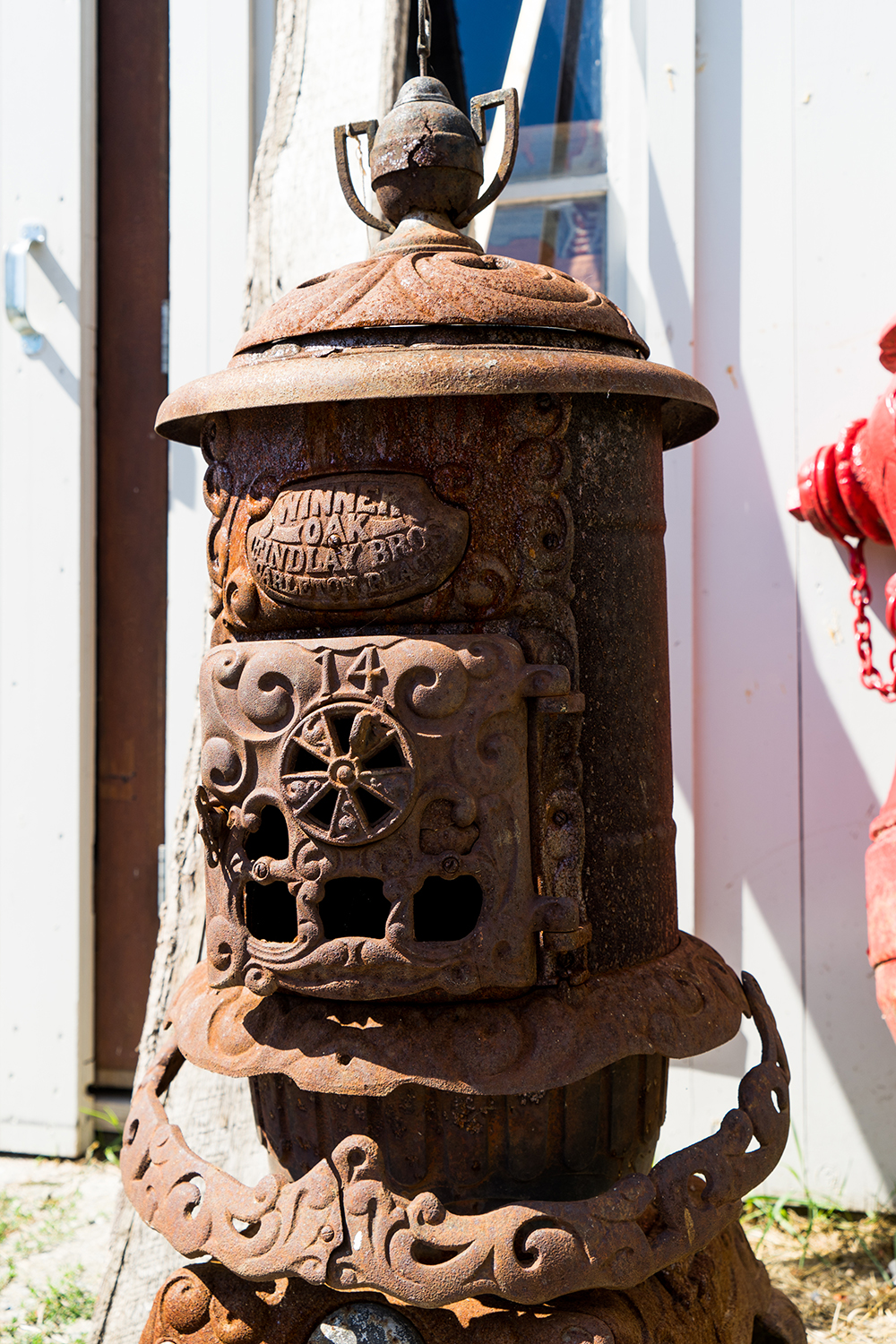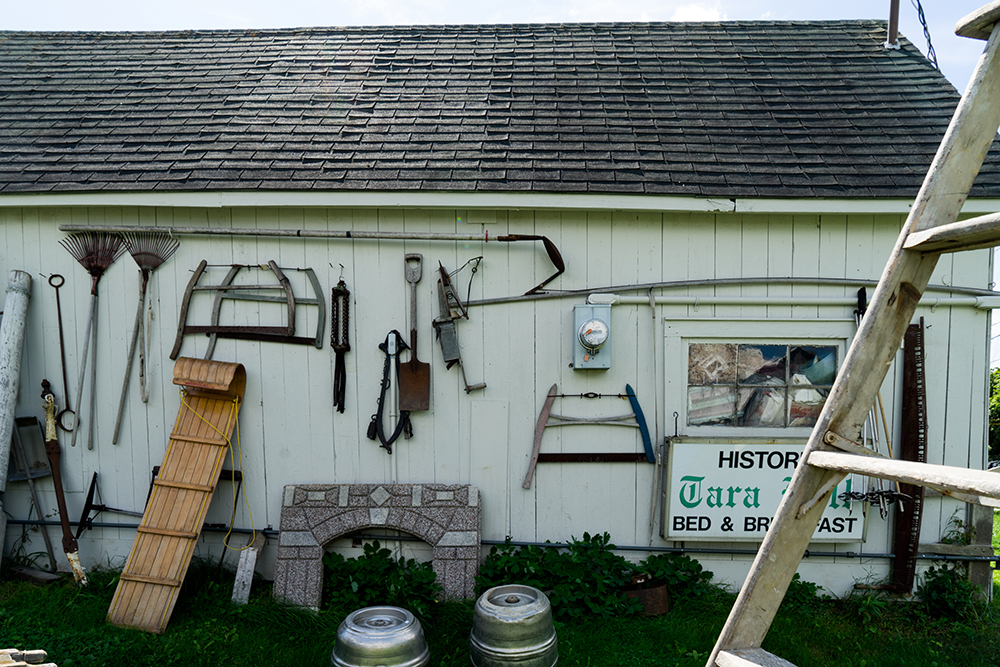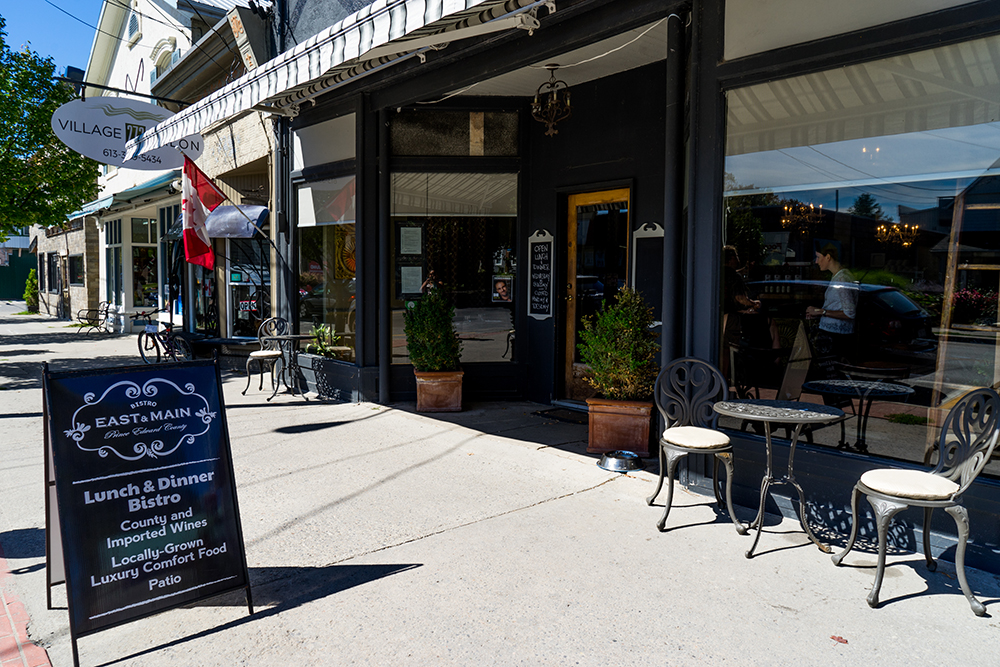 After having driven to many places, it was time for us to have our last lunch in The County, before heading back home to the big city. The last time I came to this bistro, was with my parents the first time I ever stepped foot in The County. David was a tad weary of the place, as 99% of the patrons were a little older than us. But I guaranteed deliciousness.
D: I felt it was too much food, knowing that I would order something smaller in the future. Very good food, just maybe a bit too generous.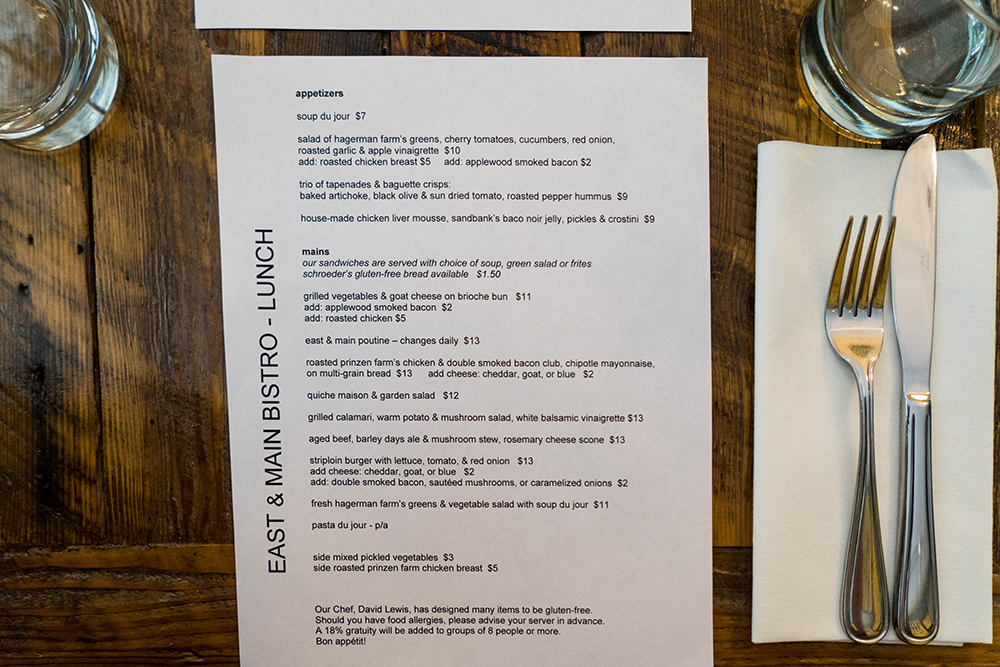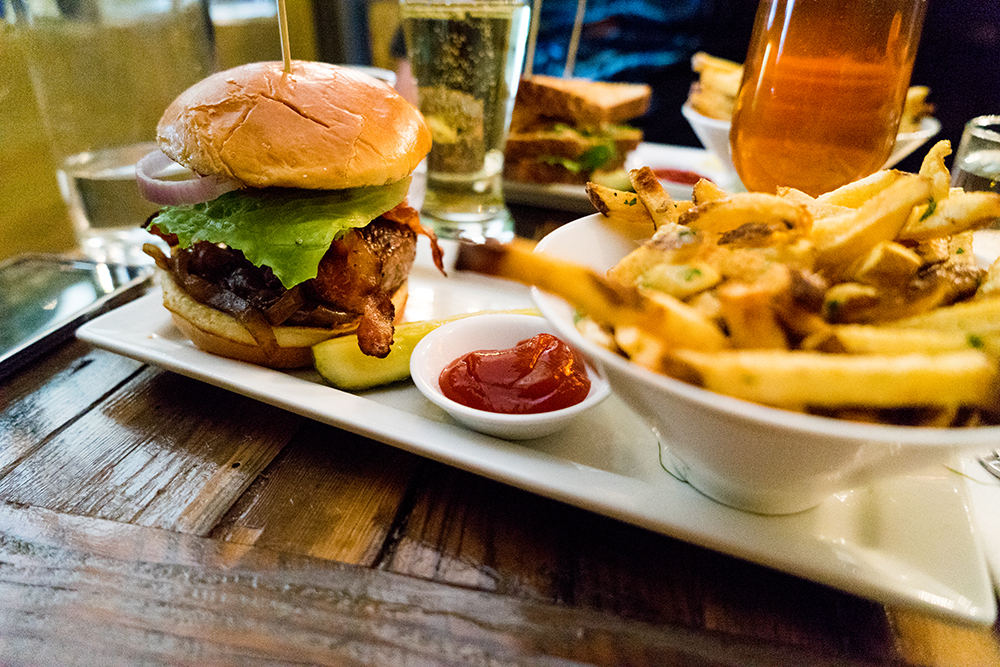 Overall, this trip was needed, propane mishaps and all. It was nice not waking up before the sun woke up, and going to bed past my normal 9:30/10pm old lady time.