D: This week we'll be doing another recipe from Comfort Food, but we're going with a dessert this time; mixing it up a little bit. This is a reasonably straightforward one, a pretty simple custard tart. The gist is, that it's a milk custard tart with a hard caramel top [S: in other words… a really big creme brûlée, without the torched sugar].
[Serves 10]
Ingredients:
Pastry:
1 2/3 cups all-purpose flour, plus extra for dusting
1/3 cup confectioners' sugar
1/2 cup unsalted butter (cold)
1 large egg
1 splash of milk
pinch of salt
Filling
2 1/2 c reduced fat milk
1 vanilla bean
1 pat of unsalted butter
2 large eggs
2 tbsp cornstarch
1 1/2 tbsp all-purpose flour
1/3 c superfine sugar
1 tsp ground cinnamon
Caramel
3/4 c superfine sugar
splash of water
Required/Suggested tools:
deep 9 in removable bottom tart pan, non-stick
Preparation:
Time the cookbook says it'll take: 1 hour 20 minutes + cooling and chilling time
Actual time it took to cook: 1 hour and 20, estimate was correct
Verdict: The recipe could use a couple of tweaks, at least how it seemed to turn out for us. The pastry recipe makes too much, I would trim it down something like a third, we ended up with the pastry being much too thick [S: I think we just need to roll it out thinner than instructed, which I'll talk about down there]. I would also do maybe… 1/2c of sugar for the caramel, as the caramel was too thick for my liking as well. It turned out as a sort of pastry and caramel tart more than a custard tart. I'd very much prefer it more filling heavy. Our tart pan may be too shallow as well.
The Step-by-Step:
Step 1: Pastry
sieve the flour and confectioners' sugar into a bowl
cut the butter into cubes and rub or cut into the mixture until it resembles bread crumbs
add eggs and a pinch of salt, work together with your hands
add milk and bring together into a loose ball
wrap in plastic wrap and chill for 30 min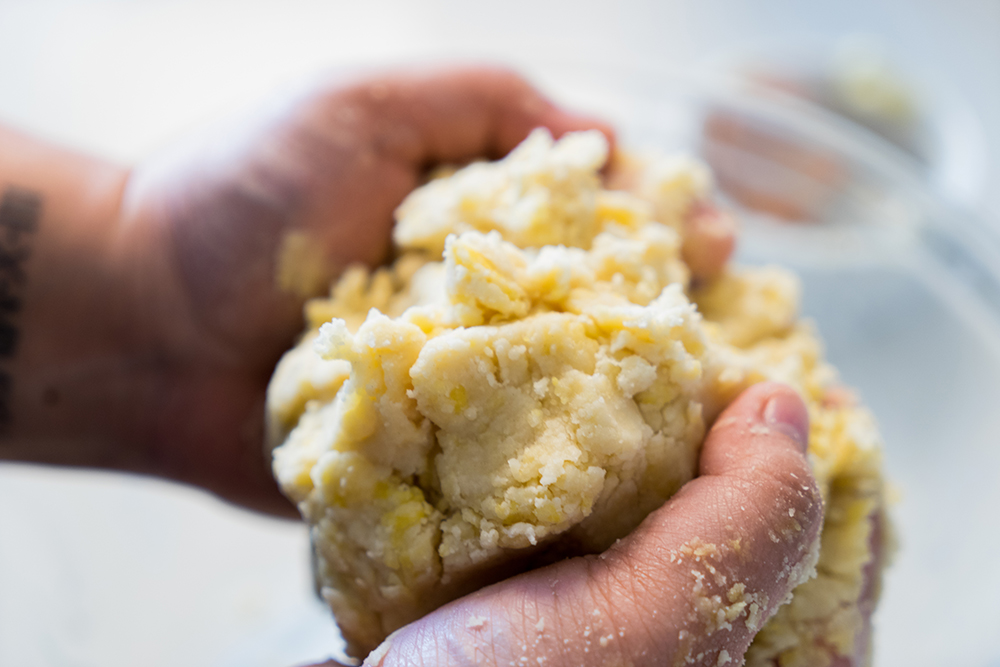 Step 2: Rolling pastry
lightly oil the inside of a deep 9-inch tart pan
roll the pastry to 1/4in thick, dusting as required
lay into tart pan, trimming and patching holes as necessary
poke bottom with fork and put in the freezer for 20 minutes
preheat oven to 350F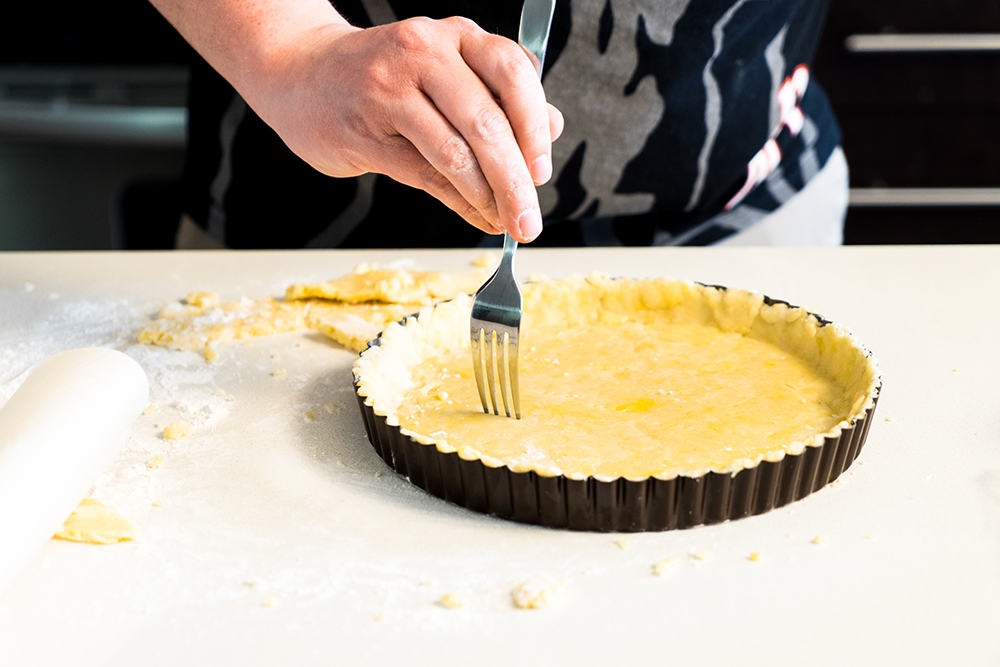 Step 3: Blind bake
place parchment over the pastry
fill with uncooked rice or baking beans
bake for 10 minutes, remove parchment and weights
return to oven for another 10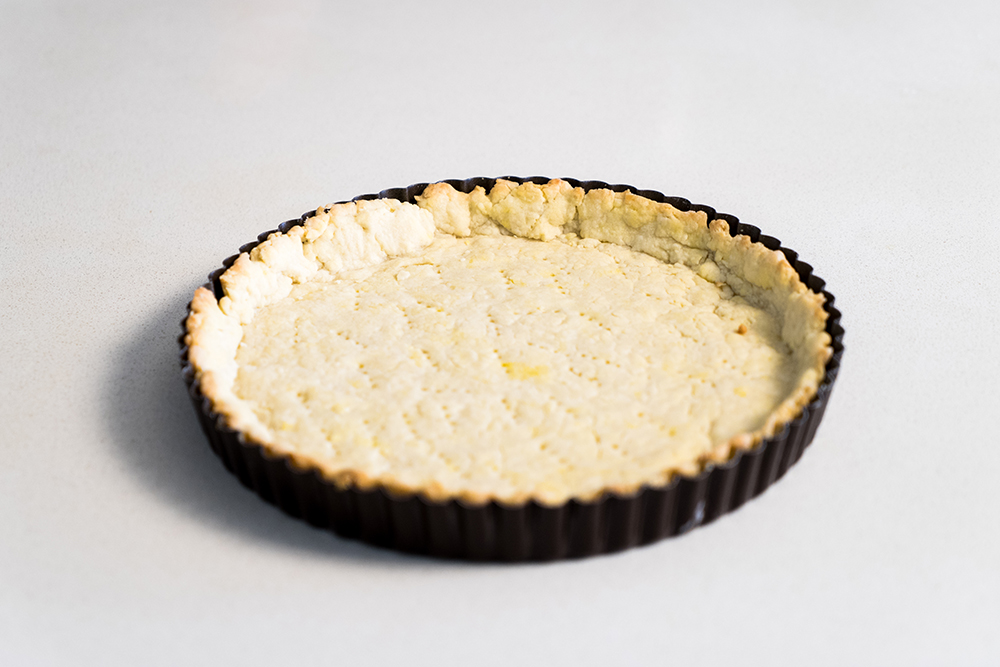 Step 4: Filling and Baking
pour milk into a small saucepan, place on medium on the stove
halve a vanilla bean, scrape, and place both seeds and bean to the milk
simmer gently for 15 minutes
remove from heat, stir in butter
leave in the vanilla bean, don't be me
in a bowl, beat eggs, cornstarch, all purpose flour, and sugar
when the milk has cooled a little, gradually whisk into egg mixture
pour back into the saucepan, place over low heat for 5 - 10 minutes or until thickened, whisking constantly
seriously, constantly, it's ~ a custard, look away from it and you'll cook the bottom, whisk a lot
discard the vanilla bean
pour into the pastry, dust with ground cinnamon through a sieve
bake for 20 minutes, then cool on a wire rack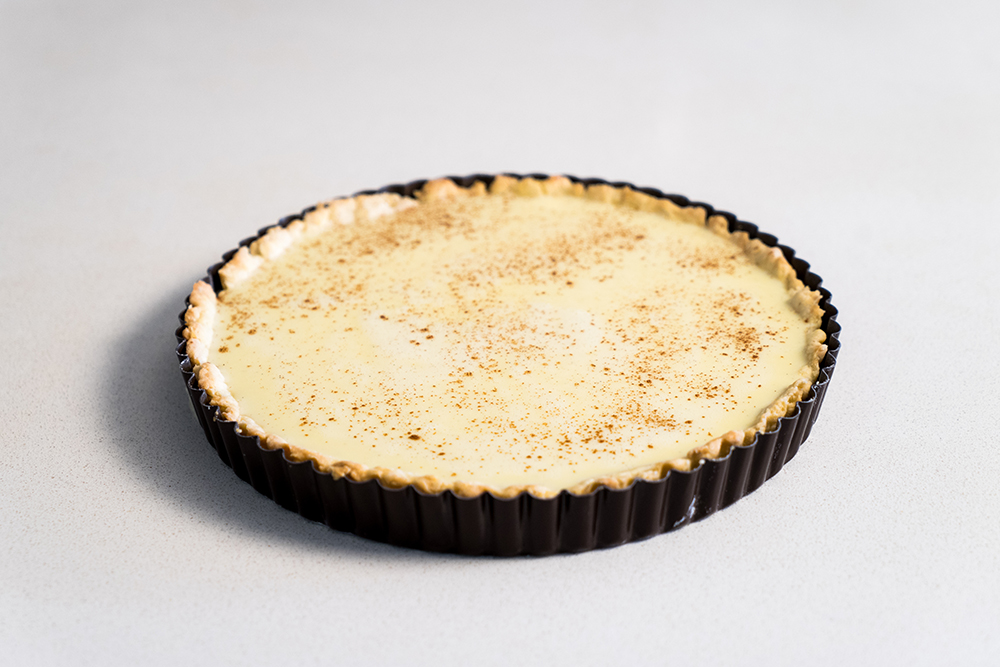 Step 5 (optional): Caramel
melt sugar in a non-stick pan with a splash of butter
cook until lightly golden (do not stir, or knock down sugar on the sides, as it will crystalize and seize, add more water and cook further if this happens)
pour over the tart and tilt if needed to cover evenly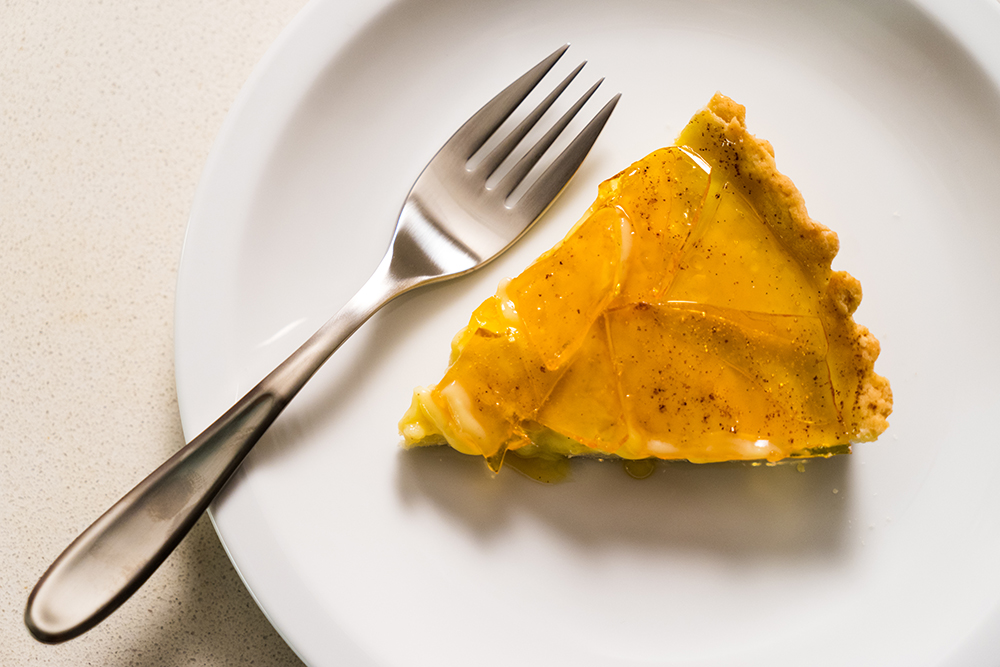 That's it, cut and serve. Wasn't my favourite with how it turned out playing it straight, but with some tweaks I think it'd be quite good. Good vanilla custard. [S: Need to keep in mind once the hard caramel top has set, you need to eat the whole tart. If not, the caramel becomes goo, and that never works out well for anyone.]