S: Yay bao! OMG I love bao. [D: me too] I've never made it in my life… though that does sound surprising. I can't say anything else but wow. The directions as per usual are all over the place, but the end result is the tastiest thing I have eaten, that was made by mine and David's hands. I'm quite proud of what we made, as it definitely looks and tasted like restaurant grade food. I'm proud of it, and I'm ok with tooting my own horn right now. We worked hard for this, and it was delicious. [and I thought it was quite easy as well, just time consuming to cook the pork belly, really]
[Serves 4]
Ingredients:
Pork:
2 1/2 lbs pork belly, bone out
sesame oil
superfine sugar
Buns:
1 1/3 cups reduced-fat (2%) milk
3 tbsp unsalted butter (at room temperature)
4 3/4 cups good-quality Tipo 00 flour, plus extra for dusting
1 heaping tablespoon superfine sugar
1 x 1/4 oz package of active dry yeast
1 heaping tsp each baking powder + baking soda
1 tsp of salt
Pickles:
1 english cucumber
1 bunch of radishes
2 x 1 tsp superfine sugar
2 x 3 tbsp rice wine vinegar
2 x 1/2 tsp of salt
To Serve:
1 heaping tbsp sesame seeds
4 scallions
8 sprigs of fresh cilantro
1 fresh red chile
hoisin sauce
Required/Suggested tools:
time
this will take 2 days of your time
oven safe glass bakeware
large sized mixing bowl
baking tray or two
chopstick(s)
rolling pin
a little bit of oil
bamboo steamer(s)
bowls

pan

Time the cookbook says it'll take: 6 hours 30 minutes + chilling and proofing time
Actual time it took to cook: 6 hours 30 minutes + chilling and proofing time
Verdict: I said it once, and I'll say it again. Wow. I loved this food, and I can't get over it. It's tasty and I would definitely sacrifice a weekend to make this again. [for sure, by far my favourite we've done so far] Anyone want to do a potluck? Maybe we'll make this and bring it.
The Step-by-Step:
DAY ONE: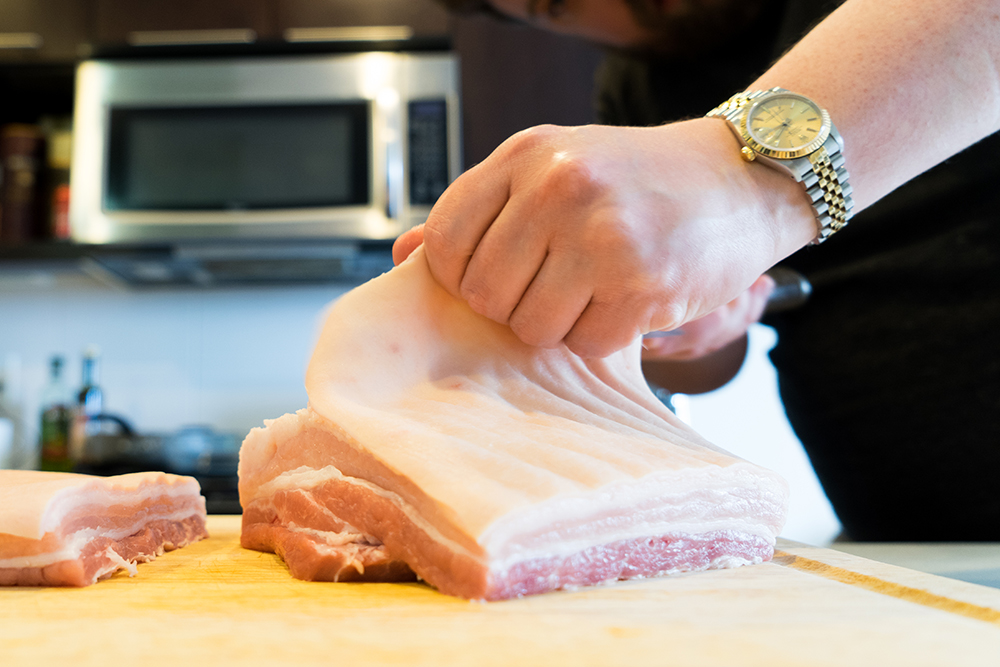 Step 1: Pork Belly
Preheat the oven to 275F
carefully remove the pork skin from the belly (or ask the butcher to do it for you)
put the skin in the fridge for later
in a large roasting pan (or in our case, oven safe bakeware), rub the belly with sesame oil and season with a good pinch of sea salt and sugar
cover tightly with a double layer of aluminum foil and cook for 5 hours
after 5 hours, remove, cool, and refrigerate in the same pan overnight
DAY TWO: Step 1: Buns/Baos
(this step can be done by hand or a freestanding mixer. we used (and suggest if you have it) a freestanding mixer) [mixer makes the difference between hating your life, and having them done in a few minutes and making it a recipe you can do for special occasions and stuff; the mixer is worth it, all hail dough hooks]
combine all the bun ingredients together and knead it for 10 minutes until smooth and pillowy soft (I'd like to mention that I think if you did it by hand, it would take more than 10 minutes. Our mixer was working quite hard to knead it for the 10 minutes suggested in the recipe)
after kneading, place the dough in a bowl, cover with plastic wrap, and proof (let it sit) for 1 hour (making sure to keep it someplace warm/room temperature)
AFTER 1 HOUR OF PROOFING: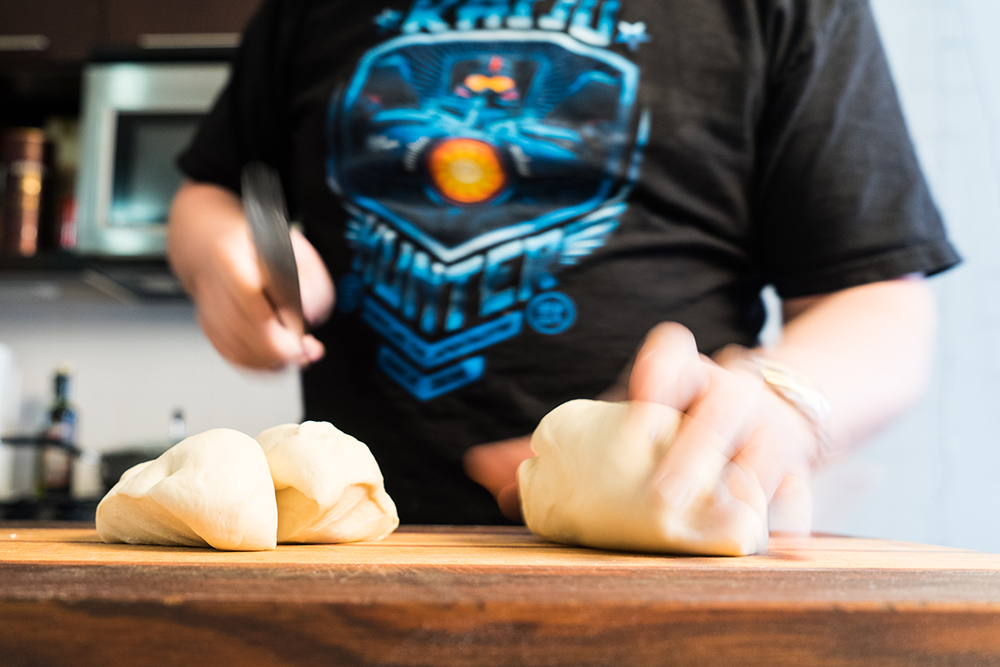 dust a tray with flour
knock the dough back and divide into 20 equal pieces
roll into smooth balls, placing them on the flour-dusted tray(s)
cover them up with a damp kitchen towel and let proof (let it sit) for 1 hour
AFTER 2nd ROUND OF 1 HOUR PROOFING:
one by one, with a rolling pin, roll the balls into rough 4 x 5 inch ovals (do not make them too thin, they should be a little plump) [a thinner bao doesn't turn out as well, it cooks much nicer when it's on the more generous side]
oil a chopstick, putting it in the middle of the oval like a hinge, fold the dough in half over the chopstick [helps keep them from sticking together on the fold, so you can get them apart, hopefully without burning your fingers too much]
pull the chopstick out from the top, so that both sides of the folded bun has some oil on it (this ensures that they don't stick together when steaming)
place each bun on a little rectangle of parchment paper in a bamboo steamer, in single layers, for steaming later
Step 2: Garnish Bowls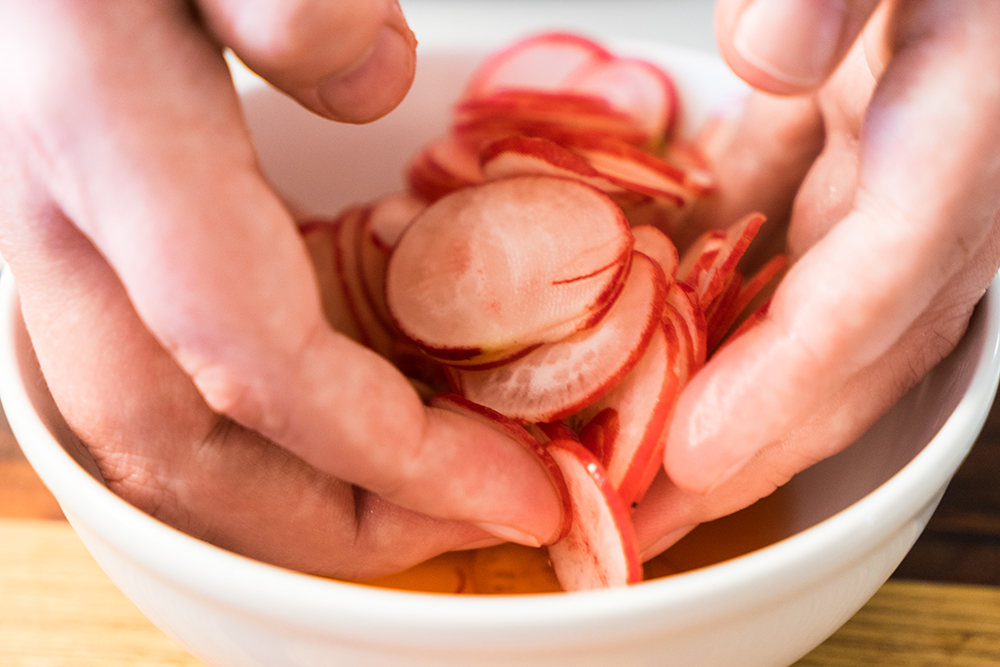 (unrelated to this step, but crucial to keep things moving - Preheat the oven to FULL WHACK (475F)) [was stated way leter in the recipe originally, you end up waiting around a lot, so you should do it here so timing lines up better]
finely slice cucumbers and radishes on a mandolin (we don't have one, so we used our food processor on the slicing option) and put them in separate bowls
sprinkle each bowl with the salt, sugar, and vinegar
toss them with your hands, then pop them into the fridge until you need them
Step 3: To Serve Toppings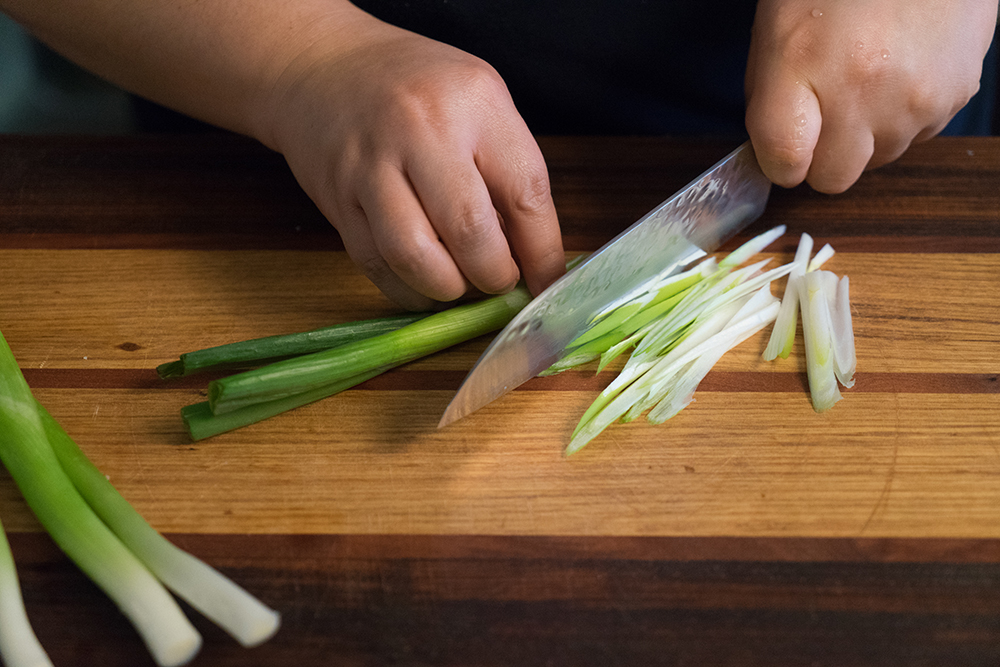 lightly toast the sesame seeds in a pan, putting the end result into a bowl
trim scallions of the end, then finely slice lengthwise (optional: pop them into a bowl of ice-cold water so they curl up, then put them in a bowl)
pick the cilantro leaves and put them into a bowl
finely slice the chile and put into a bowl (put gloves on, if you can't handle heat. The aftermath isn't fun if you don't wash your hands properly and have chile juice on you)
Step 3.5: Pork Skin
place the pork skin on a baking sheet covered in tin foil, season with salt and pepper
place into the pre-heated 475F oven and roast until puffy and crackled (this was roughly a 20-30 minute process)
take it out of the oven to cool
once cool, smash up the skin to look almost like bread crumbs [I ended up taking a knife to it]
keep the baking sheet and tin foil, removing any excess oil from the tray
Step 4: Warming up the Pork Belly + Steaming Buns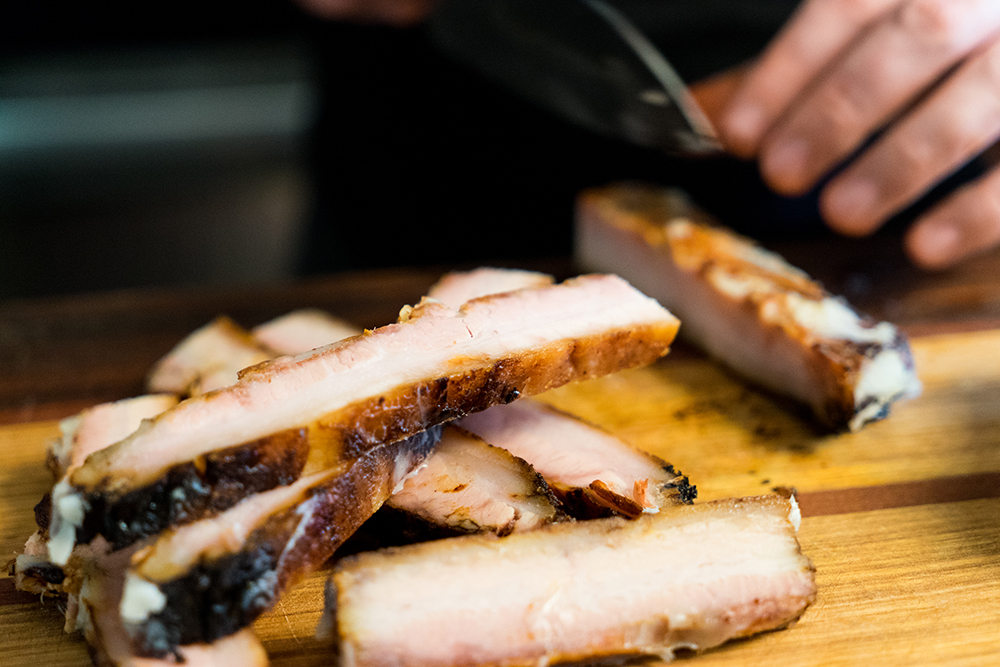 start by putting a pot that fits the bamboo steamers, with simmering water) PORK BELLY -
grab the pork belly from the fridge
slice the pork into 1/2 in thick pieces
then halve each slice
put the pork belly slices onto the baking sheet wrapped in tin foil that previously housed the pork skin
roast in the oven until golden, draining away the excess fat occasionally (we found we had to do it twice)
STEAMING BUNS -
put the bamboo steamers filled with buns, on top of the simmering pot of water, for 8 to 10 minutes
Step 5: Prepping Garnish - squeeze out any excess liquid from the cucumber and radish bowls, transferring the radish and cucumbers into clean bowls
Step 6: Assemble + eat!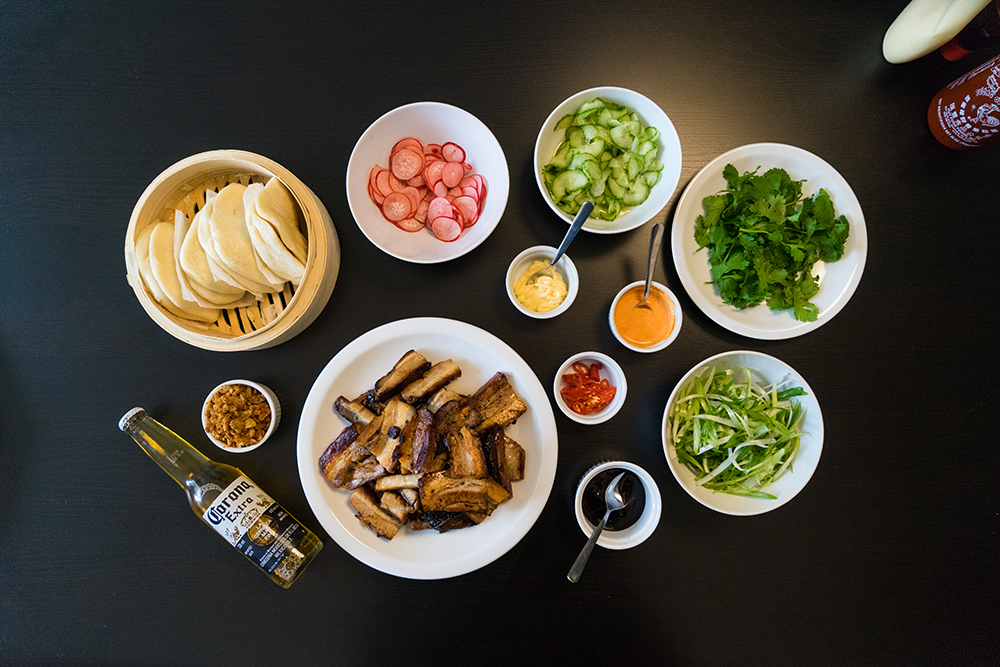 put whatever garnish/topping you'd like in your bun and enjoy!
we recommend maybe one slice of meat… maybe 1 and a half? the bao gets quite full if you over accessorize it
We loved it. Swore we'd never make it again, but loved it so much, we'll make it again.