D: So we were browsing Chapters for new recipe books to check out, and we came across NOPI. Flipping through it, it looked interesting, a lot of asian fusion stuff going on. Seems to be largely fancier dishes, and maybe a bit more work than some other options; but we thought we'd give it a try. So this is our first attempt at a recipe out of NOPI – Yotam Ottolenghi and Ramael Scully [S: and probably our last for a while. It's more of a fancy smancy kind of recipe book. Probably will use it with a couple of more adventurous friends one day, when we want to do a 3 course meal instead of just one].
[Serves 4 generously]
Ingredients:
Pork Belly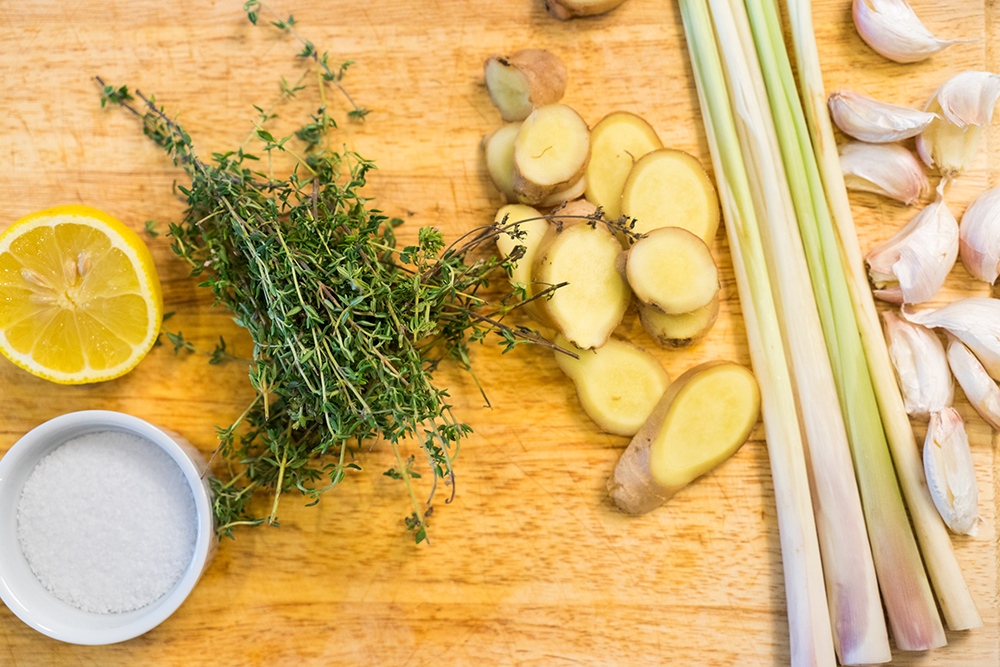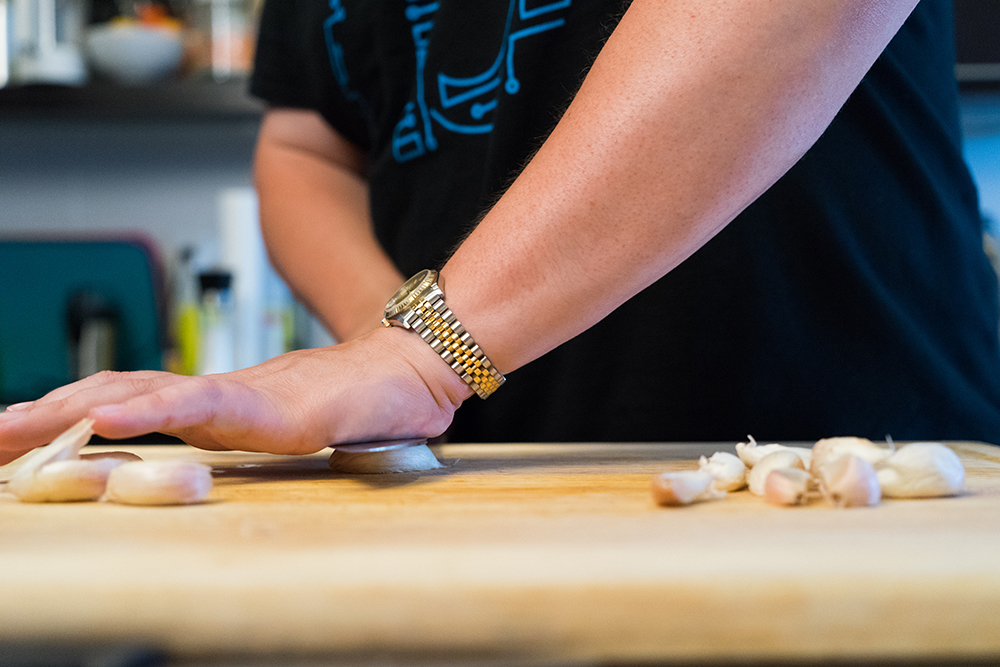 3/4oz, 20g thyme sprigs
12 large cloves garlic, skin left on but bruised with the flat side of a knife (as if you were peeling them)
4 lemongrass stalks, light bruised with a rolling pin (run them over with a rolling pin)
4 inch, 10cm chunk of ginger, unpeeled and cut into 1cm slices
3/4lb pork belly, ribs intact and skin on
1 lemon, halved
3 tbsp coarse sea salt
2C dry white wine
Butternut Squash
1 large butternut squash (3 1/4lb) peeled, cleaned and cut into 2cm cubes
2TBsp olive oil
2TBsp unsalted butter
1TBsp rice vinegar
3TBsp white miso paste
Salsa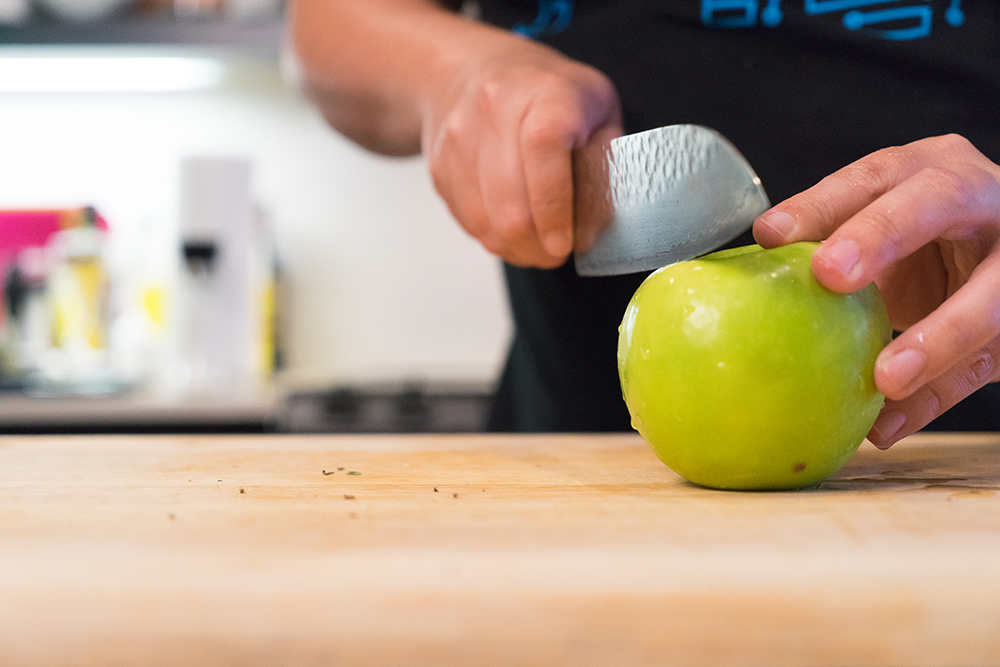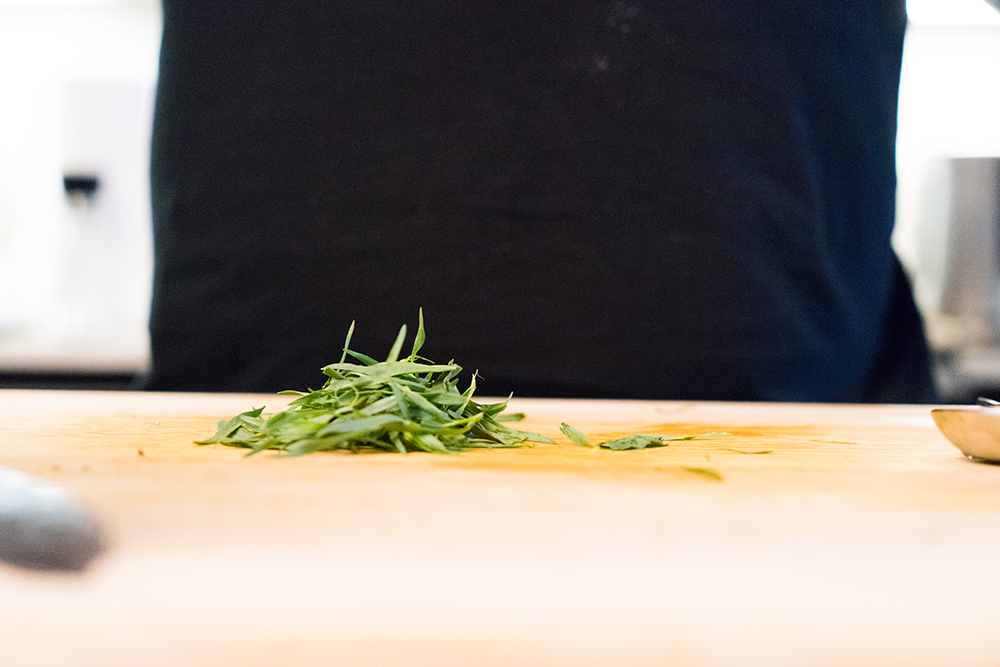 1 granny smith apple, unpeeled and cut into 1cm cubes
2 1/2oz walnuts toasted and lightly crushed
1 3/4oz pickled walnuts, rinsed and cut into 1cm dice (we couldn't find these and had to leave this out)
1TBsp rice vinegar
2TBsp yuzu juice or lime juice (we used lime, couldn't find yuzu)
1TBsp mirin
1/2oz tarragon, finely chopped
3TBsp olive oil
coarse sea salt and black pepper
Needed tools:
rolling pin
roasting pan
baking sheet
The Step-by-Step:
Preheat the oven to 465F.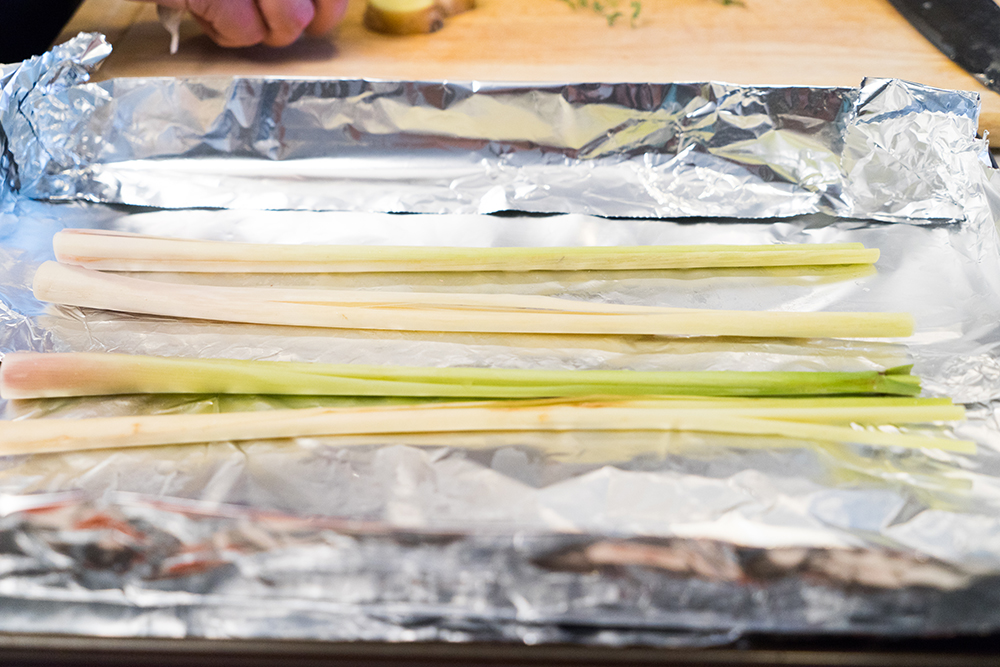 Spread the thyme, garlic, lemongrass and ginger over the bottom of the roasting pan. Lay the pork belly on top of the herbs, skin side up, and pat with paper towels to dry.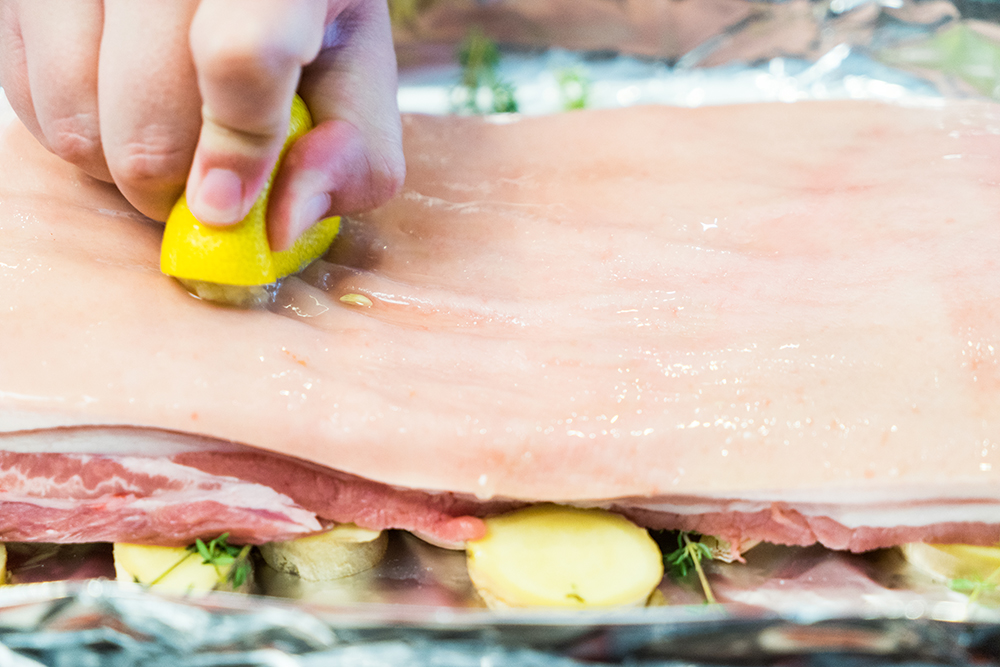 Rub the lemon on the pork skin, squeezing the juice out as you go. Set aside to dry for 10 minutes before sprinkling half the salt on the skin. Place in the oven and roast for 1 hour.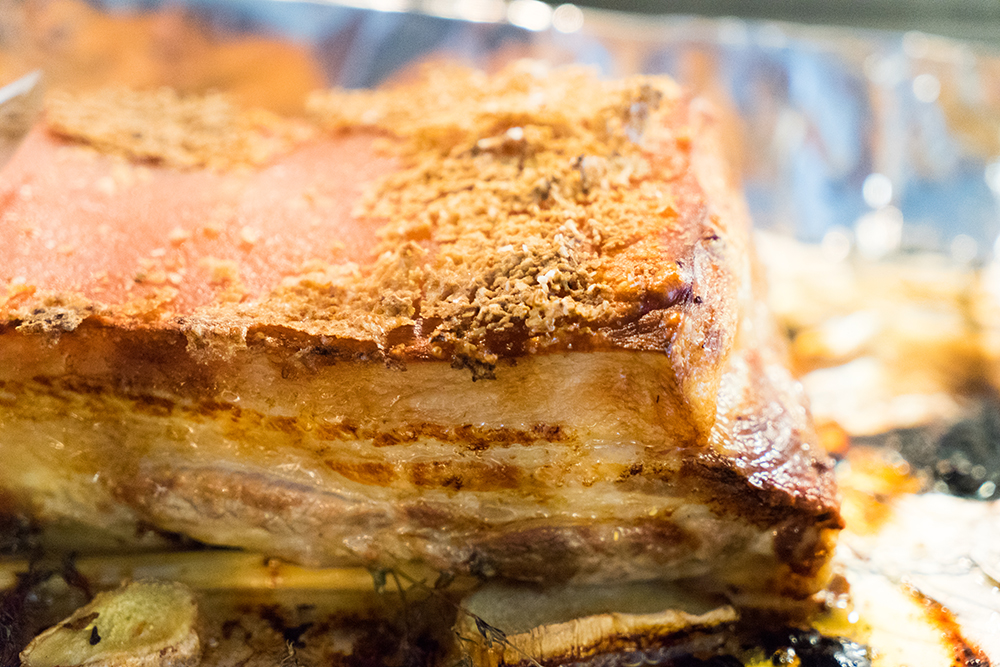 Remove from the oven and scrape off and discard the salt. Spread the rest of the salt on the skin as before, and return to the oven. Cook for another half an hour.
Remove from the oven and reduce temperature to 375F. If bubbles have formed in the skin, poke with a knife and push the bubble down to let the air out.
Pour the wine into the roasting pan, ensuring you don't get the skin or sides of the pork wet, followed by 1 2/3C of water.
Return to the oven for another hour. Then reduce the heat again to 230F, and cook for a final hour.
While cooking the pork for the final hour, prepare the ingredients for the squash and salsa.
After the final hour has elapsed, remove from the oven and let rest for 30 minutes, increasing the oven to 425F.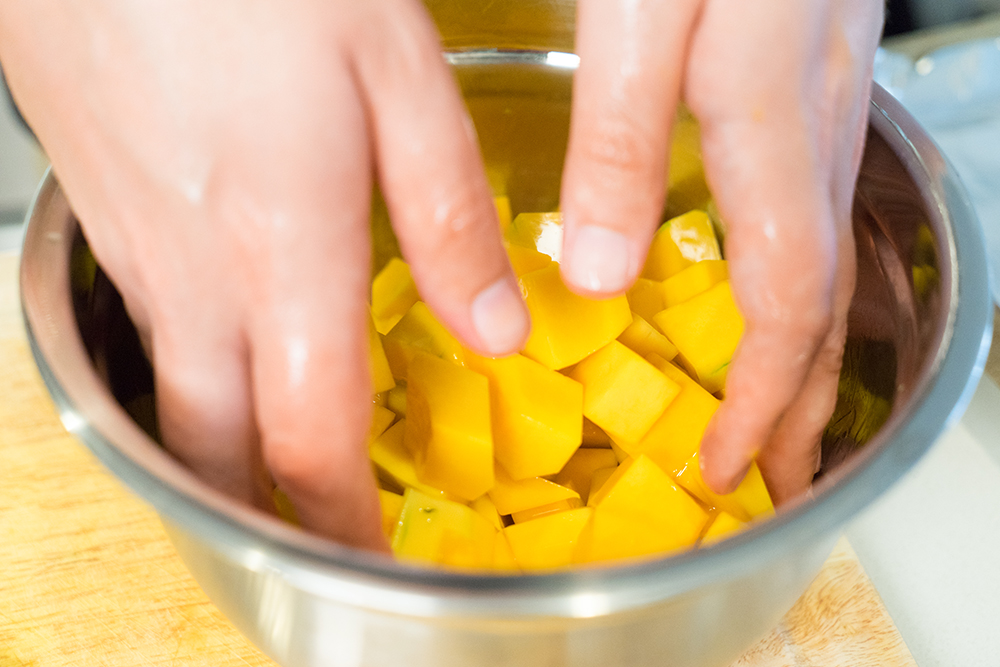 Mix the squash and the olive oil and spread on a baking sheet. Roast in the oven for 30 to 40 minutes until cooked through. Transfer to a large bowl, add butter, and use a potato masher to crush the squash. Do not overmash, leave some texture. Stir in the rice vinegar, miso, 1tsp of salt and some black pepper; keep warm.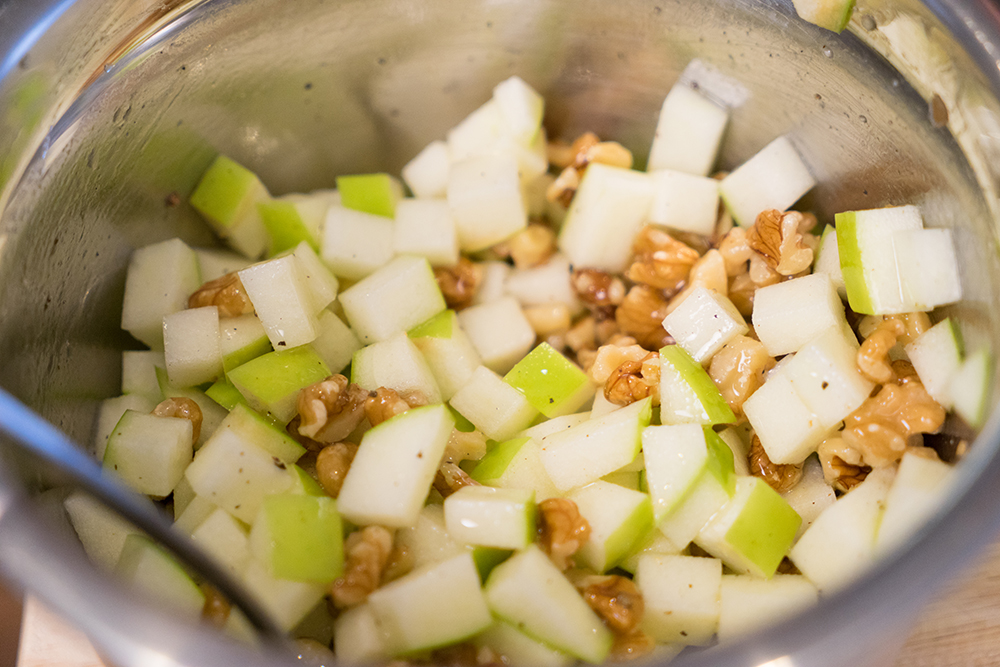 Mix together the ingredients for the salsa in a medium bowl along with 1/2tsp of salt and a dash of ground pepper.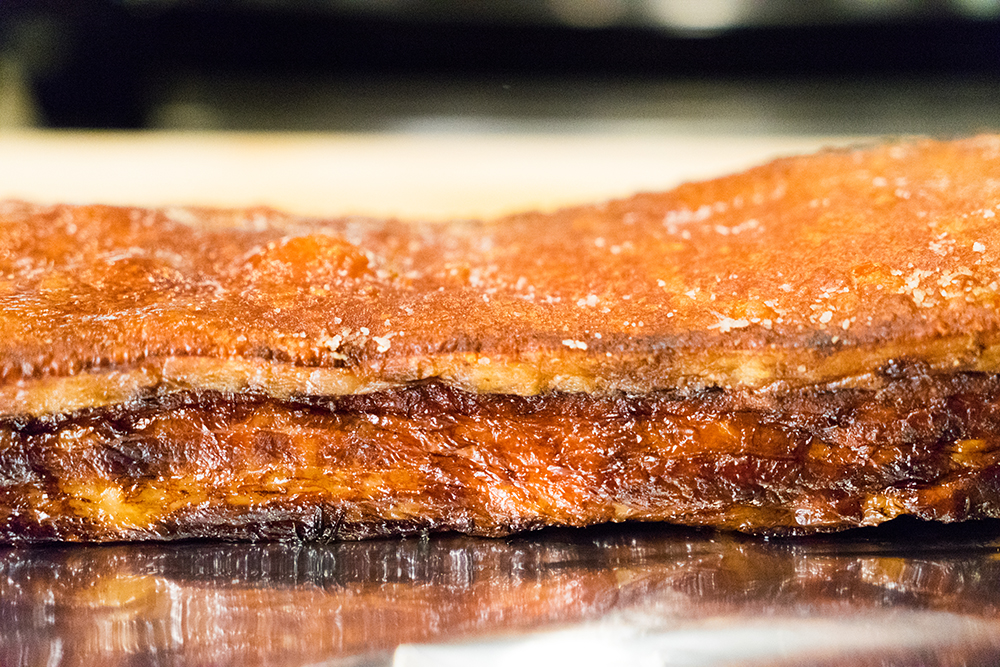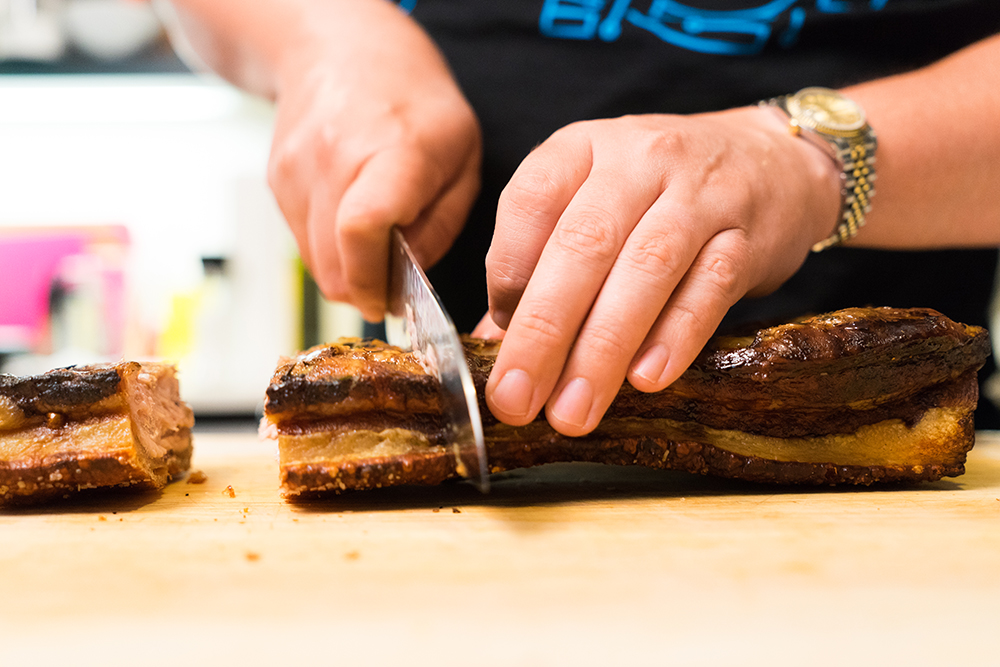 Transfer the pork to a cutting board, cutting into 3-4cm thick rectangles.
Serve, dividing the squash (into 4), place a slice of pork on top, spoon the salsa alongside.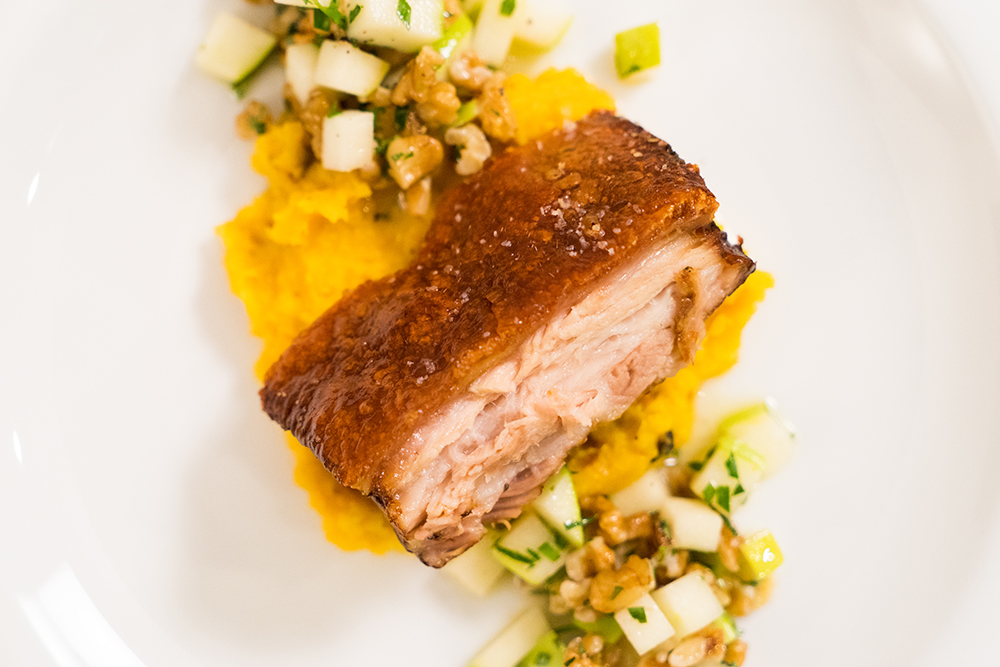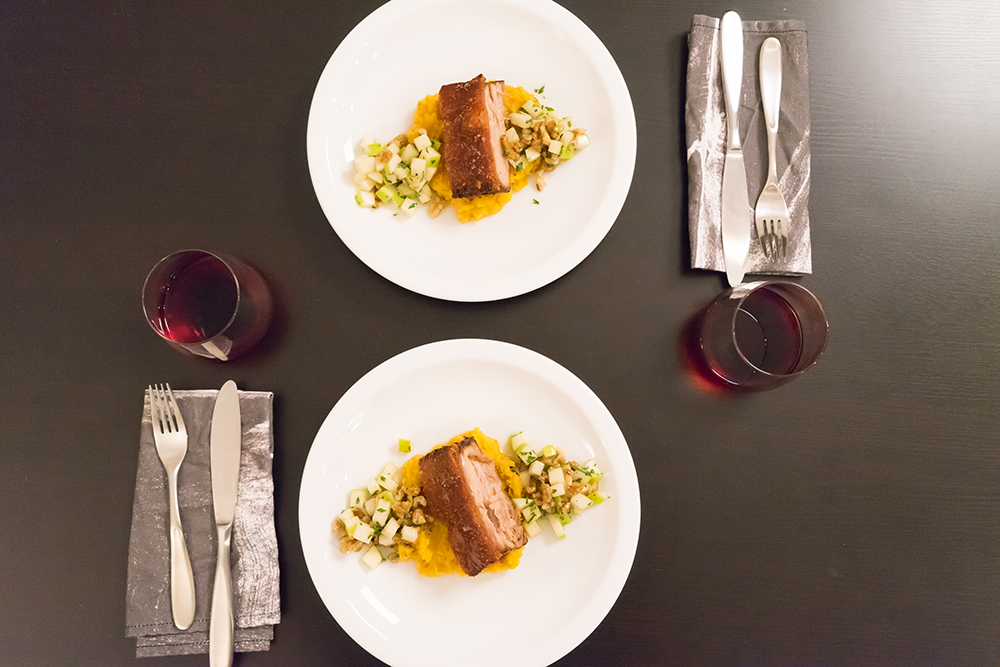 The verdict:
Steph will add some more positive notes, as it was more her thing but uhh.. yeah, I didn't enjoy it at all, not something I would consider making again. My concerns are mostly: it seems like the authors' idea of pork belly is different from mine, so the cooking method really doesn't render the high fat of actual pork belly as well as maybe it should, so it's very fatty. Needs a longer cooking closer to the pork belly bao, even though it is a couple of hours it still doesn't realy get time to render, lots of fat to deal with. Said fat ends up not really flavoured due to the cooking method as well, just not great. I need to find this elusive "pork belly with ribs".
[S: David and I definitely have different taste buds. I grew up trying everything under the sun (that includes bugs), which makes it a bit easier for me to appreciate/like odd food combinations. With that said, as much as I did love the fattiness of the pork belly; like David said, it's definitely not the cut we were supposed to use… but based on what they said, we got pork belly. I believe that if we had gotten the portion that they were actually wanting (we're still trying to figure out which part of the pig it is, the cooking time and everything else would have made it scrumptious.]
If we were to serve this again, I'd likely tweak the cook time at the least. Run it a little longer on the tail end at the low temperature.
Secondly, miso butternut squash? I'm a simple man, I've always eaten squash with, we'll go with, generous amounts of brown sugar and butter. That's how it's meant to be, to me. So the extreme opposite with it being ~ solely umami is.. not my favourite. Just very much not my thing. I believe Steph did enjoy it though, so she'll have comments on that.
[S: I was surprisingly ok with this. I mean yes, it was weird to have the umami taste with the butternut squash… but I'm not complaining either. I think I personally would add less miso next time, just to make sure everyone involved with eating the meal, wouldn't be in complete shock like David was.]