S: So this week we decided to skip out on doing a recipe, and went out for dinner instead. Rosedale Diner - we have been to for brunch [D: hnnngghh chicken and waffles], but had never gone for dinner before. After the Blue Jays game on Saturday, we figured since we took the car, and the Diner was on our way home, we'd finally give their dinner menu a go.
I didn't get a chance to take a photo of the inside of the Diner this time, but it's adorable. Maybe I'll get one next time, and we'll do a blogpost about their brunch menu. Rosedale diner is a tiiiiiiny little place squished between 'petite thuet' and 'Bernice Whelan Realty Inc.'.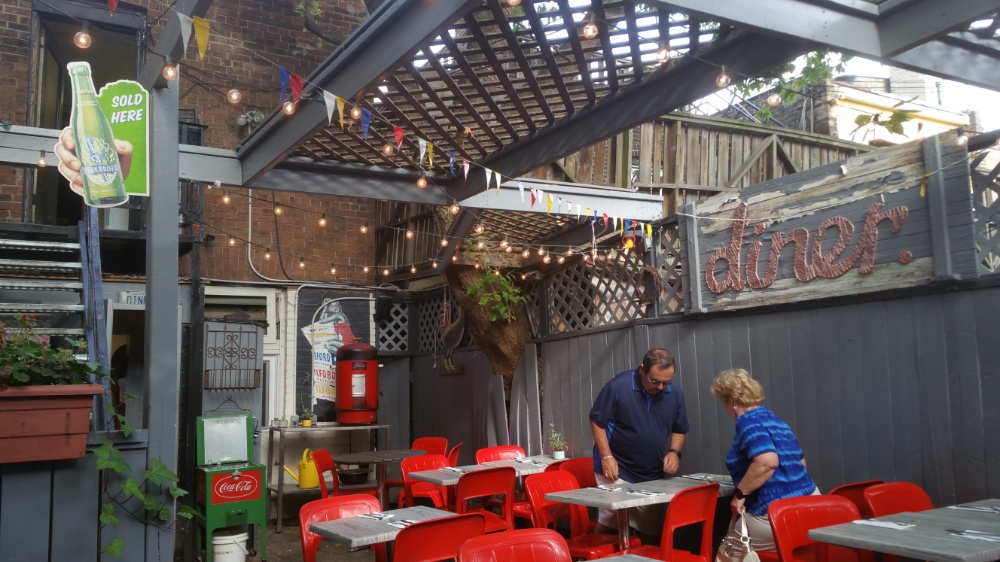 Anyway, I digress, the patio out back (which you get to, by passing the kitchen), is such a lovely little place to be. I have to say that considering the storefront faces right onto Yonge Street, you can't hear any of the traffic out there, when you're relaxing out back.
Now onto the food:
App - Calamari Picante: (chef's hot sauce, lemon caper aioli)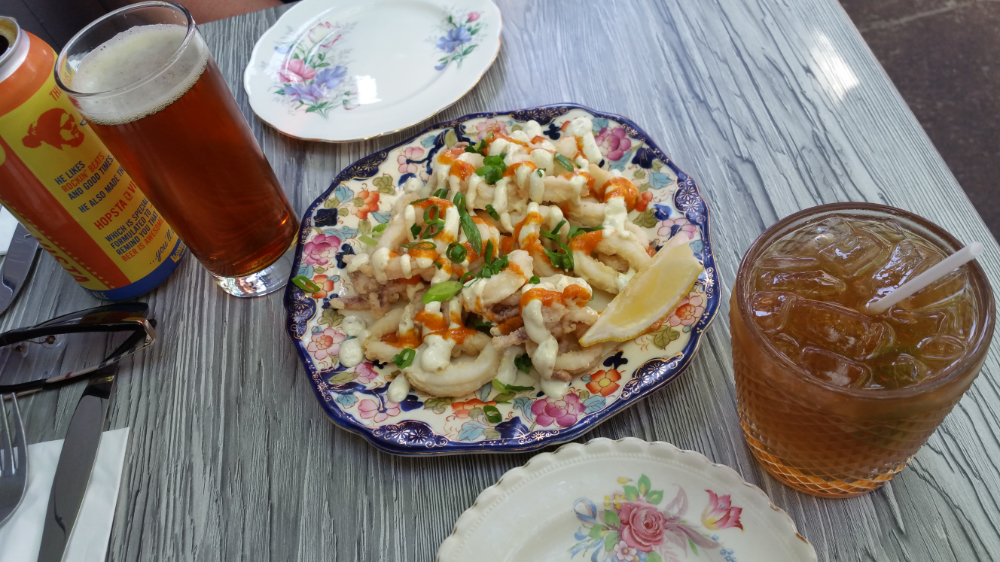 For me, every new restaurant (and ones we frequent often), I have to order the calamari. It's almost my taste test to see if the restaurant knows how to cook good food. I say this only because calamari is pretty tricky; they've got this like tipping point from delicious and melt in your mouth, to a rubber band you can't chew through.
This calamari, I'm putting in the books to remember. I know David was a bit weary of the hot sauce [D: I tend to prefer chipotle sauces for calamari], but dear merficul lord, does everything on this plate make it absolute perfection. There was just the right amount of sauce to calamari ratio, and the lemon was juicy for a good amount of juice to go over everything.
Can I order one now? I'm drooling just thinking about it.
Main - Fish & Chips (crispy beer-battered haddock, slaw, tartar)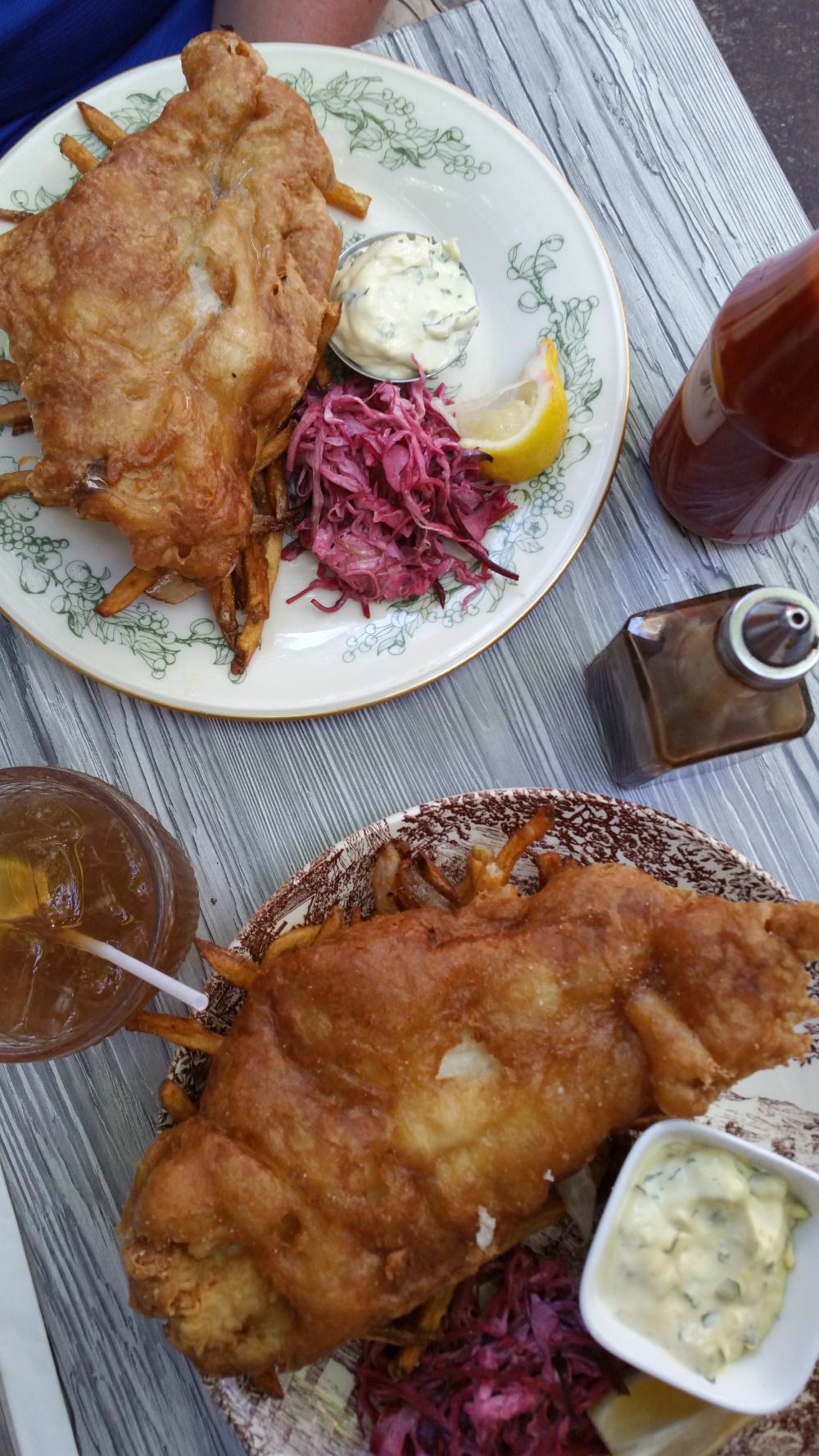 Oh how I wished this was amazing. I've been very picky as to where I eat my F&C, since the hubster and I came back from our honeymoon in Newfoundland last year October [D: definitely going back again for the fish]. I can count on one hand, how many times I've had it since. Which is really sad, as I do love me some good F&C.
The fish was well cooked in the batter, but the batter itself, was ever so greasy. The fries underneath were being soaked, and there was a shiny film on the bottom of the plate. The fish itself? It was huge [D: and delicious, seemed fresh, cooked well; just the batter was kind of disappointing, but perhaps too high expectations. I also really miss Dressing. Maybe one of these days we'll have to do fish & chips & dressing as a post.]. One of the biggest one piece F&C orders I've ever had. The slaw was delicious, as was the tartar sauce (which I always ask for extra of, as chips and tartar sauce are my weakness).
In the end, we were so full, as we had not anticipated such a big serving of fish, we couldn't order any dessert. Maybe next time.
We should be back to normal programming next week, with a recipe done from Chrissy Tiegen's cookbook.