D: Continuing to work through The Best of Chef at Home, Steph was feeling like Alfredo [S: Really, I was craving shrimp… but who's paying attention to that? I saw shrimp in the freezer while grocery shopping, and just needed it in some garlic and butter. Figured there'd be some alfredo recipe that would go nicely with them.], so we tried this recipe. We did make some modifications (added mushrooms and shrimp scampi, because it needs some more – he says you can/should add other stuff! it counts!). Hopefully it turns out ok.
Ingredients: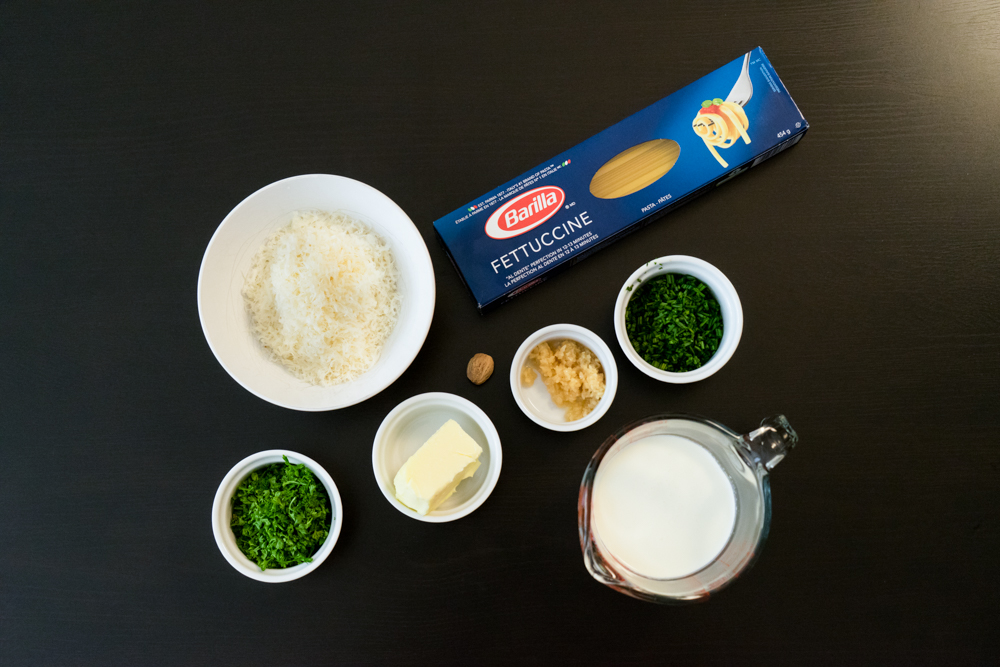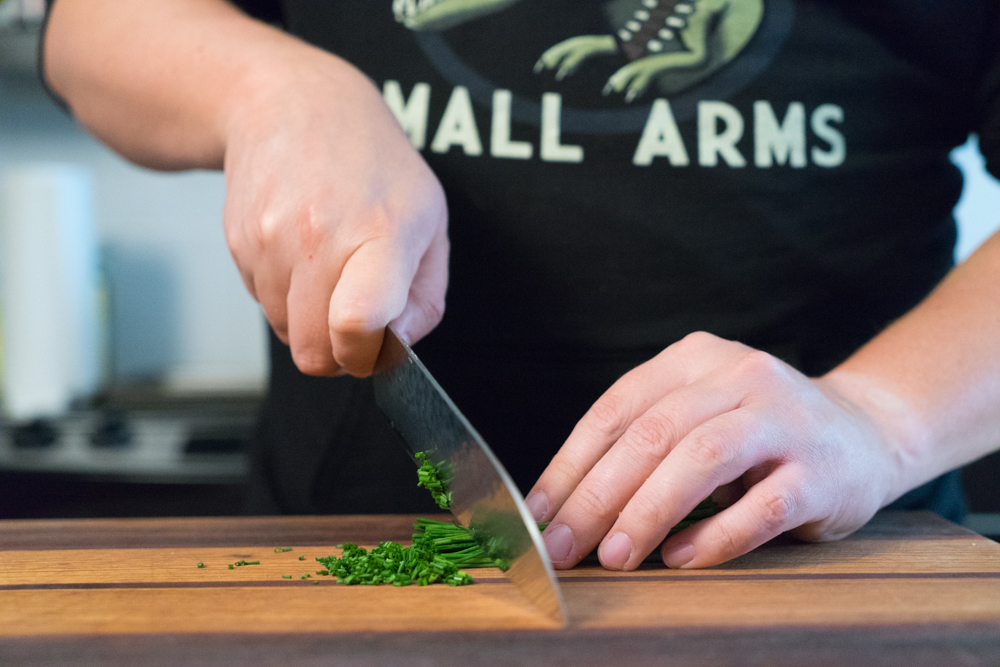 1lb (454g) package of Fettuccine (or make your own)
1/2 stick butter
2 cloves garlic, minced
1C heavy cream (whipping cream)
1C or more of freshly grated Parmesan
1/4tsp freshly ground nutmeg
sea salt & freshly ground black pepper
1/2C minced parsley
1/2C minced chives
Needed items:
pot to boil pasta
sauce pan
colander
Directions: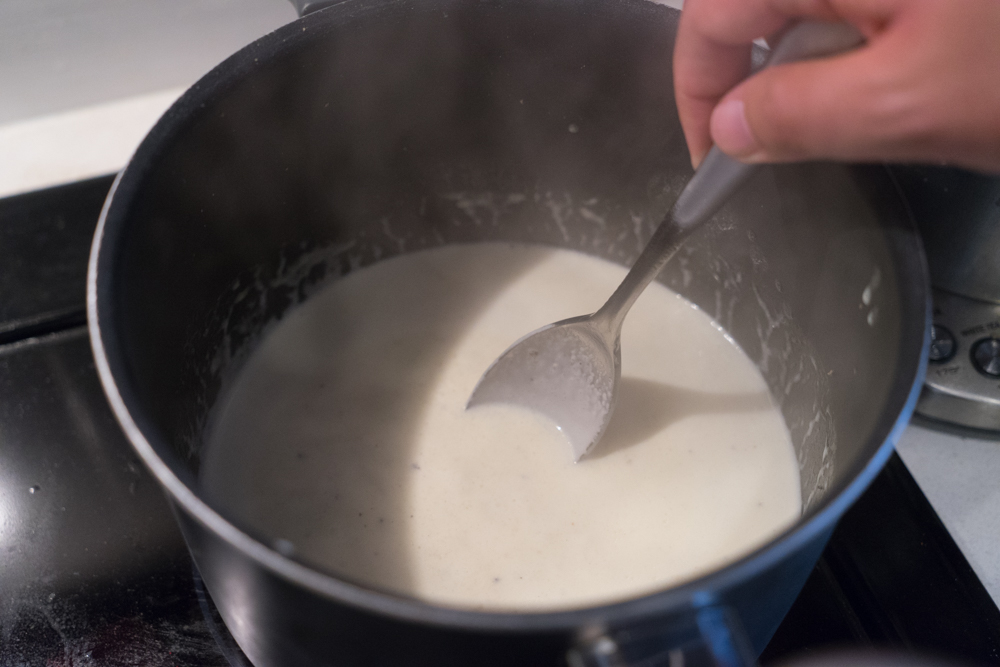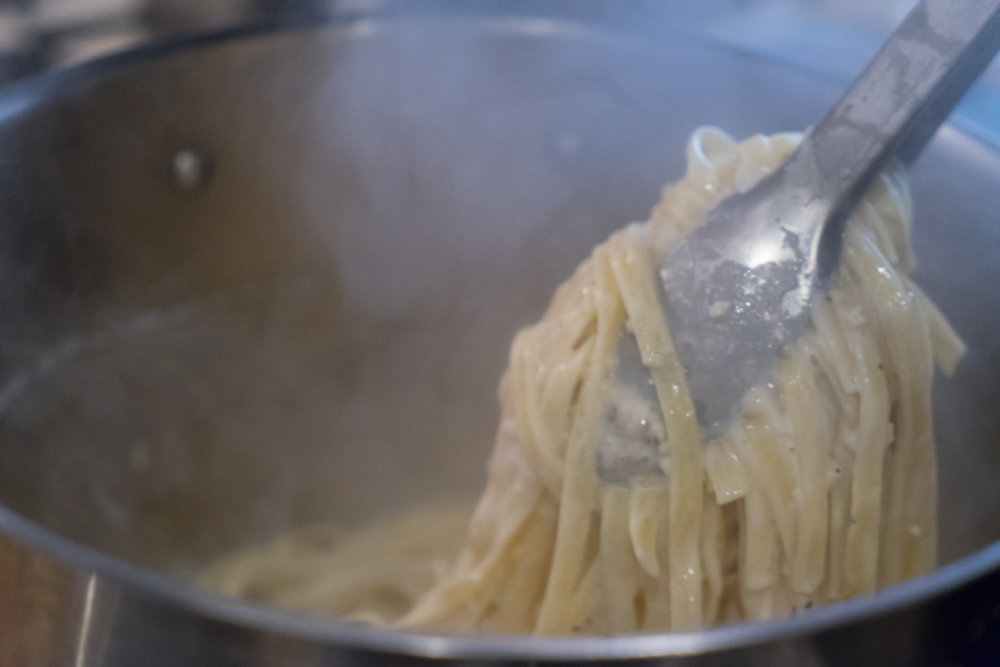 Cook the Fettuccine in lots of boiling salted water.
In a saucepan, melt the butter over medium heat. Add the garlic and saute until it softens.
Add the cream and bring to a simmer, stir in the cheese, nutmeg, salt & pepper.
Toss the sauce in the cooked pasta along with the parsley, chives. Season with lots of fresh black pepper. Toss well to combine.
We also made Shrimp Scampi, and some mushrooms fried in butter, and added those. [S: We may put up the recipe for the shrimp scampi… as my word, did I do good. It was delicious.]
Verdict:
D: Very good, could have been saucier. Really can't complain, was a very good pasta dish. Next time maybe we'll make the pasta, assuming we have a Fettuccine attachment. I need to check. We were definitely too lazy to make it by hand today, next time. We'll have to do the Scampi.
S: Not my #1 fav pasta, but it's pretty up there. As David said, the sauce was a tad lacking… if it'd been saucier, it'd reach #1 status for me. Again as the hubster said; definitely need to try it next time, with our own fresh made pasta. Though not part of the recipe, the shrimp scampi, I'm still drooling over.