S: After the attempt with the NOPI recipe book, we've gone back to basics. The hubster and I have been fans of Chef Michael Smith for a long time. [D: <3 Chef Michael Smith] Me personally, I've watched his cooking shows since he joined foodnetwork. I've watched the Foodnetwork since the early 90s… man does that ever make me feel so old. Most of the Chefs on that channel aren't on there anymore. I could bet many wouldn't know who they were if I were to name a few now.
ANYway, as we both do have full time jobs and other endeavours in our lives… something a bit more up our ally/didn't take as much time necessarily/wouldn't require us to hunt for food and pay an arm and a leg for it [D: plus.. miso squash.. ugh..]. Chef Micahel Smith's recipes seemed to be the right way to go for now, and figured it would also appeal to all of you guys who might be reading this [D: as his stuff is often ~ rustic and delicious].
With that being said, let's begin!
[Serves 4 generously]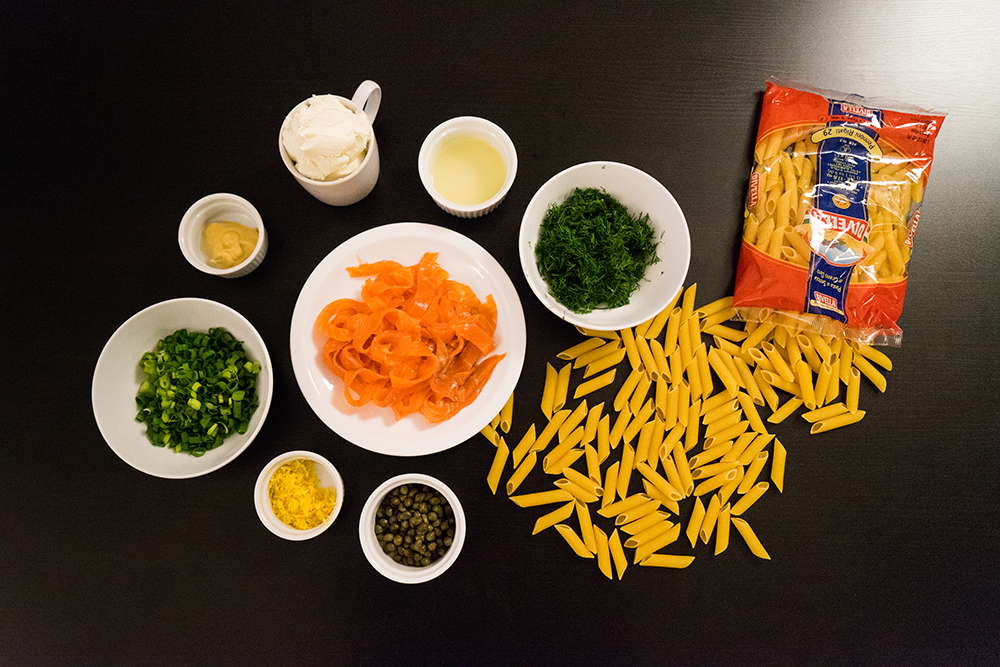 Ingredients: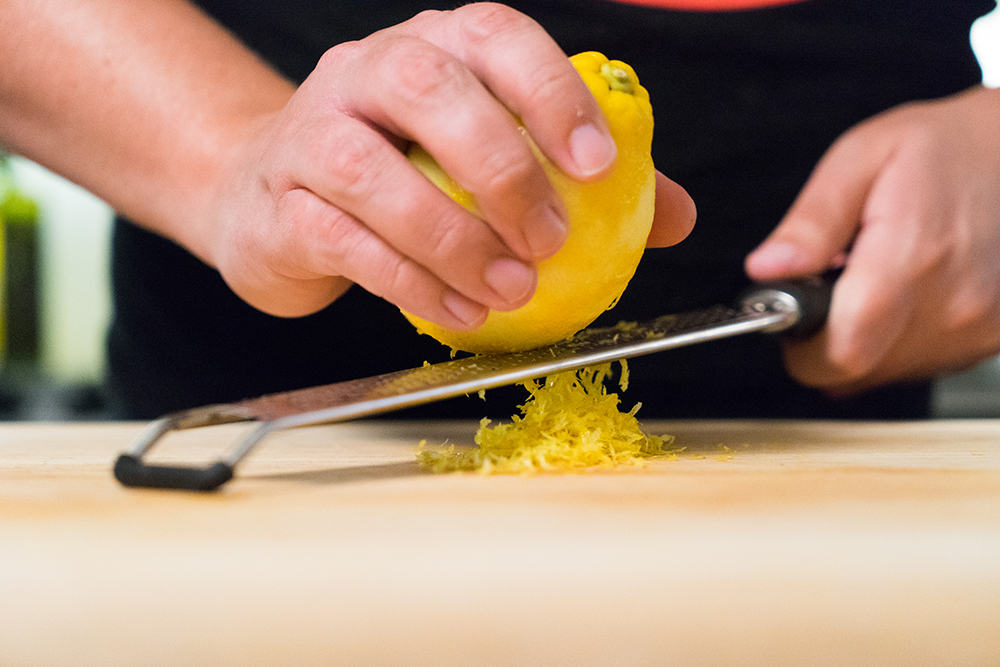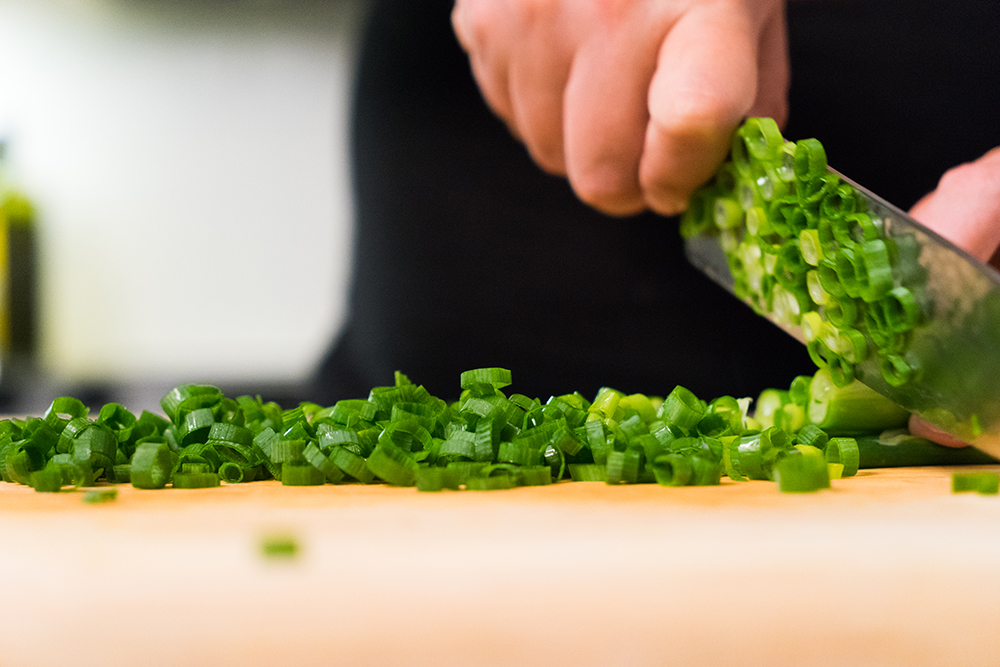 One 1lb (454g) box of Penne
1Cup (250mL) of cream cheese, softened
1 bunch of fresh dill, chopped
4 green onions, thinly sliced
1 lemon, zested and juiced
1tbsp (15mL) of Dijon mustard
1/4Cup (60mL) of capers
8oz (250g) of smoked salmon or more, cut into ribbons
a sprinkle or two of sea salt and freshly ground pepper
Needed tools:
stock pot
wood spoon
mixing bowl
The Step-by-Step:
Cook penne in lots of boiling salted water until al dente - cooked through and tender but still retaining some texture and chew
Scoop out some of the starchy cooking water and reserve
Drain the pasta but not all the way (you'll need it to make the saucy creamy)
Put the pasta back into the pot along with a splash or two of the reserved starchy water
While the pasta is still steaming hot, immediately add:
cream cheese
dill
green onions
lemon zest and juice
mustard and
capers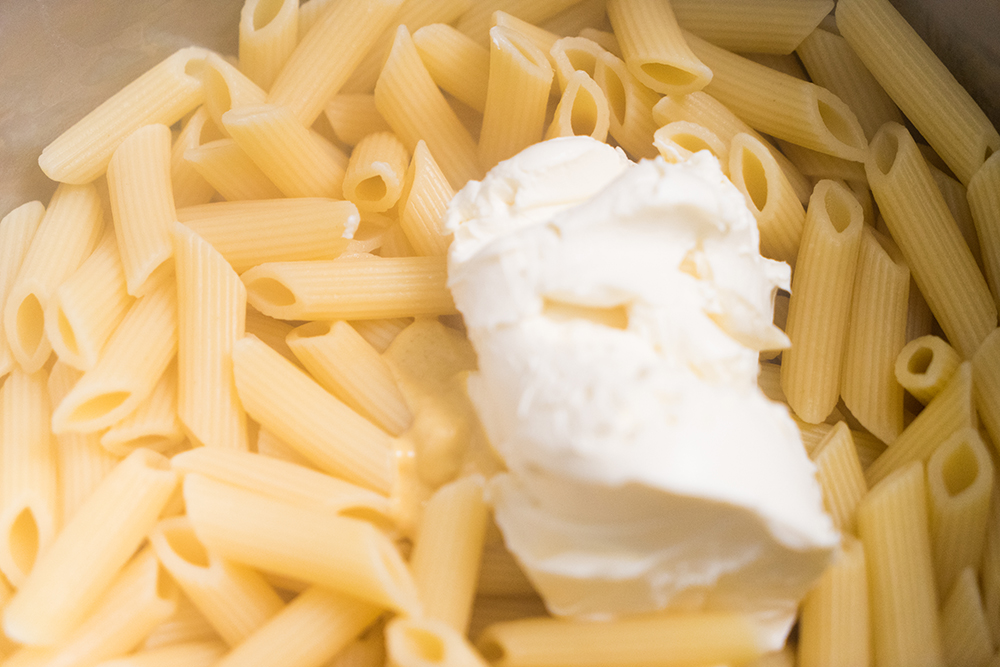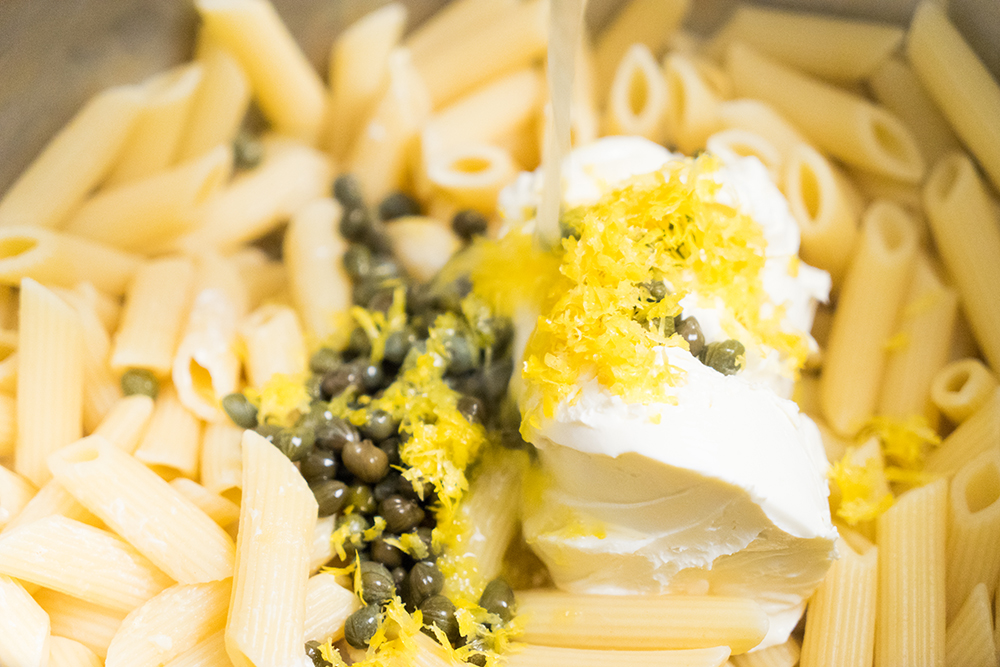 Stir with a wooden spoon as the cheese melts and forms a creamy sauce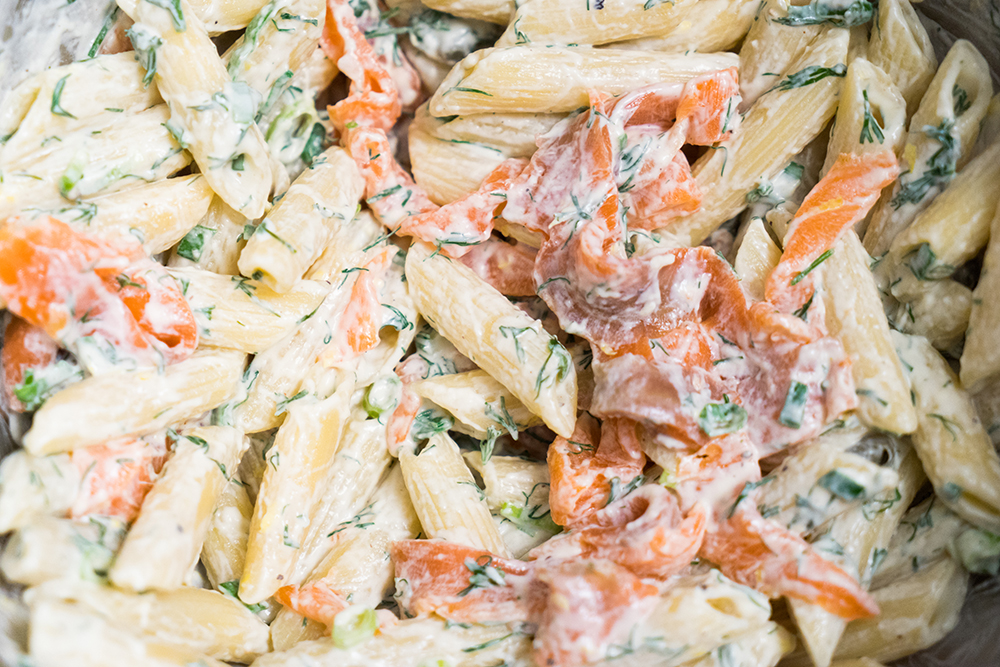 At the last second, briefly stir in the smoked salmon
Season with salt and pepper and serve immediately
The verdict:
S: This is such an easy dish to make. What's even better? It presents very well, so if you ever want to make it for guests coming over, do so. The flourish of adding the smoked salmon last minute and tossing it in front of them, should garner some, "ooooooh" and "ahhhhhs".
I love smoked salmon, and I love cream cheese [D: and what kind of monster doesn't love capers?]. The fact that this isn't inbetween a toasted bagel, makes it even better for me. I may have personally added a tad more cream cheese, and a dash of white wine on my 2nd day of it. The dish doesn't quite reheat that nicely with the amount of sauce it has. Adding a bit more liquid did the trick though.