D: Steph was flipping through the book and came across this stew recipe. I was pretty suspicious, but figured we'd give it a shot. I imagine it being served alongside a meat pie in a pub, or a steak; something like that.
Ingredients:
1lb mixed mushrooms
1/2 stick butter
2 onions, peeled and sliced
4 cloves of garlic, minced
1 bunch of fresh thypem, chopped (or 1TBsp dried)
a sprinkle or two of sea salt & freshly ground pepper
a splash or two of red wine
1/2C heavy cream
2 green onions, thinly sliced
Needed items:
Directions:
Trim the mushrooms and cut larger mushrooms into smaller pieces. Smaller mushrooms may be left whole. Rinse all mushrooms well and dry.
Preheat a large skillet over medium-high heat, add butter, onions, and garlic.
Saute until onions begin turning golden brown. Add the mushrooms and cook. In a few minutes the musrooms will become soupy.
Add the thyme, salt & pepper. Continue cooking until most of the moisture has evaporated.
Add the wine and cream.
Continue simmering until the sauce has thickened. Stir in the green onions.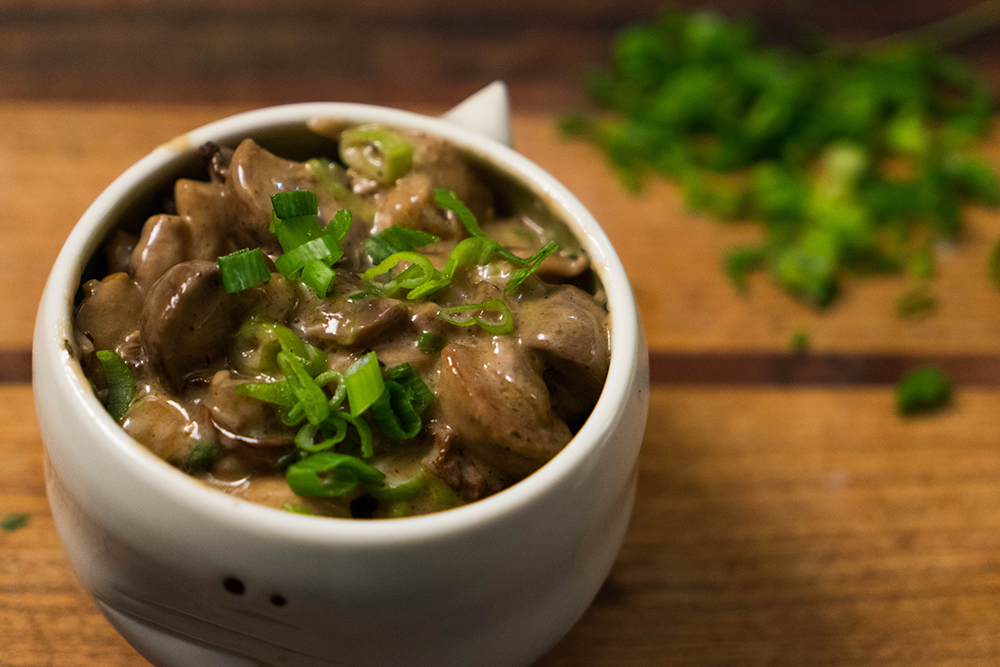 Verdict:
D: Absolutely delicious. This dish will be a goto side.. forever, just stellar. Takes quite a while to make, but it would go well with basically anything steakhouse or pub style. A delicious dish, just awesome. Try it.
S: I love mushrooms, and I love this. I'd eat all of it if I could. [D: and if I would let her]